---
"The peer-reviewed science has told us basically eight dams that salmon have to navigate are too many dams,"
-- Kevin Lewis of Idaho Rivers United.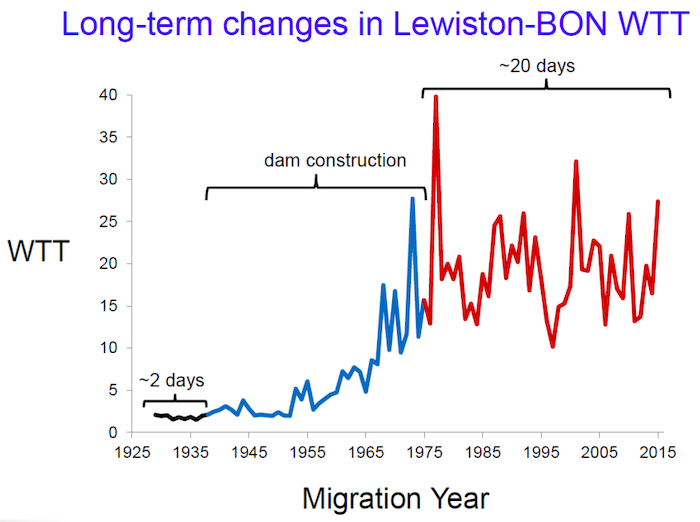 Despite its long, winding history in Idaho, the effort to save salmon seemingly accelerated in 2019. Gov. Brad Little drew together a workgroup to save wild salmon populations, bringing in representatives from groups all around the state. U.S. Rep. Mike Simpson issued a strong statement at the 2019 Andrus Environmental Conference that he wants to do what it takes to bring wild salmon back to Idaho, and is willing to explore dam breaching as part of that solution.
The groups looking for fixes to the problem of declining wild salmon populations is an array of actors ranging from conservationists, to grain shippers and tribal leaders. Conservationists say that each year, wild salmon inch closer to extinction in Idaho, and without breaching at least four of the eight dams on the Lower Snake and Columbia rivers, that will indeed happen at some point.
That has alarmed many, but breaching the dams on the Lower Snake River is not something Idaho could do. The federally owned hydropower dams are located in eastern Washington; breaching them would likely require some sort of action from Congress, Simpson told Boise Weekly in a statement.
While Simpson didn't endorse dam-breaching in his statement explicitly, he did float exploring the root cause of the decline in salmon population, including dams, sea conditions, predators and over-harvesting, though harvesting wild salmon is no longer legal in Idaho, except for Native American tribes. Little, in creating his salmon workgroup, also wants to explore the root causes of salmon decline, but does not support breaching the dams.
"I oppose dam breaching. The topic of dam breaching is so polarizing, it will only limit the stakeholders' options in finding an Idaho-based solution to salmon and steelhead recovery," Little wrote in a statement to Boise Weekly. "I am confident my Salmon Workgroup will come up with new, pragmatic solutions that assure healthy salmon populations and thriving rural river communities in Idaho."
However, Idaho essentially agreed years ago not to litigate on the issue of dam removal, while environmental nonprofits around the state have become the voice for Idaho dam breaching.
"We actually have been the Idaho plaintiff for over 20 years now," said Kevin Lewis, director of Idaho Rivers United. Lewis said that throughout the years, he and Idaho Rivers United have filed suit against the federal government for salmon conservation purposes. However, those issues are often kicked back to the agencies conservationists say are causing the problem, he said.
At the center of the conflict is the Fish Accords, a federal deal to commit resources to salmon conservation between the Bonneville Power Administration, the federal agency that controls hydroelectric dams along the Snake and Columbia rivers and gave money to fund salmon conservation efforts; the states of Idaho, Montana and Washington; the Army Corps of Engineers; the Bureau of Reclamation and several Native American tribes. Conservationists argue the agreement effectively prevents Idaho from suing the BPA, and the Idaho Conservation League responded in 2018, when Water Associate Marie Kellner argued in an op-ed that when it comes to salmon, Idaho had painted itself into a corner.
"The Fish Accords are a rare instance when Idaho gave up its independent voice in deference to the federal government," Kellner wrote.
For Lewis and many other conservationists, the dams are the biggest obstacle for salmon. Scientists have identified the number of dams that adversely affect the fish, but it has done little to move toward dam-breaching.
"The peer-reviewed science has told us basically eight dams that salmon have to navigate are too many dams," he said.
Without breaching four of those dams, salmon won't be able to return in the numbers necessary to sustain a population, Lewis said. For every 100 fish that spawn, four need to return to lay their eggs in Idaho, he said. It's often referred as the "smolt-to-adult ratio," and for years, the return population hasn't met that threshold.
"We're at less than 1%, and we have been for years," Lewis said.
While grain shippers and farmers argue that dams may not necessarily be the issue, there are plenty of instances in which breaching dams has improved fish runs. In 1999, Maine breached dams on the Kennebec River, and according to a report from National Geographic, populations of alewives, a breed of Atlantic herring, increased dramatically. Closer to home, Lewis pointed to the Elwha dam removal in Olympic National Park in Washington. In 2011, two dams on the Elwha River deemed to be obsolete were breached, freeing up 13 miles of river. This has not only restored a population of wild fish to the national park, but has bolstered the health of the river and delta overall, according to the National Park Service.
Neither of those dams had fish ladders, but Lewis said that only strengthens the position that dams are the problem. Even though salmon were unable to spawn there for the years the dams were in place, the fish returned once the dams were removed, showing a genetic intuition of the wild fish.
"I went down there and I saw more salmon spawning in 100 yards of river than I've seen in Idaho in 15 years," Lewis said. "Prior to that the fish had just gotten to the bottom dam, most would die and a few would spawn."
Related Pages:
Study: Breaching Dams Would Pay Off by Eric Barker, Lewiston Tribune, 7/31/19
Bonneville Power Administration Faces Promise and Perils in Changing Energy Markets by Hal Bernton, Seattle Times, 7/21/19

---
Xavier Ward
Idaho Problems, Idaho Solutions?.
Boise Weekly, July 31, 2019
---
See what you can learn
learn more on topics covered in the film
see the video
read the script
learn the songs
discussion forum