the film
forum
library
tutorial
contact

Weather Trivia: Ice Harbor Sets Record for
Washington's Highest Temperature (in 1961)

by R.J. Liberatore Jr.
Shore News Today, August 4, 2014
---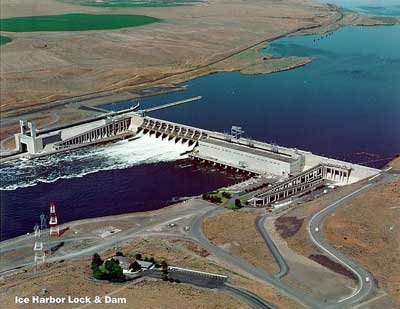 Washington's Ice Harbor Dam was anything but cool on Aug. 5, 1961 when the day's high temperature soared to historic highs. Unfortunately, the temperature was so hot that there was little ice to be found to cool off with.
Even though most people associated cool summers with living in the American Northwest, the beginning of August 1961 was far from normal. A heat wave of historic proportions had most ColumbiaRiver Basin residents dreaming ahead to the first snows of winter.
On Aug. 1, the new month began and three weather reporting stations reported high temperatures at 100 degrees. But three days later, the temperature eclipsed the 100-degree mark in 12 communities.
Then the heat wave became even hotter, especially across the eastern portion of the state.
Ephrata reached 115 degrees on Aug. 4, 1961 and Walla Walla came close at 114. La Crosse and Lind topped out at 113 degrees.
But the worst was yet to come.
On Aug. 5, the temperature at the Ice Harbor Dam, located on the Snake River, reached 118 degrees, setting Washington's all-time record. The Ice Harbor Dam temperature had reached 108 degrees the day before.
Most of the overnight temperatures only cooled into the lower 80s and upper 70s and didn't provide much sleep relief for Washington's heat-challenged residents.
Ironically, the 675-foot-long Ice River Dam located near Walla Walla received its name from a bay on the river where boats were tied up while their owners waited for upstream ice jams to break up.
---
R.J. Liberatore Jr.
Weather Trivia: Ice Harbor Sets Record for Washington's Highest Temperature (in 1961)
Shore News Today, August 4, 2014
---
See what you can learn
learn more on topics covered in the film
see the video
read the script
learn the songs
discussion forum