---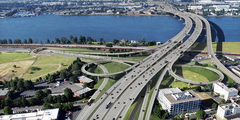 Federal authorities charged with protecting endangered salmon have warned that a new Interstate 5 bridge over the Columbia River could promote sprawling development that pollutes streams crucial to the fish. The National Marine Fisheries Service said it wants more detailed study of development and other potential impacts to endangered species.
A seven-year period of bridge construction, if not timed right, could produce pollution and loud underwater noise that are lethal to fish, the agency says in a letter to state and federal highway officials. Once the bridge and light rail line are built, stormwater that hits about 40 acres of new pavement and other impervious surfaces could push chemicals into streams that fish rely on.
"Stormwater is a very important issue for us and we want to work with (the U.S. Federal Highway Administration)to get it resolved," said Cathy Tortorici, a branch chief with the fisheries service.
The federal scrutiny adds to the pressure on the Columbia River Crossing project, a $4.2 billion proposal to replace the six-lane Interstate Bridge with a new 12-lane bridge, light rail extension to Vancouver and improvements to six highway interchanges.
Carley Francis, a spokeswoman for the CRC project, said bridge planners are aware of the fisheries service's concerns and will address them. Several agencies have commented on the Draft Environmental Impact Statement, a federally mandated study of the project.
The fisheries service's comments affirm criticism by local environmental groups and growth watchdogs that the bridge project, by speeding cars through North Portland and Vancouver, could enable more farmland to be converted to subdivisions.
The Oregonian has reported that Metro's traffic forecasters assisting with the study were directed to assume that no new housing or businesses would move to the bridge area, even though the project could increase northbound rush-hour traffic flow by 40 percent.
But how could real estate development affect migrating fish?
Mainly, by replacing forests and meadows with streets and rooftops, development creates areas where rain will bring pollution into streams.
The fisheries service letter says development concerns need to be addressed by bridge planners:
The environmental impact statement contains "insufficient detail" to analyze the effects of development outside of urban growth boundaries, the letter says. Highway planners did acknowledge that "land use conversion as a result of current and planned future growth is considered the primary impact to fish and wildlife species."

Bridge planners assumed that local governments would prevent stormwater runoff from impacting salmon, but the fisheries service is skeptical: "While these are important conservation programs, they typically are not fully protective ... they often include administrative procedures for variances that can minimize their effectiveness."

Planners also need to document how the project will avoid or mitigate pollution in creeks where salmon are found, and also in creeks where stormwater flows to salmon-bearing streams.
The fisheries service also urged bridge planners to consider a bridge design that would attach light rail below the highway deck - reducing the number and size of piers in the water and minimizing construction disruption.

That idea came up this spring, when bridge planners were looking for ways to cut project costs. Instead of building three spans - one for northbound traffic, one for southbound traffic and one for light rail - the rail line would be tucked under the southbound span.

But the stacked design would be higher and intrude into federally protected airspace for Pearson Field, a small historic airport just east of I-5 in Vancouver.

Planners should "present a balanced analysis that discusses varying degrees of airspace restrictions in relation to perceived benefits that are presented," the letter says.

The airspace restrictions have also drawn attention from the Portland City Council and the local architectural community, which call for an iconic bridge structure with tall elements that might intrude on Pearson's airspace.

Tom Buchele, a Lewis and Clark Law School professor representing several environmental groups critical of the CRC project, said bridge planners need to take a more comprehensive look at the river basin.

The cumulative impact of the bridge - when added to a liquefied natural gas terminal proposed downriver and other bridge projects upriver - could be greater than the effect of the bridge by itself.

"These poor salmon, they're creating an obstacle course for these critters," Buchele said.

Fisheries officials are asking for their concerns to be addressed in a new study, called a final environmental impact statement, which is expected to be complete by fall 2009. Other biological studies of the project would also likely add detail.
---
Dylan Rivera
Feds say New I-5 Bridge may Harm Salmon
The Oregonian, August 17, 2008
---
See what you can learn
learn more on topics covered in the film
see the video
read the script
learn the songs
discussion forum