---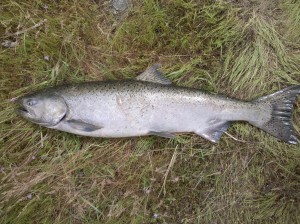 AHSAHKA, Idaho -- Chinook salmon that began life at the hatcheries here return to find a massive chunk of concrete standing between them and their genetically encoded instructions to push up river and spawn.
So at a certain point in the season, the fish stack like cordwood in the short stretch of the North Fork below Dworshak Dam and that makes it a good place to be for anglers. Whether the fishing is red hot or as cold as the water coming from Dworshak Reservoir, anglers know the fish are there and knowing that can make the difference between calling it quits on a slow day and keeping the faith until the bite turns on.
They fish the river's mouth, they fish from the bridge over the river and they fish just beneath the dam at a place known as "The Wall" -- one of the more unusual salmon holes in the region.
Anglers congregate on The Wall -- a concrete bib attached to the dam that is dozens of feet above the water -- to cast bobber and jig set rigs into the North Fork. When the bobbers plunge and they hook a fish, they depend on other anglers to descend three flights of metal stairs to net the catch.
The sometimes hot fishing can breed thick crowds and competition, but it also spawns cooperation.
"It's wonderful. What is not to love?" said George Daniel of Blanchard, Idaho. "Great people, good fishing."
Daniel was fishing the wall recently with six or eight other anglers all timing their casts and drifts to avoid crossing lines. It sometimes requires what they call the "do-si-do," a maneuver where one angler lifts his line over another's and then sneaks back underneath to avoid a tangle.
"This is nothing," Daniel said. "Three weeks ago there would be 40 people standing here, 10 guys casting across and 30 guys fishing close. It got pretty crazy."
The key to making it all work is patience, tolerance and communication. Mike Tylzynski of Orofino helps grease the cooperation by giving pointers to new guys. He's a frequent presence at The Wall and gives rookies a friendly rundown of the unwritten rules, tells them how to fix problems like crossed lines and makes sure they aren't crowded out by the more experienced.
"I always figured it was a lot easier to teach a guy to fish (here) than to fight with him all day," he said. "This is such a fun place to fish."
Tylzynski's first rule is don't be shy. He said people who show up for the first time are often intimidated. Rule two, watch what others are doing and copy them. Rule three, if you have a question, ask. Others will tell you how deep to set your bobber-stop, how to land a fish on The Wall and generally how to fit into the unchoreographed dance.
There are two kinds of anglers at The Wall -- the long-liners who use surf-casting gear to huck their jigs 90 yards or more to the opposite side of the river and those who use regular casting gear and fish the near shore. The long casters tend to have a much longer drift and fewer lines to avoid. But their bobbers are a bit harder to keep track of and when they hook a fish, it takes a long time to pull it across the current.
"That is the fun of it," Daniel said.
The practice was adopted years ago by anglers seeking to avoid the tangles beneath The Wall.
"When everybody is fishing close, it can be a real tangled-up mess. So guys started fishing long and now you have two different sets of fishermen," Tylzynski said.
With less competition on the far side of the river, it can seem like more fish are being caught there. Sometimes that's true, but not always, said Daniel, who fishes long.
"When they are biting over there, they are generally biting over here," he said.
There has been a bit of controversy this year between the long-liners and the Idaho Department of Fish and Game. Tylzynski said after long-liners like him have tagged their fish for they day, they will sometimes let other anglers use their gear. But since it takes some practice to reach across the river, they will cast for their friends and then hand them the rod to watch the bobber and set the hook.
The department has determined the casting is part of fishing and if an angler has reached his daily or season limit, he can't cast for anybody else, even if the rod is handed off before the hook hits the water. Those who long-line said the rule interpretation prevents them from helping others catch salmon and enjoy the fishery.
"We teach people long-lining up here. It's a good thing," Tylzynski said.
Joe DuPont, regional fisheries manager for Fish and Game at Lewiston, said he sympathizes with them to a point but allowing the practice opens the rules up to abuse. Plus, he said, conservation officers need to be able to enforce rules uniformly throughout the state
---
Associated Press
Diehard Idaho Anglers are Hooked on "The Wall"
Lewiston Tribune, July 14, 2012
---
See what you can learn
learn more on topics covered in the film
see the video
read the script
learn the songs
discussion forum