---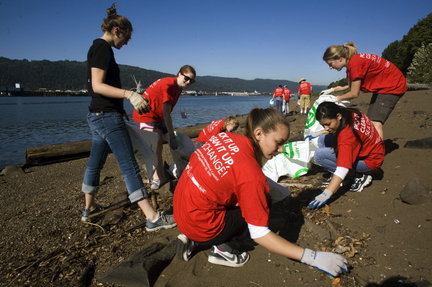 Wednesday, Nov. 3 -- the day after the election -- would be a good time for all new and returning members of Congress who are from Washington and Oregon to ponder this four-word marching order: Clean up our river. This is a totally bipartisan need because pollution recognizes no political distinctions.
The two centuries of accidental and intentional dumping of toxic substances and waste into and near the 1,243-mile-long Columbia River have led to alarming measurements of deleterious substances. Remember, this river is not just a long, winding ribbon of water. It's the downstream destination for all tributaries in a basin that's about as large as France. As the river has been fouled through the years, multiple businesses, wildlife habitats and peoples have been affected, especially Indian tribes that often consume high amounts of fish and rely on the Columbia for fishing.
If the members of the next Congress need an "action plan," one was produced for them on Thursday by the U.S. Environmental Protection Agency. An EPA working group announced at a tribal center near Pendleton, Ore., that there are 61 ways to clean up the Columbia River.
As The Columbian's Erik Robinson reported, the recommendations in that blueprint include greater public education to reduce pollution at the source; heightened enforcement; more extensive monitoring; research and promotion of less-toxic chemical alternatives for consumers; and development of a single, regionwide data management system.
There are ample feeble reasons -- excuses -- not to follow this action plan. Measuring for relatively small amounts of pollution at individual sites can be difficult throughout such a vast river basin. Sources of pollution often can be indistinct. Did it come from farms, forests, mines, myriad businesses and industries or the burgeoning human population? But the time for excuses has passed. The EPA's action plan must be recognized.
Another frequent but futile excuse is cost. Cleaning up the river will not be quick or cheap. It took two centuries of human activity to foul the river. The EPA now believes about $6 million will be needed over the next two years just to get started. But our descendants demand a remedy, and there happens to be a formula for funding the corrective action.
There are two versions of the Columbia River Restoration Act of 2010 languishing in Congress. All members of the Northwest delegation -- Washington's two senators and nine U.S. representatives, and Oregon's two senators and five U.S. representatives -- must find ways to advance those bills to authorization in each chamber, compromise in conference committee and final approval.
Each bill has attractive features. The House version (calling for as much as $40 million) calls for directing 40 percent of funding to the 15-year-old Lower Columbia River Estuary Partnership, and limits administrative expenses to 5 percent of the money. The Senate version (about $33 million), emphasizes EPA directives and mandates a third of the money for the lower river basin and a third of the money to the middle and upper basin with the remaining third unspecified.
More than 90 toxic chemicals have been found in the tissues of Columbia River fish. That's all the reason the Northwest Congressional delegation needs to muster support for the long-overdue recommendations to clean up the Columbia River.
---
Editorial Board
How to Clean a River
The Columbian, September 27, 2010
---
See what you can learn
learn more on topics covered in the film
see the video
read the script
learn the songs
discussion forum