---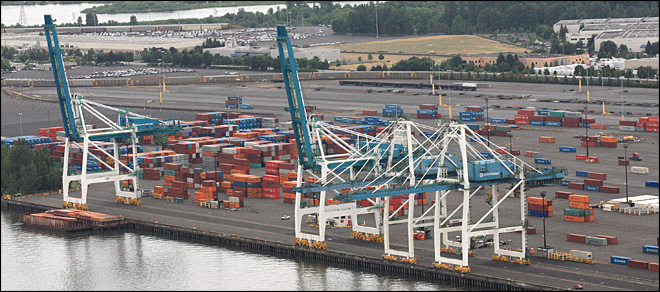 BOISE, Idaho -- A union-on-union fight over whose members should plug in refrigerated shipping containers in Oregon has sent economic ripples 360 miles upstream to an Idaho port, where some customers have ditched river barges for trucks rather than wait out the uncertainty.
Port of Lewiston manager David Doeringsfeld said Monday the labor dispute between longshoremen and electrical workers at the Port of Portland is "definitely affecting container traffic" on the Snake River that would ordinarily be barged downstream to the Columbia River, then Portland.
One international shipping company, Hanjin, won't call on Portland until the dispute is resolved.
That has some of Doeringsfeld's customers from Idaho's agriculture and wood-products industries concerned whether container vessels will be loaded with their goods. As a result, they've pulled their Hanjin container business from the river and instead trucked cargo to ports on Washington state's Puget Sound.
"A customer may be forced with rolling over their delivery dates because their cargo didn't get loaded, because it's still sitting on docks," Doeringsfeld said. "There are a fair number of Hanjin containers that are now going to be trucked to the Puget Sound, rather than go on the river."
Even though shipping by truck is typically more expensive than by river barge, producers may conclude delivering their goods on time and according to contract is worth the extra money.
In all, more than 1,000 regional businesses -- including many lentil and pea growers, lumber mills and paper makers in Idaho -- depend on the Port of Portland's container terminal stricken by the work slowdown to get their goods to or from international markets.
Former Oregon Gov. Ted Kulongoski has been brought in to help broker a settlement in the dispute between the unions, which are fighting over a policy that works out to the equivalent of two full-time jobs.
If there's no deal by Tuesday, U.S District Judge Michael Simon said he may act on a request to force the longshoremen to at least temporarily halt their work slowdown, which has disrupted port operations for more than three weeks.
Upstream in Lewiston, Doeringsfeld said his facility -- billed as the West Coast's farthest inland port, made possible by a system of downstream dams and locks -- would lose revenue from any customer who opts not to have his products loaded onto barges at his dock.
He's hopeful the question of which union should plug in and unplug the containers is resolved soon.
"We haven't had any barges canceled, but there's been maybe less export volume," Doeringsfeld said. "If it's resolved, I expect operations will go back to normal very quickly."
---
John Miller, Associated Press
Dispute Over Portland Containers Hits Idaho Port
KPIC, July 3, 2012
---
See what you can learn
learn more on topics covered in the film
see the video
read the script
learn the songs
discussion forum