---
"Right now there is a lot of stranded investment on the Columbia - Snake River system"...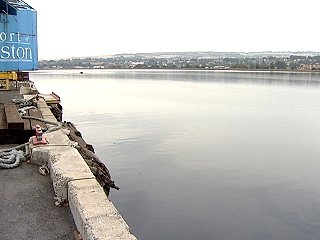 LEWISTON, Idaho - Farmers across the region have been left looking for a new way move the fruits of their labor to hungry mouths thousands of miles away as the Port of Lewiston is no longer offering container shipping service thanks to a dispute hundreds of miles away in Portland.
The cargo container yard in Lewiston now sits like a ghost town.
"Right now there is a lot of stranded investment on the Columbia - Snake River system," port manager David Doeringsfeld said.
It's because of years of back and forth negotiations between dock workers and the Port of Portland operator 400 miles away have become too much for shipping companies so they left. The consequence is they no longer make the trek upriver to Lewiston.
"They left the Port of Portland, that really took about 90 percent of our business away so at that point we were forced to suspend service," Doeringsfeld said.
Doeringsfeld added this now puts added burden on pea and lentil farmers across the region.
"Six months from now when farmers go to sell peas and lentils and they are going to get less money because their transportation cost just went up," he explained.
That increase is more than double to ship by truck.
"This is a major blow for the pea and lentil industry," USA Pea and Lentil Council CEO Tim McGreevy said.
McGreevy said 70-percent of dry peas and lentils and 50-percent of chick peas make the trip to overseas markets. With the shipping companies gone it means they're looking at other options with exporters now looking to trucks to move goods to the coast, but it's not the best option.
"Currently there are not enough trucks out there to ship all the product, I mean 55,000 metric ton is a lot of product to move over the highways," he said.
Port officials are remaining optimistic, saying they are turning over every rock looking for a solution to problem they had no hand in creating.
"We're kind of on the outside looking in saying 'Can't you guys get along, isn't there some kind of resolution to this that you can get to,'" Doeringsfeld said.
The port says it cargo shipping represents about 15-percent of all exports in Lewiston while grain barges make up the rest. Last year they shipped out 22.9 million bushels.
Related Pages:
Will Taxpayers Dub It a 'Port to Nowhere'? by Marty Trillhaase, Lewiston Tribune, 4/1/15
Megaload Decision a Blow to Business at the Port of Lewiston by Rocky Barker, Idaho Statesman, 8/10/11
---
John Hendricks
Portland Shipping Fight Hits Inland Northwest Farmers <-- Watch news story at original site.
KXLY, April 29, 2015
---
See what you can learn
learn more on topics covered in the film
see the video
read the script
learn the songs
discussion forum