---
Idaho Power pays large-scale growers $79 million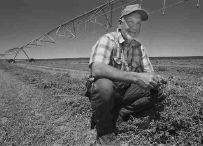 BUHL -- Mike Larson has pulled out all the stops to be a successful alfalfa farmer.
He checks a half-dozen Internet weather sites to schedule his hay cuttings.
He contracts with the state's burgeoning dairy industry to maximize revenues.
And in a year of drought and soaring power costs, he is taking advantage of Idaho Power Co.'s electrical buyback offer.
Larson would have produced 20,000 tons of hay for a market that is taking off. But even with strong prices, he questions how even the most conscientious farmer will be able to make it again in 2002 if the state is still in throes of drought and exorbitant electric bills.
"A year ago, if I said I'd get a check from Idaho Power, you would have thought I was crazy," he said.
Nearly 440 irrigators in southern Idaho have agreed to turn off their pumps in return for a check. About 154,000 acres will be idled or planted with an alternate crop which does not demand as much water. Idaho Power will pay those growers a total of $79 million, company spokesman Dennis Lopez said.
Larson and the other 439 producers taking the utility's money are just a reflection of a broad range of growers struggling against extremely difficult financial odds.
"There's a lot of people starting to think that this is not a one-year flash in the pan, and many acres are never going to return to production," said John Thompson, director of the Potato Growers of Idaho.
Only the biggest operators are eligible, because to qualify, a producer has to save at least 100,000 kilowatt-hours. The Boise-based utility thinks it is smarter to pay growers up to 15 cents a kilowatt hour for power it can then divert to other customers rather than paying 30 cents or more on the wholesale market to meet the needs of those other customers.
The Larson Magic Farms is a kelly green and purple carpet of alfalfa over 3,200 acres in the midst of public rangeland already bleached bone white by summer heat. Electricity-powered pivot sprinklers slowly wind their way across hundreds of acres to water the crop.
Although he is just a few miles from the Snake River, Larson draws water from Salmon Falls Creek. And this year, which compares with the severe drought years 1977 and 1992, the creek will dry up by midsummer.
So instead of growing four crops, he is cutting one and turning off the pumps as the swathers move over the land. The last pump will shut down by month's end.
Larson's farm supplies premium hay to an exploding dairy industry, and the drought has sent prices from $70 per ton to as much as $150 to $200 in California.
Although Larson and his sons will stop after the first cutting, his costs linger on. He promised the Mexicans who work for him every year that they would have jobs until September. He faces mortgages and taxes on his land and payments on $1 million of elaborate tractors, swathers and balers needed to cut hundreds of acres a day.
He also expects higher rates from Idaho Power in the coming year, which will make it even more difficult to operate.
"If it looks like it won't run a profit, we won't farm," he said. "It's a business, just like a Subway sandwich shop."
Growers of Idaho's famous potatoes, already suffering from record 2000 crop that drove prices to a fifth of their production costs, rely more on gravity than pump irrigation and have been more interested in programs allowing them to change diversion points than in utility power buybacks.
"They will have to juggle to get water to parts of their crops where it's needed," said Bruce Huffaker, North American Potato Market News publisher. "Overall, I'm confident that potatoes will get enough water."
The buyback is attractive to wheat farmers, said Grain Producers President Duane Grant, a grower in south-central Idaho. Out of the 154,000 acres involved in the buyback, he estimated 130,000 are wheat fields.
---
Dan Gallagher, Associated Press
Power Buyback Helps Farmers
The Idaho Statesman, June 3, 2001
---
See what you can learn
learn more on topics covered in the film
see the video
read the script
learn the songs
discussion forum