---
20 years ago – 1997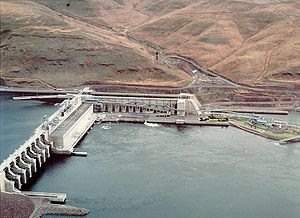 I've worked at Lower Monumental Dam on the Lower Snake River for more than 30 years. As a senior power plant operator, I run the turbine generator units, spill gates and state-of-the-art fish passage equipment that help salmon transition past the dam. These technologies are in place at the lower Columbia River dams and all four Lower Snake dams.
More than 400 men and women work at the Snake dams and other hydroelectric projects in the U.S. Army Corps of Engineers Walla Walla District. It's our job to carry out directives from federal agencies that help salmon listed under the Endangered Species Act to clear the dams, on their way to the ocean and back. We're proud to have contributed to the high salmon survival rates at each dam, while providing our region with its most abundant and reliable source of renewable energy -- hydropower.
Yet, strange as it may sound, lawsuits brought by anti-dam activists are forcing us to do things at the dams that don't help the fish, and may hurt them. This constant stream of litigation, often based on faulty science, threatens not only fish, but local people and economies that benefit in multiple ways from hydropower.
Finally, there is hope.
Northwest Reps. Cathy McMorris Rodgers (R-WA), Jaime Herrera Beutler (R-WA), Dan Newhouse (R-WA), Kurt Schrader (D-OR), and Greg Walden (R-OR) have introduced H.R. 3144, a bipartisan proposal that would place a temporary timeout on these extremist lawsuits.
This timeout would allow federal agencies to do what a judge has already asked -- to complete the public, transparent NEPA (National Environmental Policy Act) review process -- without getting dragged into court every few months or forced to perform costly experimental "spill tests" before all the data is in.
My union, the United Power Trades Organization, supports this bill so strongly that in October, I traveled to Washington, D.C. to testify before a Congressional subcommittee.
I told Congress members that H.R. 3144 is important because it would continue efforts that have been good for fish. Outside interests want to persuade judges that spilling more water over the dams is the only option to help fish pass by the dams, apart from dam removal. But they ignore the proven success of advanced technologies, including spillway weirs, which allow juvenile salmon to transition gently from the top of the dams to the bottom, and rotating screens that direct fish entering turbine-generator intakes into bypass channels, where they can be collected and barged around the dams.
Over the past decade, thanks to these advances and good ocean conditions, our region has seen some of the largest salmon runs in 80 years. In fact, 98.7 percent of juvenile salmon survive their trip past Lower Monumental. And peer-reviewed research has shown that survival rates for salmon in the Columbia-Snake River System are as high as those for fish in rivers with fewer or no dams at all.
The ongoing lawsuits to increase spill at the dams also ignore its danger; too much spill can expose juvenile fish to harmful, potentially lethal gas-bubble trauma. It's frustrating, when it's part of your job to protect fish, to be required to perform actions that aren't necessary and may actually hurt them.
It's also frustrating that the plaintiffs behind these lawsuits refuse to acknowledge hydropower's value to the Northwest: Dams provide carbon-free electrical generation, navigation, flood control and recreation, along with tens of thousands of river system jobs, including mine.
I'm grateful to members of our Northwest delegation who have proposed a commonsense solution to the unending litigation that makes everyone's job harder and seeks to diminish hydropower, a resource that does so much good for our region. I support H.R. 3144, and I hope you will, too.

---
Jack Heffling has lived in the Tri-Cities area since 1986 and is President of the United Power Trades Organization, a labor union that represents more than 600 operations and maintenance employees who work at U.S. Army Corps of Engineers dams in Washington, Oregon, Idaho and at Libby Dam in Montana.
Lawsuits Meant to Help Fish are Actually Hurting Them
Tri-City Herald, November 17, 2017
---
See what you can learn
learn more on topics covered in the film
see the video
read the script
learn the songs
discussion forum