---
"If any dam is breached, every other dam on the Columbia River is in play," Hastings said.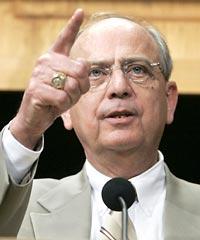 PASCO -- The Obama administration needs to keep its commitment to make the possible removal of four Snake River dams a last resort to resolve fish issues, or the Mid-Columbia will face serious economic difficulties, Rep. Doc Hastings, R-Wash., said Tuesday.
He discussed the Snake River dams as the opening speaker at the Real Ag 2010 Convention and Trade Show at TRAC in Pasco. The show continues today.
Work to restore four species of endangered salmon and steelhead has been progressing under the 2008 Biological Opinion, or BiOp, which outlines restoration steps.
Agreement was reached on the BiOp by three of four states, all federal agencies and most regional tribes only after the Bush administration took breaching the four lower Snake River dams off the table, Hastings said.
But U.S. District Judge James Redden in Portland, who is deciding a lawsuit filed more than a decade ago, has not been happy with the current version on the BiOp. Early in 2009 he invited the newly elected president's administration to review it.
In September, the administration responded to Redden, saying it supported the 2008 BiOp but proposed several changes, including adding removal of the four dams as an option if there is a precipitous decline in Snake River fish runs.
A judge reaching out to the executive branch comes "very, very close to legislating from the bench," Hastings said.
"Some who oppose dam removal have begrudgingly supported President Obama's changes to the BiOp and urged Judge Redden to approve them," Hastings said. "However, I remain very seriously concerned about what steps Judge Redden or others may initiate now that dam removal has been put back in play."
As the lawsuit filed over a decade ago advances in Redden's courtroom, what Hastings called "dam removal extremists" may push to change dam removal from a last resort to a more near-term action, Hastings said.
Then the question will be whether the Obama administration will refuse to yield from its decision that dam removal should be only a last resort, he said.
"The future of our region's economy and thousands of jobs could depend on their keeping their word," he said.
The four dams -- Ice Harbor, Lower Monumental, Little Goose and Lower Granite -- produce enough cheap electricity to supply a city roughly the size of Seattle. The dams also provide transportation for barges to carry wheat downstream to West Coast ports for export overseas.
"If any dam is breached, every other dam on the Columbia River is in play," Hastings said. "Without dams we clearly would not have the agricultural richness we have in the Columbia Basin."
But critics say that since the last dam was completed in 1975, the Snake River runs have declined dramatically. The dams present major hurdles for the mature salmon heading upstream to spawn and the juvenile fish heading downstream.
Redden could issue a ruling in the next few months.
However, only Congress can authorize and pay for removal of the dams, Hastings said.
"I'm going to do everything in my power to make sure dam breaching is not fulfilled," he said. He is the top Republican member of the House Natural Resources Committee.
---
Annette Cary
Hastings Renews Dam Removal Concern
Tri-City Herald, January 6, 2010
---
See what you can learn
learn more on topics covered in the film
see the video
read the script
learn the songs
discussion forum