---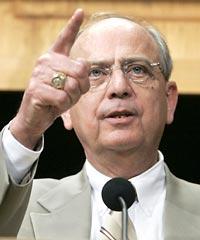 QUINCY, Grant County -- Newspapers have called U.S. Rep. Doc Hastings "weak," "a flop" and "a leadership stooge" for the work he's done as chairman of the House ethics committee.
The New York Times once labeled his committee, which is charged with investigating congressional misconduct, "a stunning still-life study in Capitol casuistry and partisan standoff" for failing to investigate lawmakers, in particular former House Majority Leader Tom DeLay, R-Texas.
And Hastings' Democratic opponent in the 4th Congressional District claims the Republican congressman "has done all he can to protect his colleagues from indictments."
It's stinging criticism, but the reaction among voters in Eastern Washington seems to be a collective shrug.
"I don't think people pay a lot of attention to that around here," said John McMahan, a 78-year-old Ephrata resident who was at a recent ribbon-cutting ceremony Hastings attended.
McMahan echoed the thoughts of several people at events the congressman visited that day: Hastings was in a no-win situation on the ethics committee and basically had to do what party leaders asked.
But when it comes to protecting the interests of his district, his supporters say, Hastings delivers.
For his part, Hastings won't address the complaints, saying House rules prevent him from doing so.
It may be a convenient way for the 65-year-old, six-term congressman to stop questions from reporters. But given the makeup of his district, Hastings can probably afford to ignore his critics.
After all, he's a Republican in perhaps the reddest region of the state. In the 2004 election, 63 percent of the district's voters went for President Bush -- the largest percentage of any congressional district in Washington. Democrat John Kerry carried the state with almost 53 percent of the vote.
Hastings, who lives in Pasco and once ran his family's Columbia Basin Paper & Supply there, has repeatedly won with more than 60 percent of the vote.
His district covers more than 19,000 square miles, from the Oregon border to North Cascades National Park, and includes the Tri-Cities, Yakima and Wenatchee.
His current challengers, Democrat Richard Wright and Republican primary opponent Claude Oliver, are far behind in the fundraising race.
Federal elections reports at the end of June showed Hastings sitting on more than $400,000 in cash. Oliver had raised $20,000 and spent most of it. Wright was over the $100,000 mark but again had used almost all of it.
Still, both challengers say they're raising more money and have a shot at winning.
Wright in particular sees the ethics controversy as a vulnerability for Hastings. "This is a conservative district out here and they want people to uphold the ethics of Congress," Wright said.
Hastings has been criticized for failing to investigate several members of Congress, including DeLay, who resigned in June amid ethics scandals.
Hastings became chairman of the ethics committee last year when GOP leaders removed Rep. Joel Hefley, R-Colo., from the post. They got rid of Hefley after his committee had admonished DeLay on three separate issues.
"You can't avoid the inescapable conclusion that he [Hastings] was there to deep-six the process at a time when they were very uncomfortable with it," said Norm Ornstein, a political analyst at the American Enterprise Institute.
Ornstein notes that with elections looming, Hastings' committee has started work on several inquiries and is now "operating in a functional fashion." For example, it's investigating bribery allegations against U.S. Reps. William Jefferson, D-La., and Robert Ney, R-Ohio.
Warmly welcomed
Only the upcoming elections will tell for sure if the ethics controversies in Washington, D.C., have hurt Hastings at home. But there was no sign of trouble during his recent swing through Grant County.
Hastings made stops in Royal City, Quincy and Ephrata to meet with people about local projects. It was a routine trip, one of many he makes through his district each year.
In urban Seattle, such stops would get little attention. In these rural towns, they were a big deal. Community leaders turned out to greet him. Far from shying away from the congressman, they made sure they were in pictures snapped by the local papers. Hastings had a deep tan and looked relaxed, in his element.
"Doc has done a great job for the Columbia Basin and Eastern Washington," said Dick Zimbelman, mayor of Quincy. "Awhile back he helped us secure a grant for a new water line for Microsoft and Yahoo! He's always in there pitching." (Microsoft and Yahoo! are building data centers in Quincy.)
On this day, Hastings was in town to talk about his efforts to get federal money to replace an antiquated boiler at the Quincy Valley Medical Center.
It's the type of thing the congressman is known for, said Chuck Allen, editor of The Quincy Valley Post-Register.
"The thing about Doc is, he does the local stuff," Allen said. "He's pretty accessible. That goes over well here."
Eye on powerful post
Hastings -- who's known for avoiding publicity in Washington, D.C. -- sought out the local reporters at the Grant County events, shaking their hands, asking how they were doing. Local papers, for the most part, have not taken Hastings to task over the stalled ethics committee.
"He's kind of the archetypical incumbent," said Lance LeLoup, a political-science professor at Washington State University in Pullman. "He is there ... to jump up and make noise when something threatens an interest in his district. He knows how to be an effective incumbent and otherwise keep a fairly low profile."
Hastings said serving on the ethics committee is not something lawmakers relish: "Nobody on either side of the aisle wants to serve on that committee."
But "when the speaker asks you to do things, you respond," he said. "The speaker asked me to."
Hastings has his eye on chairing the House Rules Committee, a powerful panel that plays a major role in controlling the flow of legislation in the chamber.
There appears to be little standing in his way at home, at least for now.
Hastings said he never takes political opponents for granted but noted that Democrats haven't posed a serious challenge in years.
"Grant County used to be a very Democratic county. Now we have a county commission race here where it's going to be decided in the [GOP] primary," Hastings said. "You have a county clerk's race that's going to be decided in the primary. No Democrats have even filed."
Things seem unlikely to change soon. People in Grant County still talk about the Seattle City Council passing a resolution in 2000 that supported breaching Snake River dams to save endangered salmon, said Allen, the Quincy newspaper editor. It infuriated voters throughout Eastern Washington because the region's agriculture-based economy is heavily dependent on reservoir water for irrigation.
"They kind of see the Democratic Party in Washington as an elitist, big-city party and the Republican Party is more for individuals and agriculture and property rights," Allen said.
Wright has said he's a moderate Democrat who opposes breaching the dams and holds some of the same conservative values as Hastings.
But, as Allen puts it, "having that D by his name is really hard."
---
Andrew Garber
National Criticism Doesn't Seem to Stick Once Hastings is Home
Seattle Times, September 10, 2006
---
See what you can learn
learn more on topics covered in the film
see the video
read the script
learn the songs
discussion forum