the film
forum
library
tutorial
contact

News of Hanjin Leaving Port of Portland Surprises
Port Operator as Shippers Receive Letters

by Molly Harbarger
Oregonian, February 10, 2015
---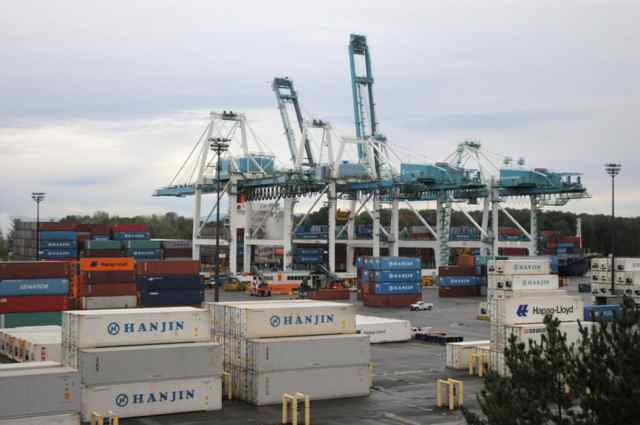 Hanjin's plan to drop service to the Port of Portland came as a surprise to ICTSI Oregon, the port operator.
"This is the first time ICTSI Oregon, Inc. has seen this schedule," said CEO Elvis Ganda. "We are now in the process of determining if this is valid. We have never been notified of Hanjin's intention to drop Portland."
ICTSI Oregon is the first port headquarters in the U.S. for the Philippines-based parent company. It took over port operations from the Port of Portland in 2010, signing a 25-year lease.
Tuesday, Hanjin sent a letter to shipping companies who move goods through the Port of Portland notifying them that boats will no longer stop in the port, according to documents obtained by The Oregonian/OregonLive. Hanjin will still move containers in and out of Portland using trucks and rail via the larger Seattle port, said the letter.
The Oregonian/OregonLive earlier reported that an Hanjin executive recently sent notice of a new tentative long-range schedule to notify each of its stakeholder shippers that Hanjin boats will no longer pick up cargo to deliver in Portland. According to the schedule, the last ship bound for Portland is scheduled to arrive March 4.
Hanjin is Port of Portland's biggest customer, making up between 65 to 80 percent of its business, and the ninth-largest shipping line worldwide. The Korea-based company carries cargo for four companies: Evergreen, "K" Lines, Yang Ming and Cosco.
Hanjin only delivers to Terminal 6, not the three other Port of Portland terminals, which specialize in moving grain, cars and other products.
Korea-based Hanjin already announced that some boats would skip Portland and unload cargo in Seattle even before March 4. But, a total drop means Hanjin won't take on cargo from Asia meant for the Port of Portland -- or Portland-loaded cargo meant for Asia.
Hanjin did not officially respond for comment.
Hapag-Lloyd, a German company, makes up about 25 percent of Terminal 6's business. Westwood Shipping is the third-largest Port of Portland customer, but sends few ships.
Losing Hanjin would be a major blow to the port's work. Major Northwest companies, such as Fred Meyer and Columbia Sportswear, use the line.
The drop in business could also decrease hours for about 550 longshoremen who work at the port per week.
Hanjin could be using the threat of dropping Portland from its schedule to force the port operator, ICTSI Oregon, to fix the labor unrest that is forcing boats to wait for days to unload.
The company said it would drop Portland in 2013, but eventually decided to stay.
ICTSI Oregon is part of the Pacific Maritime Association, a coalition with 28 other West Coast port operators who are negotiating a new contract with the International Longshore and Warehouse Union. The port operators association has accused the dock workers of slowing down work to the point that they are incapacitating normal port activities.
In Portland, the larger contract dispute is layered on years of tension between longshoremen and ICTSI Oregon, the local port operator.
A Hanjin Copenhagen ship waited four days to unload in Portland. Friday, the International Longshore and Warehouse Union workers stopped worked to demonstrate a grievance against ICTSI for past incidents. Over the weekend, the Pacific Maritime Association called off work, saying the longshoremen weren't doing enough to justify paying then. Monday, the local longshore workers again demonstrated with a work stoppage.
Tuesday, longshoremen started unloading the Hanjin vessel at Terminal 6.

---
Molly Harbarger
News of Hanjin Leaving Port of Portland Surprises Port Operator as Shippers Receive Letters
Oregonian, February 10, 2015
---
See what you can learn
learn more on topics covered in the film
see the video
read the script
learn the songs
discussion forum