---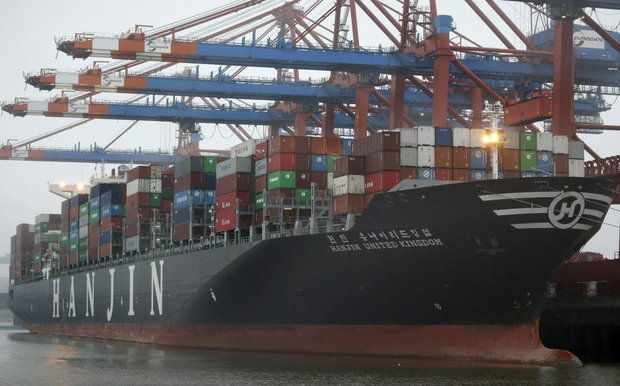 Chronic labor issues at the Port of Portland's marine terminals appear to be reaching a crisis.
Dockworkers walked off the job twice this week at Terminal 6, according to the terminal operator, another flash point in months of labor strife at Oregon's only international container shipping terminal.
Slowdowns and shutdowns are accompanying contentious contract negotiations between terminal operator ICTSI Oregon and the International Longshore and Warehouse Union.
Shippers fear that Hanjin Shipping may again be contemplating pulling out of Portland. That could have major consequences for big importers including Fred Meyer and Columbia Sportswear, while leaving exporters including farmers and timber companies paying substantially more to truck their containers to the Port of Seattle.
One Hanjin vessel abandoned plans to call at the Port of Portland this week after repeated delays in loading and unloading another cargo ship already in port. The Port of Portland confirmed the vessel had turned away from Portland.
Neither ICTSI nor ILWU immediately returned calls seeking comment.
Labor issues are affecting ports up and down the West Coast but shippers, port officials and importers all say the problems are especially severe in Portland, where labor disputes have disrupted work for more than two years.
"It's been consistently inconsistent, which is extremely detrimental," said Josh Thomas, a port spokesman. He said exporters and importers are feeling the impact across the state.
"There's a ripple effect when there's a broken link in the supply chain, so it's in everybody's interest to get this resolved," Thomas said.
That's proved frustratingly elusive. Labor relations at the port soured in 2012 after a dispute over which workers had responsibility for refrigerated containers.
Terminal operators have repeatedly accused dockworkers of staging slowdowns and ICTSI made fresh slowdown allegations Thursday, citing a sharp decrease in the movement of cargo through the port. The union has emphatically denied the charges.
Months of contentious negotiations between West Coast shipping companies and dockworkers complicated relations, though reports this week suggest a regional deal could be close.
Meanwhile, Oregon businesses are feeling the pinch.
"Somebody needs to step in and get this contract solved so this doesn't happen," said Marty Olson, owner of Mastercraft Furniture, which has its factory in Stayton, southeast of Salem.
Mastercraft furloughed its 180 employees for more than two weeks earlier this month, Olson said, because a fire-retardant barrier shipping from overseas arrived weeks behind schedule. He said Mastercraft workers returned to the job this week.
Persistent slowdowns at the port mean material arrives weeks behind its due date, he said, disrupting production and costing his workers their paychecks.
"The delay at the port has really caused havoc for us here," Olson said.
Patti Iverson-Summer, president of international logistics firm Global Trading Resources, said businesses large and small are being crippled by the "vile relationship" between the dockworkers and terminal operators.
"It's not something way off in the distance. It's affecting the whole community very, very significantly," she said. "Agriculture cargo is being left at the dock."
It's not clear how the crisis can be resolved, Iverson-Summer said, but it's clear that it needs to be addressed: "I'm at a total loss."
---
Mike Rogoway
Hanjin Cargo Ship Turns Away from Portland as Port Labor Issues Near Crisis
Oregonian, January 30, 2015
---
See what you can learn
learn more on topics covered in the film
see the video
read the script
learn the songs
discussion forum