---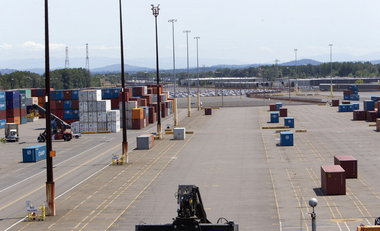 An ongoing labor dispute has caused the Port of Portland to temporarily lose the services one of one of its biggest shipping partners.
South Korean shipping line Hanjin on Thursday decided it would not call on the Port of Portland next week and will likely stay away until the labor fight at the port's Terminal 6 container facility is resolved.
"I think it's not so clear at the moment, but until this situation resolves we cannot change our position," T.H. Kim, Hanjin's regional manager for Portland and Seattle, said Thursday.
The issue could find a resolution as soon as Friday afternoon when a U.S. District Court judge in Portland holds a hearing on a pair of lawsuits brought by the National Labor Relations Board and the International Longshore and Warehouse Union.
Hanjin moves 2,000 containers per week through Portland, according to Port of Portland Executive Director Bill Wyatt, making its loss one of the biggest casualties so far in the dispute between the longshore union and terminal operator ICTSI Oregon Inc. over which union has the rights to the two to four jobs plugging and unplugging refrigerated container units.
ICTSI contends that it's bound by a terminal management lease with the Port of Portland that requires the work be done by the International Brotherhood of Electrical Workers . The longshore union believes that ICTSI, as a member of the Pacific Maritime Association, is bound by a labor pact with the PMA dictating that the work goes to the ILWU.
Though the conflict involves just a handful of jobs, it has nonetheless brought T6 to a near standstill, with trucks lined up outside the terminal's gates for hours awaiting their cargo. The inability to move cargo through the port has a trickle-down effect throughout the region's economy -- from retailers that can't get current product, to manufacturers or farmers that have to incur additional expenses to ship products through another port.
Ronald Hooks, head of the National Labor Relations Board's regional office in Seattle, has accused the ILWU of orchestrating a campaign to intentionally slow production at T6 and on Tuesday asked a federal court judge force them to stop.
The longshore union, which has filed its own federal court lawsuit against ICTSI, has denied that it's intentionally disrupting work flow.
U.S. District Court Judge Michael Simon will hear both cases at 1:30 p.m. Friday in a hearing that many hope puts the issue closer to a resolution.
Delays are expensive for ocean-going carriers, companies that are already struggling to make money in a weakened global economy. One shipping industry executive on Thursday said it can cost between $25,000 and $30,000 a day to operate a vessel, so getting stuck for a day in Portland from a labor-induced delay can be costly.
Hanjin's Kim said the carrier also took Portland off the schedule of the Hanjin Copenhagen, a container carrier that was scheduled to arrive at T6 on June 30.
"Originally it was scheduled to call Portland but last night our head office in Seoul decided not to because too many containers are sitting in Portland terminal now and it's getting worse," Kim said.
---
Erik Siemers covers footwear and apparel, technology, energy, manufacturing and ports.
Hanjin Halts Port of Portland Service Due to Labor Dispute
Portland Business Journal, June 21, 2012
---
See what you can learn
learn more on topics covered in the film
see the video
read the script
learn the songs
discussion forum