---
Simon orders new environmental review, he says the dam issue cries out for action
But the Pacific Northwest has seen it before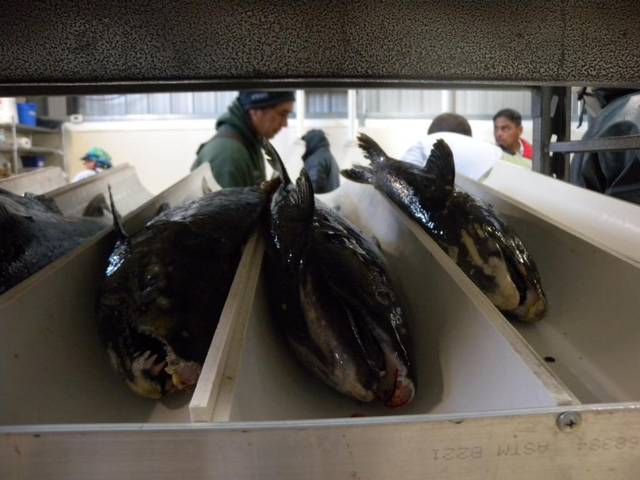 Watching the legal proceedings over salmon and dams on the Columbia and Snake rivers has become a lot like the movie "Groundhog Day."
I wake up like Bill Murray and hear Sonny and Cher singing "I Got You Babe" -- just like the last five times a federal judge has ruled since 1994. On Wednesday, a new judge ruled that the federal agencies that manage dams and salmon violated the Endangered Species Act with their plan for operating dams on the two rivers.
Once again the federal agencies are surprised and disappointed. Once again anglers, commercial fishermen, conservation groups and Indian tribes cheer and hope this time the Pacific Northwest will consider removing the four Lower Snake River dams or some other extraordinary action to aid the salmon's migration.
Will the groundhog see its shadow this time?
This time it was U.S. District Court Judge Michael Simon in Oregon who ruled that the federal 2014 Columbia Basin biological opinion was invalid. A biological opinion is required under the species act if any federal action threatens to push endangered species into extinction.
Simon expressed frustration that since Idaho first filed a lawsuit against the dam plans in 1993, National Oceanic and Atmospheric Administration Fisheries, the Army Corps of Engineers and the Bureau of Reclamation "have ignored the admonishments of Judge (Malcolm) Marsh and Judge (James) Redden to consider more aggressive changes ... to save the imperiled listed species."
"The agencies instead continued to focus on essentially the same approach to saving the listed species -- minimizing hydro mitigation efforts and maximizing habitat restoration," Simon wrote.
Despite billions of dollars spent on these efforts, wild, naturally spawning salmon and steelhead remain "in a perilous state," Simon said.
How perilous? Well, we lost almost all the Snake River sockeye run in record-high hot rivers last year. Migrating spring chinook numbers are at a fraction of last year's numbers, and Pacific Ocean experts expect that to continue at least for the next three years.
Simon's answer is to force the agencies to complete a National Environmental Policy Act analysis of the salmon-dam problem. That would require officials to look at all of the alternatives to help wild salmon, including dam breaching. That also would require them to do a complete cost-benefit analysis of each alternative, something they haven't done since the 1990s.
Officials will have to finish this NEPA review by 2018, when the 2014 biological opinion was supposed to be renewed. In addition to dam breaching, the review also will have to include looking at dropping the water level at the massive John Day Dam on the Columbia to its minimum pool during spawning and likely include Oregon's call for maximum spill of water over the dams to divert migrating salmon away from deadly hydroelectric turbines.
But unless there is a major political shift in Oregon, Washington, Idaho and Montana, we'll all wake up in 2020 listening to Sonny and Cher again. That means Simon's call that the Columbia-Snake salmon-dam issue "cries out for a new approach" can't be aimed just at the federal agencies and their allies.
Oregon has remained on the same side as anglers, commercial fishermen, conservation groups and outdoor businesses, as has the Nez Perce tribe. But their most obvious political ally, Washington Democratic Gov. Jay Inslee, considered by many the greenest governor in the nation, is actually on the side of the feds.
These groups have better friends in Idaho's two Republican senators.
Starting over means re-examining the shifting science in light of climate change. The superior value of Idaho's high-mountain spawning habitat as thermal refuge in the face of warming remains clear.
But the future of some wild salmon stocks downstream is not clear. How we decide to make "Noah's choice" about what species we can save and the ones we can't will inherently have to be both a regional and national decision, if the climate conditions scientists expect come to pass.
So instead of focusing on biological opinions, court decisions and the same old, same old we've gone through since 1991, the Pacific Northwest needs a genuinely new collaborative process. It needs to be driven by the parties to a legal action and by the needs of the entire watershed. Then it needs to go to Congress, to be passed into law so that the plan does what we want.
Then perhaps we'll wake up to something else on the clock radio other than "I Got You Babe."
Related Sites:
Read the judge's full ruling.
---
Rocky Barker
Idaho's 'Groundhog Day': Judge Again Orders Feds to Take New Approach on Northwest Salmon
Idaho Statesman, May 5, 2016
---
See what you can learn
learn more on topics covered in the film
see the video
read the script
learn the songs
discussion forum