---
The Washington State Department of Agriculture wants to reduce the grain inspection fee for exporters.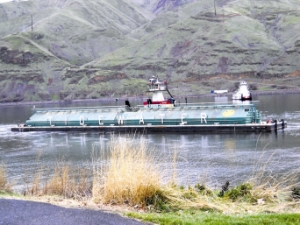 The Washington Department of Agriculture wants to reduce the grain inspection fee it charges exporters.
When exporters have grain inspected, how much they pay for the service is based on how much money is in the program's operating fund.
If the program's fund falls 10 percent below its six-month operating balance, a Tier 1 fee of 25 cents per metric ton is charged.
If the fund is 10 percent above the operating balance, a Tier 2 fee of 20 cents per metric ton is charged.
Under the proposed rule, if the balance hasn't changed in the past six to nine months, the state would charge a new lower Tier 3 fee of 10 cents a metric ton, said Phil Garcia, grain inspection program manager.
The lower fee gives the department a more expeditious way to reduce its fund balance, he said.
The fund's six-month operating balance must be maintained at a certain level. It is currently $8 million, Garcia said.
In Washington the state Department of Agriculture inspects grain on behalf of the Federal Grain Inspection Service.
"We're a not-for-profit, so under our delegation with USDA, we've committed that we will not have an excess fund balance, that we will do our due diligence to make sure that we're making enough money just to do business," he said.
A public hearing on the proposal was Aug. 29 in Spokane, and another was planned for Aug. 30 at the department in Olympia. Garcia expected support for the lower fee.
Stakeholders reviewed the proposal through the grain advisory committee, Garcia said, and the state received positive feedback. The Federal Grain Inspection Service also approved the change.
After public comment, the proposal would be adopted as a rule.
Garcia said there's no concern that exporters could wait for lower fees to buy wheat.
"We're kind of just a grain of salt in a big bag of salt when it relates to the bill," he said. "We're talking about 66,000 metric tons per ship, and we do a ship in a day and a half."
The change does not affect domestic customers.
"There's not going to be an impact to the farmer," said Joe Bippert, program director for the Washington Grain Commission.
Farmers and grain elevators pay a fee of $20 to $25 per truck or container for grain inspection. That fee structure is not changing, Bippert said.
The commission supports the change, he said.
"We don't expect any problems with this, mainly because the existing fee at the highest rate remains unchanged," Bippert said.

---
Matthew Weaver
State Looks to Reduce Exporters' Grain Inspection Fees
Capital Press, August 24, 2017
---
See what you can learn
learn more on topics covered in the film
see the video
read the script
learn the songs
discussion forum