---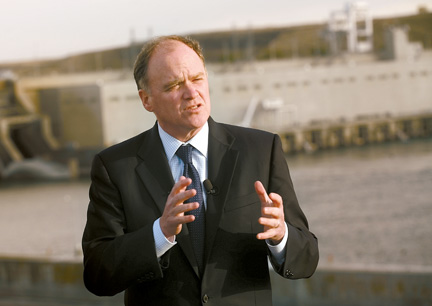 Environmental policy took center stage in this year's congressional races on Tuesday, with candidates for U.S. Senate holding dueling news conferences across the state and former Vice President Al Gore expressing incredulity at Republican Rep. Dave Reichert's views on global warming.
At a Seattle University conference room, Democratic Sen. Maria Cantwell - flanked by Gore and Reichert's Democratic challenger, Darcy Burner - cited her legislation to end subsidies to oil companies and refocus energy policy on alternative fuels.
"We want to get on with this revolution," she said.
Campaigning in Eastern Washington, Republican Mike McGavick, a former insurance executive, spoke at a viewpoint overlooking Ice Harbor Dam near the Tri-Cities.
He declared he would never allow breaching of the Snake River dams and asked: "Who is the senator going to side with, the people of Eastern Washington who depend on hydropower or environmental activists who hide behind antiquated and ineffective federal laws like the Endangered Species Act?"
Cantwell has said she does not support breaching the dams.
Eastern Washington officials say the irrigation, electricity and shipping route the dams provide are important to the region's economy. Proponents of breaching the dams say they produce just 5 percent of the region's power, irrigate about 13 large farm operations and handle a fraction of the cargo shipped on the Columbia.
Most of the laughs from the crowd of about 100 students and alternative energy entrepreneurs at the Seattle University event came when Gore talked about Reichert's beliefs about global warming.
Seattle Mayor Greg Nickels, who introduced the speakers, said Reichert doesn't think climate change is caused by humans. "Did he say that?" interrupted Gore, whose film about global warming, "An Inconvenient Truth," grossed $23.7 million. "He's not sure it's caused by humans?"
"He's not convinced that it's caused by human beings," responded Nickels.
"C'mon! And this man is a United States congressman?" asked Gore. "You know, 15 percent of people believe the moon landing was staged on some movie lot and a somewhat smaller number still believe the Earth is flat. They get together on Saturday night and party with the global-warming deniers."
Reichert's campaign spokeswoman, Kimberly Cadena, declined to comment about Gore's remarks.
Reichert's Web site said the congressman "continues to investigate what causes global warming. Until he reaches a definitive conclusion, he will continue to pursue an environmental agenda that presupposes global warming is caused by man's activity, and support environmental legislation that seeks to counteract man's influence."
The League of Conservation Voters said it supported 28 percent of Reichert's environmental votes, higher than the state's two other Republican members of Congress, Doc Hastings and Cathy McMorris, who both scored zeros.
The group endorsed Burner, who also addressed the audience, noting that Reichert sits on the House Science Committee.
"We need members of Congress who understand science," she said. "We owe it to the people of this planet to do the right thing."
Reichert has sought to burnish his environmental credentials during his two years in office and voted against drilling in the Alaska National Wildlife Refuge. He also opposed a measure that amended the Endangered Species Act.
The bill passed the House but has yet to be taken up by the Senate.
McGavick supports Alaska drilling and lambastes current federal laws on species protection, believing the Endangered Species Act should be reformed to use incentives rather than penalties to create conservation opportunities.
On global warming, McGavick has said: "I am certain that climate change and global warming are happening and I am certain that science has proven that humans play a role.
After speaking at KeyArena on Monday night, Gore attended a downtown Seattle fundraiser for congressional Democrats on Tuesday and a private book signing for Starbucks employees.
The fundraiser at the Washington Athletic Club raised nearly $600,000, setting a record for a Seattle event by the Democratic Congressional Campaign Committee.
---
Alex Fryer
Times chief political reporter David Postman contributed to this report.
Gore Scoffs at Reichert's Stance on Global Warming
The Seattle Times, October 25, 2006
---
See what you can learn
learn more on topics covered in the film
see the video
read the script
learn the songs
discussion forum