---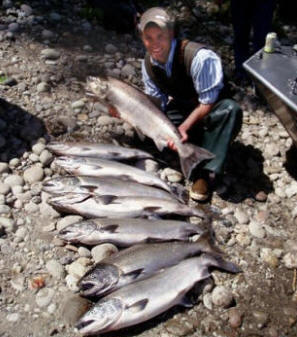 Columbia Basin harvest managers are predicting 678,000 fall Chinook to return to the river this year, with close to 433,000 upriver brights (URB) heading for spawning grounds at Vernita Bar, near Hanford.
The URB forecast would be a record-high run if it materializes. The current record was set in 1987, when 421,000 URB returned to the river. If the total run reaches the forecast, it would be the highest return since 2004.
Lower Columbia hatchery fall Chinook are expected in the 88,000-fish range, close to last year's return, while the wild component is pegged at 14,200. Last year's wild run added up to 13,900 fish.
Bonneville Pool hatchery fall Chinook are predicted at only 38,000 this year, while Bonneville upriver brights are pegged at 35,200, nearly three times last year's return and close to the 10-year average. Pool upriver brights are estimated at 70,000 for 2013, which would be a record. The highest return, so far, was the 67,400-fish return in 2003.
Managers have also predicted a big return for the Snake wild fall Chinook, a run of 31,600. Last year, about 16,700 returned. Redd counts recently completed on the Snake added up to 4,795, the third highest estimate since 1988, when the intensive surveys began. In 2011, the fall Chinook redd count was only 215 redds higher, while the 2010 count was 835 redds higher than this year's.
"This year's preseason forecasts point to a number of opportunities for us to design some exciting fishing opportunities in waters across the state, while staying true to our conservation principles," said WDFW director Phil Anderson. "We look forward to working with our constituents in designing salmon fisheries."
California fall Chinook runs are going to be great this year as well, according to the preliminary analysis from the Pacific Fishery Management Council. The Council's preseason report, released in late February said more than 834,000 fall Chinook are forecast for the Sacramento River system, after last year saw more than 35,000 jacks return. In 2012, about 618,000 fall Chinook returned, bouncing back from the 2008 and 2009 lows of only 70,000 and 41,000 fish, respectively.
The ESA-listed winter Chinook run on the Sacramento is still expected to come in low, but no forecast was available. The average return (geomean) over the past three years was just over 1,500 fish. Since 2001, the escapement has ranged between about 800 and 17,000 fish.
The Klamath is expected to do well again, after last year's fall Chinook return of 302,000, the highest since 1978, when the PFMC began keeping track. This year's estimate of age-4 ocean abundance is 331,000--the highest since 1986, when managers began the analysis. The latest report notes that last year's harvest regime was expected to result in 86,300 natural-area spawning adults, but post-season estimates added up to 122,000 spawners, with only about half the harvest rate on the age-4 cohort as expected.
Puget Sound Chinook stocks are predicted to add up to about 264,000 fish, similar to recent years' returns. But since 2013 is an odd-numbered year, that means pinks; about 6 million are expected to return to the Sound. Almost 9 million pinks are predicted for the nearby Fraser River in B. C.
Good coho numbers are also anticipated, nearly 900,000 in Puget Sound. Sockeye, however, are not predicted in great numbers--only about 97,000, far below the 350,000-fish escapement required for managers to consider opening a recreational fishery.
Coho numbers in the Columbia River will likely be better than last year's 306,000-fish return, about half what was predicted. This year's early and late runs are expected at 501,000, with another 24,300 coastal hatchery fish, adding up to 525,000. About 191,000 coho are expected in the Oregon Coastal Natural Rivers and Lakes categories, which puts the total around 716,000 coho altogether.
State, tribal and federal fishery managers meet March 6-11 in Tacoma with the PFMC to develop options for this year's commercial and recreational ocean Chinook and coho salmon fisheries.
Further north, Alaska managers expect 54 million pinks to return to Southeast Alaska this year, nearly half of the predicted pink run for the entire state. But sockeye returns to the Bristol Bay region are pegged at 26 million for the coming season, down 33 percent over the last 10-year average.
---
Bill Rudolph
Good News for Fall Chinook Everywhere
NW Fishletter, March 7, 2013
---
See what you can learn
learn more on topics covered in the film
see the video
read the script
learn the songs
discussion forum