---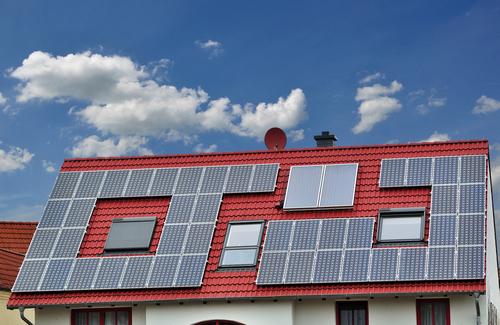 One morning 165 years ago, James Marshall was examining his sawmill on the American River, near Coloma, Calif. Marshall was having a run of bad luck -- in recent years, he'd been to war and lost his land -- but on this day he noticed something shimmering in the channel beneath his mill. Scooping up a handful of gravel, he was sure: Gold.
A lot has changed since Marshall made the discovery that put our state on the map. Yet California continues to be a place where people know a valuable thing when they see it. In our most recent "gold rush," the gold was microchips and computer code. Now we're on the verge of realizing a major new wealth generation opportunity. Call it the solar rush.
Nationwide, solar energy is booming, and nowhere is it booming like California. Between 1999 and 2011, the number of rooftop solar arrays in our state grew from 500 to more than 50,000. Late last year, California's installed solar capacity surpassed 2 gigawatts -- the equivalent of two large coal-fired power plants and almost a third of all the solar energy production capacity in the country. Of the United States' 120,000 solar jobs, a quarter are located here, in The Golden State.
Impressive as these numbers are, they're just a start. The National Renewable Energy Laboratory calculates that we can run our entire state on rooftop solar and still have energy left over to sell. To achieve this vision would be to lead the world in addressing climate change, while also making our grid more resilient, saving money on our energy bills, and creating jobs wherever there are power lines and rooftops. But to get there, we're going to need to make it much easier for everyone to bank on the sun.
Technological advances have already taken solar from being too expensive for anything but satellites to being the cheapest source of energy for Americans in at least twenty states. We've also benefited from social and financial innovation. In the early 2000s, California companies like SunEdison pioneered the idea of solar leases, a concept that dramatically expanded solar's appeal by removing the barrier of high upfront costs.
Yet at least 75 percent of Californians still can't go solar. Many lack the credit necessary to secure a solar lease or solar loans. Others don't own their homes, or have roofs that aren't well suited to solar panels. Here, I speak from personal experience. As someone who runs a solar financing company and founded the world's largest youth clean energy organization, I know solar energy is a very good investment. As someone who rents in downtown Oakland, I can't access it.
So how do we open up the floodgates to a true solar rush? How do we democratize solar energy? Three emerging visions point the way.
The first vision takes the form of SB 43, a bill currently moving through the California legislature. On July 1, SB43 was approved by the Utilities and Commerce Committee, which means the bill will now likely it become law. Once it does, SB43 will allow people will be able to buy electricity from any renewable energy source within their utility territory. Rather than having to install solar on your own roof, you will be able to buy energy from solar arrays located on the roofs in your community -- or on empty lots or outside of town -- that make most sense.
The second vision hinges on a new conception of transportation. You may have heard that the Tesla Model S -- a car designed in Palo Alto and built in Fremont -- won Motor Trend's 2013 Car of the Year award. Less well reported is the fact that Tesla's CEO, Elon Musk, is building a network of solar-powered vehicle charging stations. Eight of the first 12 stations are already running in California, and Musk plans to build enough to serve 98 percent of the populations of the U.S. and Canada by 2015. As electric vehicles continue to decline in price, more and more Californians are going to think that it's normal to fill up on sunlight rather than four or five dollar a gallon gasoline.
The final vision brings together entrepreneurs from the energy and Web 2.0 worlds. My company, Mosaic, is one of many organizations in this emerging "CleanWeb" movement. Via our platform, anyone can lend as little as $25 to a specific clean energy project. Investors earn a steady return and solar projects benefit from lower cost financing than they can get from big banks. Our first public investment projects sold out in less than 24 hours, with more than 400 investors providing $315,000 in loans to solar arrays located on four California affordable housing complexes. The expected annual rate of return for the loans is 4.5%--better than Treasuries, better than most bonds, and better than the S&P 500 over the past decade.
Solar energy is rapidly becoming a good investment for California -- both in the sense that it provides good returns for investors and in the sense that it's good for our communities and the world. It's time for the Golden State to lead the effort to make the solar energy opportunity accessible to everyone. It's time to embrace the solar rush.
---
Billy Parish
Solar Energy: The New Gold Rush?
The Energy Collective, July 13, 2013
---
See what you can learn
learn more on topics covered in the film
see the video
read the script
learn the songs
discussion forum