the film
forum
library
tutorial
contact

Columbia River and Tributary Fishing Reports
Reveal a Few Options to Get Out and Catch Fish

by Mark Yuasa
Seattle Times, January 4, 2017
---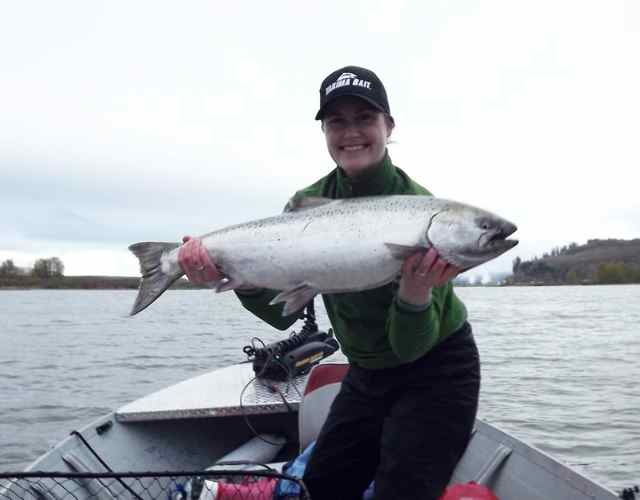 SALMON AND STEELHEAD
Cowlitz River – In between the late stock coho and late winter run steelhead runs. 14 boat anglers with 1 steelhead kept. 90 bank anglers kept 1 steelhead and 1 adult and 1 jack coho and released 1 adult coho.
Last week Tacoma Power employees recovered 132 coho adults, eight jacks, five winter-run steelhead and one cutthroat trout in four days of operations at the Cowlitz Salmon Hatchery separator.
During the past week, Tacoma Power employees released 19 coho adults and three coho jacks into the Cispus River upstream of the mouth of Yellow Jacket Creek near Randle. They released 56 coho adults, three coho jacks and one winter-run steelhead at Franklin Bridge located in Packwood.
Last week, Tacoma employees released 48 coho adults, two coho jacks, one cutthroat trout and four winter-run steelhead adults into the Tilton River located at Gust Backstrom Park in Morton.
River flows at Mayfield Dam are approximately 9,970 cubic feet per second on Tuesday, January 3. Visibility is at ten feet and water temperature is 42.8 degrees F.
Bonneville Dam upstream to McNary Dam – No salmonid effort was found during the first day (Jan. 1) of the creel sampling season.
Lake Wallula (McNary Reservoir) Steelhead Sport Fishery Update – Angler effort for steelhead in the Columbia River from McNary Dam upstream to the Walla Walla River slowed in December. WDFW estimates only 410 angler trips in December compared to 3,206 in November. Only 77 steelhead were caught in December and were primarily wild (65). Anglers averaged 15 hours per steelhead.
For the season, August 1 – December 31, 1,680 steelhead were caught and 792 hatchery steelhead have been harvested in this fishery from 10,198 angler trips.
Hanford Reach Steelhead Fishery Update – It was a slow month for steelhead fishing in the lower Hanford Reach this December. Only 62 steelhead were caught and 35 steelhead harvested in December. This is the lowest catch and harvest on record (2003-2016). The combination of poor fishing and foul weather keep angler numbers down. There were an estimated 333 angler trips for steelhead in December. For comparison, there were 1,151 angler trips in December of 2015 with a harvest of 215 steelhead.
The good news is anglers averaged 14.5 hours per steelhead in December which is comparable to catch rates from prior years. The steelhead return to Ringold Springs Hatchery in 2016 is estimated at 486 steelhead, well below the 2,000 to 5,000 steelhead that typical typically return to the hatchery.
As a result of poor returns of steelhead to the upper Columbia River, this fishery has been restricted to the harvest of Ringold Springs Hatchery origin steelhead as identified by both an adipose and right ventral fin clip. This has not resulted in a significant decrease in harvest as very few adipose only clipped hatchery steelhead have been observed in the fishery. Effective January 1 anglers will be able to retain any hatchery steelhead in this fishery and the daily harvest limit will remain at two hatchery steelhead.
For the season (Oct 1 – Dec 31) and estimated 367 steelhead have been caught and 232 steelhead have been harvested. There have been 2,996 angler trips.
. . .

---
Mark Yuasa
Columbia River and Tributary Fishing Reports Reveal a Few Options to Get Out and Catch Fish
Seattle Times, January 4, 2017
---
See what you can learn
learn more on topics covered in the film
see the video
read the script
learn the songs
discussion forum