---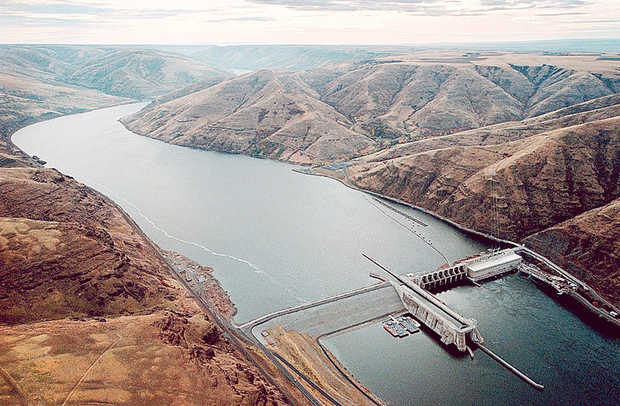 My father was a successful professional gambler for a period of his life, so we spent a lot of time at horse and dog racetracks across the Western U.S.
While some may think that gamblers make their living by instinct, my dad did it by studying. For instance, he would watch the greyhounds run schooling races during the off-season, so when the official racing season began, he already knew which dog to bet on.
While I didn't inherit his acumen for betting, I will never forget the best lesson he shared with me about gambling: "Never bet more than you can afford to lose."
I recall that lesson now, because the stakes for the future of the Northwest's clean, affordable energy have never been higher, and the outcome is something we cannot afford to gamble on.
To give you a sense of what's at risk, the federal government just released its Final Environmental Impact Statement (EIS) on the operations of 14 of the Northwest's federally owned and operated hydroelectric dams, known collectively as the Columbia River System.
The EIS included an examination of the cost of dam breaching (i.e., removal). The federal study showed that it would cost nearly $800 million annually to replace the full capabilities of the dams with other forms of renewable energy and battery backup.
That cost would translate to roughly a 25% increase in monthly electricity bills for millions of homes and businesses across the Pacific Northwest.
Three of the Columbia River System's largest customers happen to be Snohomish PUD, Seattle City Light and Tacoma Power, so the impact would be deeply felt across the Puget Sound area.
The EIS also recognizes that the region's efforts to decarbonize the grid would face a significant setback if the lower Snake River dams were removed. It is highly doubtful, for example, that Washington would be able to meet its Clean Energy Transformation Act goals without the lower Snake River dams in place.
Fortunately, the EIS concluded that the best way to meet the environmental and socioeconomic objectives of the Columbia River System is to keep the lower Snake River dams in place and adjust hydroelectric operations to aid salmon populations.
However, a new threat to the hydropower system has emerged that may provide the governors of Oregon and Washington with control over the Columbia River System.
River temperature regulation is a potential pathway to state control of the federal hydrosystem. Salmon are cold water creatures, so if river temperatures get too hot, the consequences to salmon can be dire. That said, everyone agrees on the fact that we want safe river temperatures for our salmon.
But that approach is problematic because the water temperature limits that Oregon and Washington have established are below the regularly observed summer temperatures entering into their respective state borders.
That means that the states' water quality standards could not be met, even if all the downstream dams within Washington and Oregon were removed.
It's worth noting that Idaho's Department of Environmental Quality has a water temperature standard that is roughly 4 degrees Fahrenheit warmer for the same body of water. The Idaho DEQ established the higher temperature limit because it recognizes that a lower standard is simply not attainable.
My organization, Northwest RiverPartners, and its members are greatly concerned that Oregon and Washington's unfair standards leave the door open for the states to require very costly, unproven changes to the federal system.
We have already seen interest groups use this opportunity as a justification to call for dam breaching -- something that the EIS shows would be a very bad outcome for a region that is trying to recover from a historic recession.
Oregon Gov. Kate Brown has twice called for the breaching of the lower Snake River dams in 2020. Washington Gov. Jay Inslee is said to be sympathetic with that view.
Before this happens, we encourage you to reach out to Gov. Inslee's office and voice your opinion on these unreasonable temperature standards.
We can't afford to unnecessarily increase our business costs at a time when many are on the brink. We shouldn't take a high-stakes gamble on the future of our hydroelectric resources.

---
Kurt Miller is the executive director of Northwest RiverPartners, a not-for-profit organization that advocates hydropower for a better Northwest.
We Can't Afford to Gamble on Breaching Hydroelectric Dams
Puget Sound Business Journal, August 10, 2020
---
See what you can learn
learn more on topics covered in the film
see the video
read the script
learn the songs
discussion forum