---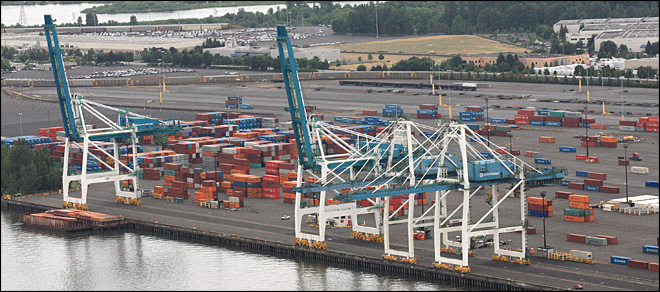 The federal government would be likely to intervene in future widespread port slowdowns under a bill introduced by Oregon Democratic Rep. Kurt Schrader and a group of Republicans from the West Coast and Midwest.
As it stands now, a U.S. president has the power to ask for a court order that can force striking unions to keep working. Many state and federal legislators called for President Barack Obama to use that power during a nine-month period, starting in summer 2014, when unionized dock workers were at odds with West Coast port operators during contract negotiations. Work at container terminals up and down the coast slowed to a halt at times, with ships waiting weeks or months to unload cargo.
The bill announced Thursday by Schrader, who was among the more vocal Northwest politicians denouncing the slowdown, and Washington Republican Rep. Dan Newhouse would beef up that law.
Instead of leaving it to the discretion of the president to decide whether to convene a "board of inquiry" to recommend whether the White House should intervene, the bill would compel the president to step in if certain economic thresholds were hit.
It also would expand the definition of a strike to include slowdowns, lock-outs and threatened strikes or lock-outs.
In the case of the contract negotiations between West Coast container ports and the longshore workers who work the container docks, all three trigger points were likely hit:
The bill says the board of inquiry must intervene if the labor dispute occurs at four or more port facilities. This latest slowdown affected 29 -- all -- West Coast container terminals.

The federal board would be convened if 6,000 employees at ports are affected. The Port of Portland's container terminal employed about 675 longshore jobs, and is one of the smaller container ports. The largest container ports, such as Los Angeles and Seattle employ many more longshore workers.

The big ports also move the most containers in the country. The third trigger point in the bill is if U.S. imports and exports drop by 20 percent in one month.

The Port of Portland has been embroiled in a dispute between the local International Longshore and Warehouse Union and container terminal operator ICTSI Oregon for years. The instability, compounded by the West Coast-wide port backup, caused the two major shipping lines who served Portland's Terminal 6 to pull out.
Now, one shipping line that sends a single ship a month remains. The loss of Hanjin Shipping Co. and Hapag-Lloyd essentially cut Portland's direct ties with business in much of Asia and Europe.

"The West Coast Port crisis cost Oregon jobs, millions of dollars in economic growth and productivity and, eventually, the loss of its largest container shipper Hanjin from the Port of Portland -- a hit that we will not know the full magnitude of for a few years," said Schrader at a Thursday press conference in Washington D.C. "Another dispute of this magnitude cannot and should not happen."

This bill, if passed, would do nothing to help local labor strife. Many worry that the backup from the nine-month-long contract negotiations could occur again when this contract expires in a few years.

The International Longshore and Warehouse Union blames the port operators and contends that the slow work on the docks came from unsafe conditions and lack of necessary equipment, rather than a tactic to get a better contract deal.

"Politicians are now pushing misguided ideas that won't solve the root problems of congestion, and may in fact threaten safety on the docks by pushing for unsafe speed in an industry that already has a higher fatality rate than police work and firefighting," said spokeswoman Jennifer Sargent Bokaie.

Some industry groups, though, back the bill as a safeguard to future disruption.

"The success of American agriculture is tied to our ability to dependably export our farm and ranch goods to overseas buyers," said American Farm Bureau Federation President Bob Stallman in support of the bill. "The ability to ship agricultural products should not be held hostage by either side when disputes occur between shipping firms and labor."
---
Molly Harbarger
Feds More Likely to Intervene in Future Port Slowdowns Under Proposed Bill
The Oregonian, November 5, 2015
---
See what you can learn
learn more on topics covered in the film
see the video
read the script
learn the songs
discussion forum