---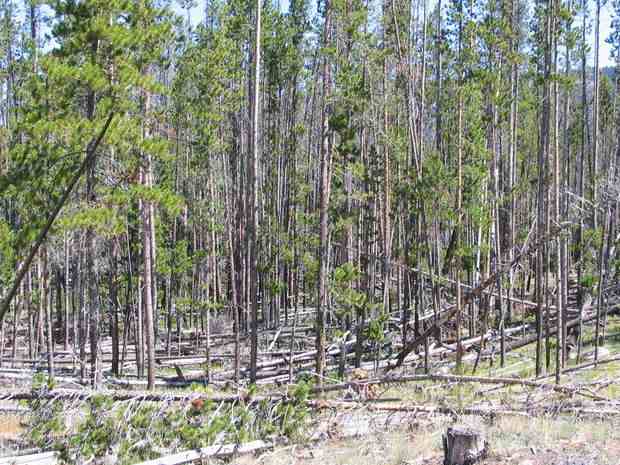 STANLEY -- Downed trees killed by a beetle infestation are increasing fire danger around Redfish Lake, but forest managers want to reduce the risk over the next decade.
Forest officials are seeking public feedback on a proposal to remove trees and burn brush on 3,000 acres in the Sawtooth National Recreation Area in an effort to decrease the potential for major wildfires. The project is called the Redfish 210 Fuels Reduction Project.
In 2003, Sawtooth National Forest officials took on the similar Red Tree Project.
Though the 2003 project involved a different area of the Redfish Recreation Complex, they propose to go back to some of the same areas, said Michelle Erdie, north zone fuels specialist with the SNRA.
"There is some (fuels) increase from the beetle kill that started 15 years ago. The trees were red and now they are starting to fall down. That is creating hazards. The fuel is more available on the ground, and fire can climb into canopies and then it's off and running," Erdie said.
The proposed project is designed to reduce fuel in strategic locations near homes and popular recreation areas such as Redfish Lake Lodge, and by vegetation thinning and prescribed burning treatments.
"As soon as there is a fire in those areas, we immediately want to suppress it," Erdie said.
"By modifying vegetation composition and structure, the proposed treatments will move the project area away from hazardous fuel loading and toward desired vegetative conditions," said a press release from the SNRA.
Recent drought and moderate winters have increased insect outbreaks within the SNRA. Lodgepole pine mortality over the past 15 years caused by mountain pine beetle has left a large amount of dead fuel in the Sawtooth Valley and Stanley Basin.
"It is anticipated that future wildfires will be larger with higher intensity," says the SNRA's proposed project.
It will serve three purposes: reduce fuel in high-value areas, enhance the ability of the Forest Service to fight wildfires and improve forest health.
The treatments will include machines that remove trees; hand work using chain saws to thin existing patch cuts; and pile and broadcast burning.
For tree removal, Erdie said, options include firewood sales, stewardship contracts and small timber sales. Leftover brush and fuel will be piled and burned.
She said forest officials intend to work with the local residents, recreationists and other forest users to reduce impacts to them as they phase in the project over the next 10 years. Existing routes which are not designated Forest System roads may be used for forest treatments and will be closed following completion of use.
"The Sawtooth NRA is interested to learn if there are any issues of public concern that need to be addressed in our analysis," Erdie said. "If we are pulling logs out in the winter, a snowmobile group might say, 'Hey, we use that area. We don't want you to do that when we are recreating.'"
A scoping letter, with a list of proposed treatments and a map of proposed treatments, is available at the Sawtooth National Recreation Area Headquarters, 5 North Fork Canyon Road, Ketchum, ID. Erdie would like to receive written comments by Dec. 10. Electronic comments may be submitted to comments-intermtn-sawtooth-nra@fs.fed.us; indicate "Redfish Road 210 Project" in the subject line.
---
Tetona Dunlap
Fuel Reduction Project Near Redfish Lake Seeks Comments
Times-News, November 13, 2014
---
See what you can learn
learn more on topics covered in the film
see the video
read the script
learn the songs
discussion forum