---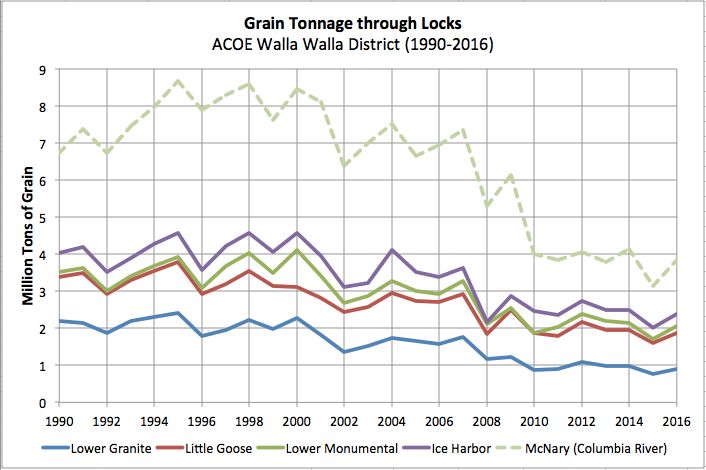 Northwest River Partners Executive Director Terry Flores was quoted in my story Sunday "Can Federal Dam Operators Save Northwest salmon?" and you can hear her live in Boise Wednesday.
Flores will present the case for keeping four dams on the lower Snake River in Washington and the multiple benefits they provide while ensuring a long-term future for Idaho salmon Wednesday at 11:30 am at the Idaho Environmental Forum at the Crystal Ballroom in the Hoff Building at 802 W. Bannock. The deadline for registration was today but you can walk in without guarantee of lunch.
Northwest River Partners is an alliance of farmers, utilities, ports, and businesses that promote the economic and environmental benefits of the Columbia and Snake Rivers and salmon recovery policies based on what they call sound science.
This forum is the second in a series on Snake River salmon. Last July, attorney Todd True with Earthjustice made a case for breaching the lower Snake River dams. This forum will present an alternative view.
Flores is a good speaker and knows her stuff. She has a strong point of view but so did True, who spoke to the IEF in July. She makes her own economic arguments and has polls from people in the region that say the public opposes removing the four dams.
But her main point in the political and scientific argument is that the federal dams shouldn't take the brunt of the hit for salmon recovery. She wants more constraints on commercial, tribal and sport fishing and increased scrutiny on how hatcheries are managed before requiring more measures to get salmon through the hydrosystem.
Most of all she says removing the four dams only helps four of the 13 species of salmon and steelhead listed as threatened and endangered. Hard to argue with that one except that the four happen to be the ones that spawn in Idaho, which have ample habitat.
Flores represents the political might against removing any dams and no matter what happens, her constituency's interest must be met as part of the kind of consensus that will be needed to implement a solution. If the Pacific Northwest's political leadership – both Democrats and Republicans -- can engage in a hard-nosed but real effort to resolve this fight once and for all I'm convinced a political consensus could be reached.
All sides would have to give in the same way we did in the early 1980s when the Northwest Power Planning Act was forged. Washington Democratic Sen. Patty Murray would have to step into the shoes of the late Washington Democratic Sen. Scoop Jackson. Idaho Sen. Mike Crapo would have to show the political courage of Oregon Sen. Mark Hatfield. Oregon, California, Nevada, Alaska and Montana all would have to get their piece of the deal. No one in the region will be rolled except those who would rather die fighting than fix this.
Our joint effort begins in Boise Tuesday when the U.S. Army Corps of Engineers, Bonneville Power Administration and Bureau of Reclamation hold an open house on the environmental review of operations of the Snake and Columbia river dams on Tuesday from 4 to 7 p.m. at Boise's Grove Hotel. Submit written comments at http://www.crso.info/
When I first began covering salmon regularly in 1990 they were all but gone in the minds of Idahoans. Fishing seasons were short and rare and you had to look long and hard to see them anywhere.
But today, just as Rick, the nightclub owner in the movie Casablanca and his long lost lover Ilsa were able to get back the intimacy they had in Paris by the end of that 1940 classic, we in Idaho got salmon back in our rivers and our minds.
Now we've got a job to do and where were going the faint of heart can't follow. What we've got to do in the Pacific Northwest in the end we must do ourselves. It doesn't take much to see that the problems of four Northwest states don't amount to a hill of beans in this crazy world.
So here's looking at you kid.
Video Link:
Opinions Gathered at Boise Meeting on Dam Salmon Issues, by Staff at the Idaho Statemsan.
A Boise steelhead angler's view on dams, by Staff at the Idaho Statemsan.
---
Rocky Barker
Can Federal Dam Operators Save Northwest Salmon?
Idaho Statesman, November 28, 2016
---
See what you can learn
learn more on topics covered in the film
see the video
read the script
learn the songs
discussion forum