---
City officials are not yet taking a side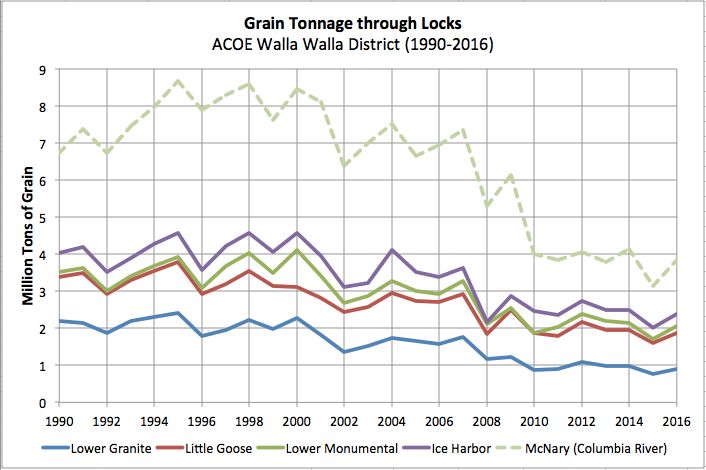 Even though the city of Lewiston has a raft of questions for the federal government indicating that dam breaching would cause massive and expensive headaches, city officials say they aren't yet taking a position.
"I'm worried about the future of the community, and about the financial impacts," Community Development Director Laura Von Tersch said. "We're not in the phase of the project where it's even relevant to say we either support or deny an alternative. We're just trying to make sure that our questions are on the table and addressed."
The city recently submitted its list of concerns to the U.S. Army Corps of Engineers, the U.S. Bureau of Reclamation and the Bonneville Power Administration as those agencies prepare an environmental impact statement on the Columbia River system operations in anticipation of 14 projects.
The Lewis-Clark Valley Metropolitan Planning Organization, Lewis Clark Valley Chamber of Commerce and other local agencies have also prepared documents listing their questions and concerns.
If dams are breached someday, the functioning of critical infrastructure like the water treatment plant, sewer lift station and the stormwater pond and outfall system would all be affected, Von Tersch said. They were all designed to work with the rivers at a specific level, so the city is worried about who would pay to re-configure them in the event of a drastic change.
"We had an operating system before slackwater came in," she said. "I guess we could have a different one if it goes out. I just don't know what that would look like."
Clearwater Paper, the area's largest employer, also depends on the river being at a specific level for its water intake and discharge. There is uncertainty about impacts to the city's pollution discharge permit if the storm drainage ponds that filter runoff are affected. Questions arise about ownership and cleanup of the land uncovered when waters recede. And the departure of the large mass of water will deprive the area of a moderating effect on the climate, Von Tersch wrote in her list of questions.
Economic impacts loom large in the document. Cruise ships contribute about $1.4 million to the local economies, according to the city. Slackwater has also created value in riverfront and riverview properties, recreation and boat building.
"If (boat builders) can't sell any product locally, then they might be interested in moving closer to their market," Von Tersch said. "And then I worry about everybody who owns a boat right now. Does it become valueless because you have to drive such a long way to use it? The ripple effects just keep going."
The chamber of commerce said cruise ships bring about 27,000 visitors and crew members to the area each year, with a broader economic impact of between $6 million and $10 million. Chamber officials also worry about reduced access to Hells Canyon, and increased power rates if hydroelectric capacity is diminished.
Then there are questions about whether the levee system would remain, and who would pay to remove it. If it stays, city officials wonder who would be on the hook for maintaining it and certifying its integrity on an annual basis.
Von Tersch wrote that when the water was temporarily drained in 1992, the levees dried out and began collapsing. That would require costly repairs, she said. The sediment and mud that has accumulated over the decades would also have to be dealt with, and possibly cleaned up if it is contaminated with heavy metals.
The Metropolitan Planning Organization shared this concern, stating that roads and rail lines suffered during the 1992 drawdown. And bridges in other areas have needed to be replaced where dams have been removed.
(bluefish notes: Less that 3 million tons of commodities are shipped annually through the Lower Snake River lockages according to Army Corps of Engineers reports and plotted in graphic above.)
Agriculture would be affected through the loss of the ports, which provide an environmentally friendly way for farmers to transport large volumes of crops. That transportation mode carries 57 million tons of product each year, and its loss would require an additional 2 million tractor-trailer trips to replace, according to the Bureau of Reclamation.

The Metropolitan Planning Organization expanded on this, stating there is already a shortage of freight trucks and drivers. Regional roadways are also not prepared to carry the impact of such a huge shift in traffic, and the rail system is in need of significant repairs and upgrades.

Lewiston city councilors approved the submittal of Von Tersch's list of questions earlier this week. Some councilors commented that the dams in the system have never lived up to their promise for irrigation and power generation, but all agreed their removal would have a major effect on the city.

Von Tersch's main concern was that if breaching does happen, that her community and its neighbors don't get stuck holding the bag.

"I've heard from other people who have gone through things like this before that if we don't identify an impact that we want them to evaluate, or a question answered, there might be an impact, but they won't be obligated to mitigate it," she said.

Related Pages:
Comment Period Extended on Columbia River Dams EIS by Staff, Priest River Times, 1/4/17

---
Joel Mills
Lewiston Floats Dam Options
Lewiston Tribune, January 16, 2017
---
See what you can learn
learn more on topics covered in the film
see the video
read the script
learn the songs
discussion forum