---
It's time to find a real solution that saves these fish and
honors America's treaties with the Nez Perce and other tribes.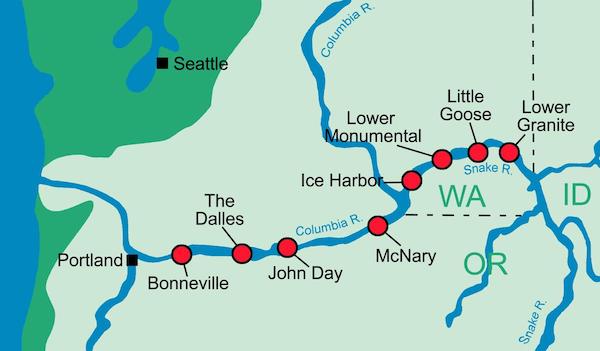 JOSEPH -- With several dam issues looming in 2020, Winter Fishtrap, Jan. 17 to 19 at the Josephy Center for Arts and Culture is inviting us to wade into the subject, exploring dams and their effects from multiple perspectives.
With reconstruction of the Wallowa Lake Dam beginning this summer, and a monumental environmental impact statement on all the dams on the Columbia River system due out in February, the topic could hardly be more timely.
Known for illuminating big issues that strike close to home, Winter Fishtrap is planning a full day of discussions and conversations about how dams have shaped the history of the West and our future with them.
"From the big federally funded projects to right here at home at Wallowa Lake, we hope Winter Fishtrap: Dams will help spark a new understanding on a subject that influences all our lives," Fishtrap program director Mike Midlo said. "It's a complex topic; one that I hope will inspire conversations, create connections, and foster a better understanding on a subject that is important to us all."
Deciding upon this year's theme of dams was a process that took more than a year, and meetings of the Fishtrap program committee, staff and citizen groups, Midlo said. Early ideas ranged from fish, migrations and sustainability to the future of agriculture, industry and natural resources as we adapt to a changing climate.
"In the end, we chose the theme "dams" as a way to explore all these issues. Perspectives included how their construction changed the West, the way we live today, and how we will live in the future," he said.
Winter Fishtrap begins on Friday evening, Jan. 17 with an address by Portland State University historian Bill Lang titled "Living in a Dammed World." The talk will explore the dams in the Columbia Basin, Lang said. "There are four questions we should ask ourselves: Why build the dams? Did it make a difference where you live? Who runs the dams? What did the dams do to nature?"
"These are really big bucket questions," he said. "Another thing to consider is that this system of dams was built with incredible speed. They were the foundation for dams in Africa and Asia, including the Aswan High Dam on the Nile. They affected the world with technology sharpened and honed on the Columbia."
Saturday's focus is decidedly local. The day begins with a presentation by David Weaver about the history and landscape of Wallowa County from 1863 to 1919. That's followed by a panel discussion about Wallowa County and its dams, moderated by Al Josephy. After lunch the most potentially productive session will occur -- a community conversation about "What do we want? Resources, wildlife, and the Snake River System."
Sunday, Jan. 19 begins and ends with a presentation on Tamanwit (Natural Law) by Charles Sams III, of the Confederated tribes of the Umatilla Reservation.
"Winter Fishtrap is designed to challenge folks to come away with new understandings about important topics that are especially relevant in the West," Fishtrap Executive Director Shannon McNerney said. "If you walk away knowing something you didn't know before, we've succeeded."
For more information or to register for Winter Fishtrap, visit the Fishtrap website: fishtrap.org.

---
Ellen Bishop
Winter Fishtrap 2020 Inspires Talk About Dams
Wallowa County Chieftain, January 8, 2020
---
See what you can learn
learn more on topics covered in the film
see the video
read the script
learn the songs
discussion forum