---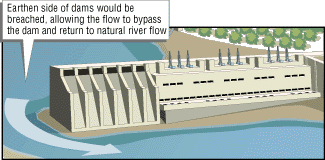 The surest way to resurrect once-prolific Snake River salmon runs is to punch holes in four dams that have turned a cool, free-flowing run of the river into a string of warm ponds, says a panel of scientists appointed by the federal government.
But today federal fisheries managers, facing a campaign of political pressure spearheaded by Sen. Slade Gorton, are unveiling a series of alternatives to save Snake River salmon from extinction. But this new menu of choices, while costly and controversial, might negate the need to breach the four dams in southeast Washington.
The National Marine Fisheries Service will be giving the region's political leaders a list of options to try to save Snake River salmon. In effect, the message is, "OK, you decide how to save these fish."
The stakes are high for the Pacific Northwest, which is under the gun to save what is arguably its most cherished natural resource -- salmon. Where once the runs were plentiful, now there is a 1-in-10 chance some Snake River stocks will go extinct in the next decade.
Residents living along a 140-mile stretch of the Snake fear their already-battered economy will take a fatal drubbing if the dams are disabled. Breaching the dams would boost electricity costs and make the river too shallow for barges to ferry their grain to market, necessitating more-expensive truck or railroad transportation.
The report is a precursor to a preliminary decision next month by the U.S. Army Corps of Engineers on whether to disable the dams.
That decision is being widely watched from across the country.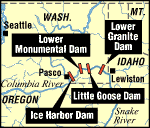 The preliminary list of salmon-saving options being released today by National Marine Fisheries Service comes with some difficult choices.
These possibilities include new limits on logging, grazing and development near the banks of the Snake and its tributaries. Protecting these stream banks would help keep the Snake's water clean and cold, as salmon require.
The options also might include reducing Native American tribes' salmon catch, but that is likely to trigger a new round of lawsuits.
Some tribes already are livid, accusing federal fisheries managers of hoarding scientific information that is the basis of today's report.
The report examines the four broad categories of actions. The "four Hs," as they were dubbed by fisheries managers, are: hydropower, hatcheries, habitat and harvest.
Breaching the dams
By far the most controversial has been hydropower. The four dams proposed for breaching were built primarily to make the river deeper, opening it to barge traffic and to produce electricity. One also provides irrigation water.
The four dams produce about one-twentieth of the Northwest's power. Without them, residential electric users in Seattle might pay an extra $1 or so each month; those in southeast Washington might see monthly bills rise $4 or $5 a month.
Breaching the dams -- carving holes through their earthen flanks, leaving the supporting concrete abutments intact -- would help the fish because they would no longer get chewed up in the dams' turbines or cut by screens and pipes as they migrate to sea.
Also, as the river's flow increased, salmon no longer would wander through warm, sluggish pools, making them unhealthy and easy pickings for predators. With the dams out, they would be more readily swept out to sea in a cooler, faster-running river. And they would not face lethal levels of nitrogen infused into the river when water spills through the dams.
"If you're talking purely about biology, about how to bring back salmon, dam-breaching would in many ways be a no-brainer, because it clearly returns the river to the way (the fish) evolved," said Brian Gorman, a spokesman for the Fisheries Service. "But that's a specious argument, because that's not the way the world is run."
Gorman denies charges that his agency doesn't have the stomach to breach the dams.
"Dam-breaching is as lively and debatable an alternative as it was a year ago," Gorman said.
Not breaching the dams would almost certainly require Idaho farmers to give up about 325 billion gallons of water each year. This would probably exacerbate the fight for river water already being played out between Idaho and Washington.
The idea of breaching the dams was considered radical until the past few years, when a wide-ranging panel of scientists from federal and state agencies and tribes, among others, called it a promising solution.
The science group, known as Process for Analyzing and Testing Hypotheses, or PATH, worked on the problem for about five years. It said dam-breaching is sure to save fall chinook runs and help save spring and summer runs.
In the past year, though, the National Marine Fisheries Service assembled a new team of scientists working exclusively for the agency. Their conclusions differ somewhat.
The NMFS team agreed with PATH that dam-breaching offers with near-certainty that fall chinook runs would return, said NMFS biologist Michelle McClure.
But the NMFS team says it would take more than just dam-breaching to revive the spring and summer runs, McClure said.
Barging fingerlings
Not breaching the dams also means continued use of a technical fix of unknown value: barging salmon. Some of the young salmon are gathered up each year, put into boats or trucks and whisked downstream so they avoid the the fish-killing dams.
Barging was roundly criticized in a recent report by biologists working for tribes, the U.S. Fish and Wildlife Service and the states of Idaho, Oregon and Washington.
The great unknown in this debate is how much barging hurts the fish. How many, scientists wonder, die after their release because of the bruising, crowded ride downstream in barges?
The newly assembled NMFS team concluded in the past half-year that barging isn't as bad for fish as previously thought.
Non-NFMS scientists disagree.
PATH said improving barging would provide only a 50 percent assurance the fish would rebound.
And an Oct. 4 report issued by biologists working for Native American tribes, the U.S. Fish and Wildlife Service and the states of Idaho, Oregon and Washington dissected the NMFS team's scientific assumptions and concluded its analysis is far too optimistic about keeping fish alive after barging.
Inland opposition
Much of the opposition to dam-breaching is centered along the river from the Tri-Cities in Washington to Lewiston, Idaho. Though Lewiston is hundreds of miles inland, it is a seaport where wheat and other goods bound for the ocean are loaded on barges for the trip downriver.
Those barges move grains at less than half the rates charged by railroads. Already the wheat farmers are struggling to survive.
Not just wheat is affected.
Thousands of jobs would disappear as 13 irrigated farms near Pasco lost their current water supply and Lewiston's biggest employer, the Potlach Corp., closed because it could no longer transport paper, pulp and lumber downriver by barge, dam proponents say.
Yet not breaching the dams also could cost jobs as federal officials turned from hydropower to habitat, meaning they would try instead to improve conditions in the river.
A key assumption here is that more water would be flowed through the Snake, cooling the river and helping sweep young salmon seaward. That water would come from a rich belt of Idaho agriculture.
How much water would Idaho farmers have to forego? A figure that the Bureau of Reclamation has analyzed is another 1 million acre-feet, or about 325 billion gallons annually. That would mean nearly one-fifth of Idaho's irrigated farmland -- perhaps as much as 1,000 square miles -- would be at risk, said Lynn Tominaga of the Idaho Water Users Association.
Similarly, timber interests feel they've given enough.
"The forest-products industry has already stepped up the plate in terms of making sure our practices are freshwater- and fish-friendly -- big time," said Chris West of the Northwest Forestry Association.
Two groups agree
Environmentalists and fishermen, meanwhile, are concerned that federal fisheries managers are even considering leaving the dams in place.
They contend that a modest federal investment could help revitalize southeastern Washington's economy -- economic aid they say the hard-hit region needs no matter what happens to the dams.
"The numbers speak for themselves. Where you had viable runs prior to construction of the dams, immediately after you put the dams in, you got serious declines in salmon stocks," said Steve Fick, president of Salmon For All, an Astoria, Ore.-based group of commercial fishermen and processors.
If the salmon runs continue to decline, Fick fears more job losses. He supports helping people upriver compensate for any job losses.
"We want win-win solutions," Fick said. But he adds, "Their jobs aren't any more important up there than our jobs are down here."
Businesses catering to recreational anglers are worried, too.
"It's clear you can do all sorts of things and you won't recover the salmon unless you breach the dams," said Liz Hamilton of the Northwest Sportfishing Industry Association, an organization of businesses dependent on recreational fishing.
Environmentalists and fishermen cite federal studies showing that while thousands of jobs would be lost, thousands of jobs also would be created.
In the short run, the job picture looks great. In the first decade or so, some 24,000 jobs would be created, mostly in construction work in breaching the dams, building improved highway and rail routes for grain shipments, and related tasks.
But federal officials say, some 6,200 jobs eventually would vanish, mostly in farming, dam operations and reduced consumer spending resulting from higher electric rates.
A study this month by environmental groups disputed that conclusion. Commercial fishing and recreation jobs would rebound, they said.
And they point out that the preliminary federal study failed to count the benefits of a restored fishery to an important group: Native Americans.
The tribes
The tribes are a key part of the dam-breaching equation. They stopped commercial fishing for spring and summer chinook runs as their numbers dropped, said Don Sampson, director of the Columbia River Inter-Tribal Fish Commission.
The tribes are still fishing for fall chinook, though.
"We look at the case law behind this. It's saying that basically, for conservation purposes, tribes can be restricted in their harvest -- but all other sources of mortality must be controlled first," Sampson said.
Sampson said he would prefer not to file a lawsuit against the government for failing to conserve salmon, but "we have to be accountable to our people and the salmon."
The tribes are solidly in favor of dam-breaching because a team of scientists assembled by the federal government said breaching the dams provides virtual certainty that fall chinook runs would recover.
For their part, businesses dependent on the dams are seeing a glimmer of hope, said Bruce Lovelin of the Columbia River Alliance.
"The federal government is putting more options on the table," Lovelin said.
Environmentalists also are eagerly awaiting the report.
"Now the economic disruption of both dam removal and doing the alternative will be clear," said Chris Zimmer of Save Our Wild Salmon. "We have a real test for the politicians."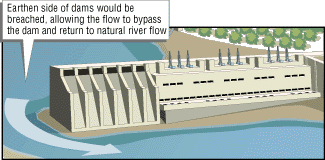 Sidebar: Saving Snake River salmon runs
Scientists say a promising way to save endangered Snake River salmon is to breach four dams in southeast Washington. The dams would no longer generate electricity. River barges that transport grain down river would be replaced by trucks or railroads.
Opposition to the plan runs high in Eastern Washington. This week, federal officials will present a menu of alternatives they say may help salmon runs revive.
Possible recommendations include:
Restrictions on development: Dirt and pollution are washed into streams when building is allowed too close to stream banks.

Grazing restrictions: Miles of fences along streams may be required to keep cows from stirring up dirt and trampling streamside plants, which help filter out pollution that flows from their waste.

Logging limits: Timber cutting would have to be restricted in broader swaths around streams, to help ensure enough shade to cool water and to limit pollution that runs off logging roads and clearcut areas.

Take farmers' irrigation water: Salmon could get the cool, fast-flowing water they need by moving more water through a still-dammed river. But flushing out the warm, slow pools would take water from Idaho farmers.

Further restrict fishing: Fishing could be ended altogether, but it's unlikely Indian tribes would agree. They are entitled by treaty to half the catch. A 10-year moratorium on increasing catch limits is also possible.

Transform hatcheries: Instead of using hatcheries to produce fish for food, wild fish would be produced. The drawback: fewer hatchery fish available to be caught.
---
by Robert McClure
Fisheries Panel Offers Alternatives to Dam Breaching on Snake
Seattle Post-Intelligencer, November 16, 1999
---
See what you can learn
learn more on topics covered in the film
see the video
read the script
learn the songs
discussion forum