---
Water over the dam is no longer considered harmful to salmon, wind power advocates say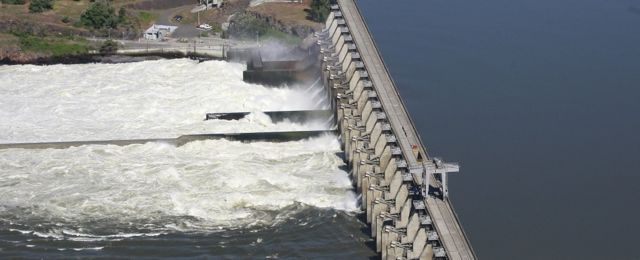 Don't blame the fish. That's the message of some environmentalists in an ongoing dispute between wind and hydropower advocates in the Pacific Northwest.
Iberdrola Renewables and other wind power generators filed a complaint against the Bonneville Power Administration last month, arguing that Bonneville illegally blocked wind power from the grid in favor of hydropower when there was decreased demand for electricity and too much power generation -- something that sometimes happens in the spring when storms and snow runoff make for plentiful power.
Bonneville -- which operates the federal hydropower dams on the Columbia River under the Northwest Power Act and also manages the transmission lines -- said it couldn't reduce its own dam power output by spilling water over the dams because the increase in dissolved gases in the water would harm salmon and other fish.
Instead, when there was more power than customers needed, Bonneville asked other generators -- natural gas and coal plant operators and, as a last resort, wind generators -- to shut down their plants and take the hydropower for free to serve their customers.
But that solution hurt wind power firms who only receive federal and state payments that encourage renewable power when the windmills are actually turning. Iberdrola and others want Bonneville to make up that loss. Bonneville says it won't pay anyone to take its power.
But conservationists now say Bonneville should stop pointing to the needs of endangered salmon and steelhead as the reason the BPA won't shut down hydropower when demand drops and power surges.
Not only can fish handle the increase in dissolved gases that accompanies water spilled over the dams, outgoing juvenile salmon fare better, conservationists argue. The young fish heading for the ocean are more likely to survive a free-fall over the dams than getting sucked through the dam turbines.
Save Our Wild Salmon and several other groups filed their comments with the Federal Energy Regulatory Commission last week. FERC -- which regulates energy -- is the agency hearing the complaint.
"We wanted to make sure the record was clear that there isn't a problem with salmon," said Amy Baird, Save Our Wild Salmon's communications director.
For years, environmental groups have been calling for BPA to spill more water over dams for the benefit of endangered fish, Baird said.
Save Our Wild Salmon's comments to FERC note that even Bonne ville acknowledged in a report on high water in 2010 that very few fish experienced trauma despite high dissolved-gas levels.
"The reality is that the wind energy sector and salmon recovery are very much linked, not at odds, with each other," Baird said.
But Bonneville must follow state and federal rules governing any actions that have an impact on fish, said agency spokesman Doug Johnson, and that means keeping dissolved gases below specific levels.
"It's the plan for managing the river we have court-ordered approval to use. The bottom line is we have to manage the river with the rules as they exist, not as people would like them to exist," Johnson said.
Conservation groups aren't the only ones taking an interest in the complaint. As of last Tuesday, the deadline for commenting or responding, more than 60 entities -- including cities, utilities and energy associations throughout the Pacific Northwest and even as far east as Utah -- had filed with FERC either comments or motions to intervene in the complaint.
Some take Iberdrola's side, arguing that shutting down wind power is discriminatory and breaks existing contracts.
Others, including the Eugene Water & Electric Board and many other utilities that rely on Bonneville for the bulk of the electricity they sell, side with the BPA.
They worry that if Bonneville has to pay the wind generators to stay out of the game, it will lead to rate increases for local customers.
In a 554-page response to the complaint filed on Tuesday, Bonneville argues that since its authority comes from the Northwest Power Act, only the federal Ninth Circuit Court of Appeals has jurisdiction over the agency.
Bonneville estimates that from mid-May to early July, it shut down 97,000 megawatt hours of wind- generated power or about 6 percent of total wind generated during that period, Johnson said.
The agency is committed to negotiating a solution with the wind power firms, Johnson said.
The Federal Energy Regulatory Commission doesn't have a time table for responding to the complaint, FERC spokesman Craig Cano said. The range of agency options is broad. It could agree with either side or ask for more information or even ask Bonneville and the wind generators to settle their differences, Cano said.
Because the specific issue of its jurisdiction has been raised by Bonneville, FERC won't comment on whether it's the right agency to resolve the complaint, he said.
---
Susan Palmer
Fish at Center of Power Dispute
The Register-Guard, July 26, 2011
---
See what you can learn
learn more on topics covered in the film
see the video
read the script
learn the songs
discussion forum