---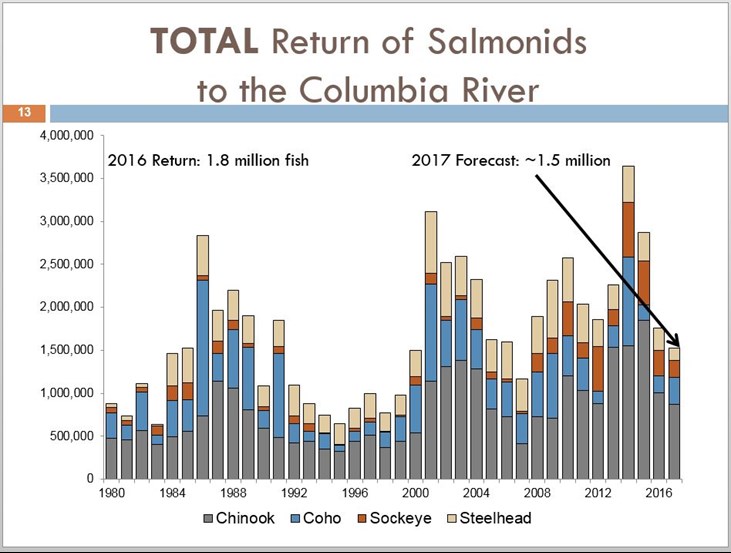 Drano Lake and the lower Willamette River are providing most of the spring chinook salmon fishing action, although there are some decent angling alternatives this week.
At Drano, the average was about a spring chinook kept per eight rods. That's not great, but it's some opportunity.
Oregon's weekly sampling in the Willamette River from the St. Johns Bridge to the mouth, plus Multnomah Channel, was 1,285 anglers with 106 spring chinook kept and 14 released.
Spring chinook fishing is closed beginning Saturday between Bonneville Dam and the Washington-Oregon state line, east of Umatilla, Ore.
Kokanee fishing improved considerably in Merwin Reservoir last week, with many anglers getting 10-fish limits. Most of the fish were taken close to the surface, but with lots of line (100 to 150 feet) out behind the boat. Fishing seemed best on the south side of the reservoir.
Walleye fishing has been good for three weeks in the upper end of The Dalles pool.
Several local lakes have been stocked with large trout in the past couple of weeks.
Among them were: Battle Ground Lake, 2,600 rainbow; Horseshoe Lake, 300 rainbow; Klineline Pond, 1,500 cutthroat and 100 rainbow; Mayfield Reservoir, 4,400 rainbow.
Angler checks from the Washington (WDFW) and Oregon (ODFW) departments of Fish and Wildlife:
Mid-Columbia -- Bonneville pool, 14 bank rods with one adult spring chinook kept. (ODFW)
The Dalles pool, eight boaters and 30 bank rods with no salmon or steelhead; 47 boaters with 269 walleye kept and five released. (ODFW)
John Day pool, two boaters and 12 bank rods with no salmon or steelhead; 18 boaters with 109 walleye kept and 61 released; 13 bank rods with 55 walleye kept and 45 released. (ODFW)
Cowlitz -- Seventy-five bank rods with 11 adult spring chinook and one jack chinook kept plus one steelhead and one sturgeon released; 20 boaters with two jack chinook and one steelhead kept plus one cutthroat and four sturgeon released. (WDFW)
At the Cowlitz Salmon Hatchery separator, the return for the week was 418 winter steelhead, three winter steelhead jacks, 703 adult spring chinook, 27 jack spring chinook and seven summer steelhead.
North Fork Lewis -- One bank angler with no steelhead. Salmon fishing is closed. A dozen summer steelhead had returned to the hatcheries through April 26. (WDFW)
East Fork Lewis -- Eight bank rods with no steelhead. (WDFW)
Kalama -- Eighty bank rods with three adult spring chinook kept and seven wild steelhead released; 39 boaters with one adult spring chinook kept and three wild steelhead released.
Wind -- Twelve boaters with no catch. (WDFW)
Drano Lake -- One-hundred-sixty-seven boaters with 21 adult spring chinook kept and two released. About 40 boats were tallied on Saturday morning. (WDFW)
Klickitat -- One bank rod with one steelhead kept. (WDFW)
Related Sites:
Overall Columbia River Basin salmon and steelhead forecast for 2017
Snake River-specific forecast
NOAA Fisheries forecast based on ocean conditions
---
Al Thomas
Fishing Report 5/4
The Columbian, May 4, 2017
---
See what you can learn
learn more on topics covered in the film
see the video
read the script
learn the songs
discussion forum