the film
forum
library
tutorial
contact

Here Come The Fish: First Upriver Spring Chinook
of 2015 Counted at Bonneville Dam Fish Ladder

by Staff
Columbia Basin Bulletin, February 27, 2015
---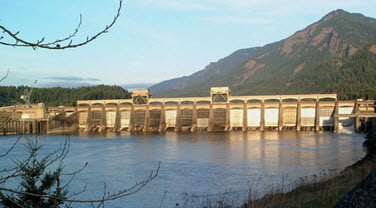 That long awaited sign of spring has finally arrived for Columbia River basin anglers -- a report late this week of the first true crossing of an upriver spring chinook salmon at Bonneville Dam, which is located 146 miles upstream from the mouth of the river.
The sighting reported this morning by counters at Bonneville's fish ladders comes after reports earlier of two salmon crossing over the dam that appear to be out of sync with their species' typical spawning run.
The first salmon of 2015 was reported climbing over the dam on Feb. 3... but on further review the fish was judged to be a sockeye salmon. Sockeye typically make their run toward the Wenatchee, Okanogan and Snake River basins in early summer.
"It was a chrome bright, beautiful, looks like they should in June, sockeye," one of the Bonneville fish counters said in an e-mail to fishery managers. "The little beauty came through on 2/3 at 18:30:11 and was around 20" long."
Then five days later, Feb. 8, the first chinook of the year was reported climbing the dam's ladders.
But, upon further review of video, that critter was judged to be either a fall chinook way behind the spawning schedule (most upriver fall chinook make their spawning run in late summer and fall, with spawning to occur shortly thereafter) or a lower river spring chinook.
The fish spotted this week was the real thing -- an upriver fish.
"A 3-foot-long, black faced, super bright, ad clipped adult springer has been counted at Bonneville Dam," according to the Washington Department of Fish and Wildlife's Joe Hymer said. "The adult chinook counted on Feb. 8 was a white faced which is indicative of either a fall chinook or lower river stock spring chinook, which would be unlikely." The closest lower Columbia spring returns would be to Oregon's Sandy River, a turnoff nearly 30 miles downstream.
Upriver spring chinook begin entering the Columbia River in late February and early March and typically reach peak abundance at Bonneville Dam in late April or early May. They then hold off on spawning until early fall.
The upriver spring run is comprised of stocks from several ESUs and three geographically separate production areas: 1) the Columbia River system upstream of the Yakima River (upper Columbia), 2) the Snake River system, and 3) Columbia River tributaries between Bonneville Dam and the Yakima River, excluding the Snake River (mid-Columbia).
A strong upriver run is expected.
The 2015 forecast for upriver spring chinook is 232,500 adults to the Columbia River mouth, according to a Jan. 21 Joint Staff Report prepared by the Oregon and Washington departments of fish and wildlife.
The forecast includes 27,500 upper Columbia spring chinook (4,500 wild) and 140,800 Snake River fish (45,300 wild), with the remainder of the run (64,200) comprised of spring chinook returning to mid-Columbia tributaries. The overall return is expected to include 188,600 Age-4 fish and 43,500 Age-5 fish.
Snake River wild spring/summer chinook outside the Clearwater River and upper Columbia wild spring chinook are federally-listed under the ESA.
If accurate, the forecast of 232,500 fish would be the sixth highest return since 1980 and 131 percent of the average return observed over the past decade (2004--2013).
Counts at Bonneville so far this year include 1,179 steelhead, of which 607 were unmarked fish judged to be wild.
---
Staff
Here Come The Fish: First Upriver Spring Chinook of 2015 Counted at Bonneville Dam Fish Ladder
Columbia Basin Bulletin, February 27, 2015
---
See what you can learn
learn more on topics covered in the film
see the video
read the script
learn the songs
discussion forum