---
Farmers, port districts and other river users put on a family festival
to inform the public of the importance of the Columbia-Snake River system.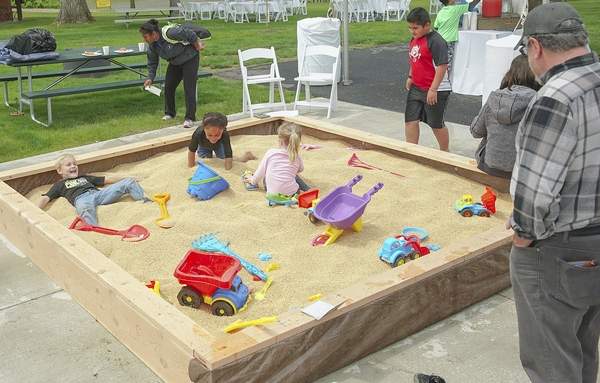 COLFAX, Wash. -- The Snake River Family Festival on May 20 celebrated the billions of dollars in economic contributions the Columbia-Snake River system makes to the Pacific Northwest economy.
More than 400 people attended the festival at Boyer Park and Marina in Colfax, Wash. It included free food, children's activities, live music, an information tent, an interactive salmon display, farm machinery and barge and tug boat displays.
The entire system represents $20 billion of commerce, said Tom Kammerzell, commissioner for the Port of Whitman County and a Colfax rancher.
Nearly 10 percent of all U.S. wheat exports move through Snake River dams, and more than 4.3 million tons of cargo was barged on the Snake River in 2014. It would have taken 167,000 semi-trucks or 43,000 rail cars to carry that amount.
Rob Rich, vice president of marine services for tug and barge operator Shaver Transportation Co., said the river system impacts farmers, grain elevators, fertilizer and seed providers, ports, towboat operators, cruise vessels and electricity and irrigation users.
With the system, Rich said, farmers have a bulk transportation system not affected by weather.
Export elevators downriver receive 40 percent of the wheat by barge and 60 percent by rail.
About 80 percent of farmers using the river system are solely dependent on it, Rich said.
"Where they are sending their wheat, that particular elevator only has the opportunity to receive by truck and ship by barge," he said.
A typical four-barge tow moves the same amount of cargo as 140 rail cars or 538 trucks.
Trucks are more expensive per ton, so farmers wouldn't be as competitive in the export market, Rich said.
The current rail capacity isn't sufficient to meet current or projected wheat transportation needs, according to the committee.
Without the river system, the economic picture would be "bleak," Kammerzell said.
Chad Crosby of Lewiston, Idaho, is not connected to the industry, but fishes and boats on the river.
He said he was interested in learning more about how the dams produce electricity and in some of the products he sees shipped on the river.
"Educate these young minds," he said, watching his children participate in activities in the information tent.
Linhda Sagen of Pullman, Wash., said she used to work for the USDA wheat laboratory and researched barley. She and her family were impressed by the displays.
"We forget where our food source is coming from," she said. "If we didn't have the dam to transport wheat, (it would mean) essentially farmers going out of business."
Beth Hegde, senior account director of public relations agency Desautel Hege in Spokane, said rain at the beginning of the event might have initially reduced attendance.
"We're very happy that once the morning weather cooperated, we had a really good turnout," Hegde said. "This event was really successful, so we would surely like to think about one for next year."

---
Matthew Weaver
Festival Celebrates $20 Billion Impact of Columbia-Snake River System on Commerce
Capital Press, May 21, 2017
---
See what you can learn
learn more on topics covered in the film
see the video
read the script
learn the songs
discussion forum