---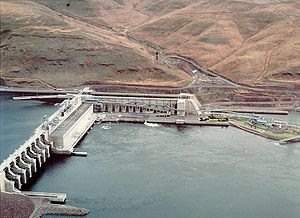 Representative Peter DeFazio did not sign onto a letter signed by nearly 100 members of Congress that urges NOAA consider breaching the lower Snake River dams as part of the federal Columbia Salmon BiOp. DeFazio also does not support the Salmon Economic Analysis and Planning Act (SEAPA). Meanwhile, the Snake River salmon continue to slide toward extinction.
In my role as Conservation Officer for my local Trout Unlimited Chapter, I sent Peter DeFazio a letter responding to his response to my initial correspondence urging him to support SEAPA. In that second letter I rebutted the Congressman's reasons for opposing SEAPA. These are presumably the same reasons that he did not sign on to the letter. Here is his second reason and my paraphrased response. Reason #2:
"We should certainly be moving toward more alternative energy sources like wind and solar, but the alternative generating capacity required to replace those dams would not come on line for at least a decade . . . ." Peter DeFazio, in an email dated June 15, 2007.
I responded that it is difficult to conceive that the power generated by these dams would be allowed to go off-line prior to completion of new projects ensuring the regional power supply. Realistically, would anyone let the region's power supply be threatened? No.
Let's hope reason #3 passes the smell test.
Related Pages:
DeFazio and Bush Bedfellows: Snake River Dams Must Stand Forever (Part 1) by Karl Mueller, One Mule Team (blog), 3/8
DeFazio and Bush Bedfellows: Snake River Dams Must Stand Forever (Part 3) by Karl Mueller, One Mule Team (blog), 3/8
DeFazio and Bush Bedfellows: Snake River Dams Must Stand Forever (Part 4) by Karl Mueller, One Mule Team (blog), 3/8
Geothermal, G-E-O-T-H-E-R-M-A-L, Geothermal by Karl Mueller, One Mule Team (blog), 3/14/8

---
onemuleteam
DeFazio and Bush bedfellows: Snake River dams must stand forever (Part 2).
One Mule Team (blog), February 29, 2008
---
See what you can learn
learn more on topics covered in the film
see the video
read the script
learn the songs
discussion forum