---
The region's agriculture economy -- especially wheat growers that are far inland -- would suffer.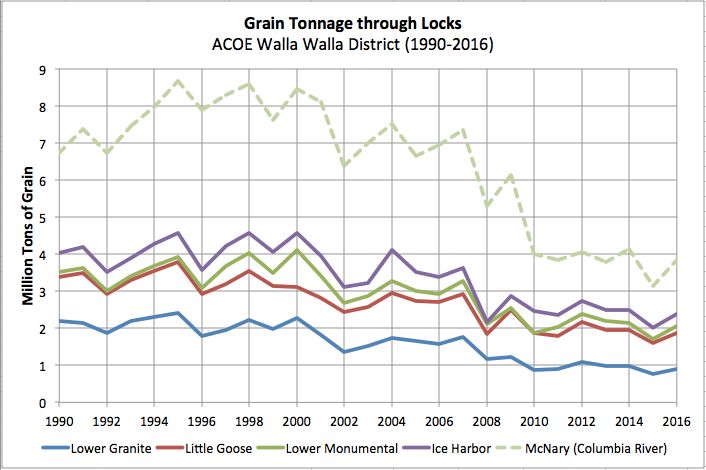 Hundreds of local residents showed up last week in Pasco for a debate that many thought had long been settled. We again find ourselves making the case that proposals to breach the Columbia and lower Snake River dams would hurt our local community, and that negative impacts would far outweigh any benefit.
I attended the meeting in Pasco to add my voice in strong opposition to proposals to remove the four dams. I was one voice among many, seeing firsthand the passionate feelings on the matter. Last week's meeting was a glaring example of the importance of local impact of proposed federal action being taken seriously.
The Lower Snake River dams are an irreplaceable source of energy-efficient and clean hydropower for the equivalent of 800,000 homes. A 2015 "reliability analysis" conducted by Bonneville Power Administration found that replacing the lower Snake River dams with natural gas would increase the region's carbon dioxide emissions by between 2 and 2.6 million metric tons annually -- the equivalent of adding 421,000 cars to our roads each and every year and at the annual cost of between $274 million and $372 million.
Without the dams, our region would lose waterways that are critical for navigation. The region's agriculture economy -- especially wheat growers that are far inland -- would suffer. According to the Washington Association of Wheat Growers, moving the same amount of wheat by road or rail would require 137,000 semi-trucks or 23,900 railcars.
Farmers and irrigators would lose access to water storage. We have seen the plight of agriculture communities in states like California that have grappled with diminishing access to water supplies. It boggles the mind that the federal government would intentionally impose similar struggles on our Pacific Northwest communities.
The most common reason to breach the dams is to save endangered salmon. I share the goal of ensuring safe fish passage, and ratepayers and taxpayers have spent billions of dollars to do just that. Survival rate for young salmon populations migrating downstream to the ocean through the dams stands at 97 percent, and fish ladders and turbine improvements -- such as those recently made at Ice Harbor Dam -- improve adult fish passage.
The most important consideration in any debate on the dams' future must be the impact on local residents. Incredibly, the Environmental Impact Statement public scoping meeting had not even originally been scheduled for the Tri-Cities. I was able to request a meeting in our area, and I appreciate community groups that were supportive of this effort. In response, the U.S. Army Corps of Engineers agreed to make this meeting happen, and hundreds of people were able to have their voices heard.
Strong feelings remain on both sides of the debate, but the local community's input must be at the forefront. When the local community clearly relies on the dams' maintenance for our way of life, the key must be to achieve a balanced solution of what we have seen work in the past: investing in improving fish survival while maintaining the dams.
If you would like to have your say on the matter and add your voice to this debate, comments can be submitted on the scope of the planned study until Jan. 17, 2017 at www.crso.info, by email to comment@crso.info or by mail to U.S. Army Corps of Engineers, Attn: CRSO EIS, P.O. Box 2870, Portland, OR, 97208-2870.
Related Sites:
Agencies Seek Public 'Scoping' Comments For EIS Related To New Basin Salmon/Steelhead Recovery Plan by Staff, Columbia Basin Bulletin 10/7/16
Federal Court Again Rejects Columbia Basin Salmon/Steelhead Recovery Plan; Orders New BiOp By 2018 by Staff, Columbia Basin Bulletin 5/6/16

---
Dan Newhouse, Representative 4th Dist
Federal Government Must Listen to Local Community on Snake River Dams
Grand Coulee Star, November 30, 2016
---
See what you can learn
learn more on topics covered in the film
see the video
read the script
learn the songs
discussion forum