---
Fish get water; utility customers get electricity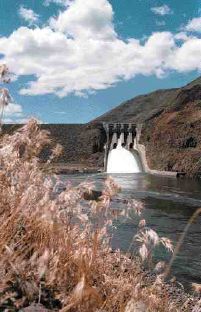 Idaho Power Co. customers won't pay a premium this summer to help save endangered fall chinook salmon.
A deal between Idaho Power Co. and the National Marine Fisheries Service allows the company to operate its Hells Canyon hydroelectric dams at full capacity this summer. By running the water now held in Brownlee Reservoir through its generators in July and August, Idaho Power will increase flows in the Snake River and aid the migration of the ocean-going salmon.
"The bottom line is this: The endangered fish get the water they need, and Idaho Power customers get the energy produced by that water," said Idaho Gov. Dirk Kempthorne, who helped broker the deal.
The fisheries service had demanded the company drain a third of Brownlee by July 31 to increase flows for salmon. Idaho Power agreed to release even more over the two-month period.
The deal avoided a legal dispute over water among the federal government, the state and private interests. Such a dispute recently prompted the cutoff of water to thousands of farmers in Oregon's Klamath Valley, after a federal judge ruled that endangered fish had stronger legal rights to water than the farmers.
"It's a win for state water sovereignty, it's a win for salmon ... and it's a win for power production in the Pacific Northwest," said Sen. Mike Crapo, R-Idaho.
The fall chinook are migrating to the ocean now, as river temperatures are rapidly rising. Federal officials wanted the warmer waters of Brownlee to be released earlier to provide the best possible conditions for the salmon.
The colder waters behind Dworshak Dam on the Clearwater River impede their development early but are necessary to prevent water temperatures from rising to lethal levels later in the season.
The fisheries service had demanded that Idaho Power release 350,000 acre-feet of water from Brownlee for salmon. An acre-foot is the amount of water that would flood an acre of land 1 foot deep. Idaho Power agreed to release 400,000 acre-feet over two months.
Company officials expect to use that much water to meet customers' needs during the peak summer season. The company had a windfall of 109,000 additional acre-feet of water incidental to its energy buyback from irrigation pumpers.
That water will be used to help both fish and customers.
"To arbitrarily release one-third of the water in Brownlee for flow augmentation during a year of record low water without compensation for the lost energy could have been disastrous for our company and our customers," said John Prescott, Idaho Power vice president for generation. "We have avoided a conflict between the state and federal governments over water."
Idaho Power was granted an average 25 percent rate increase in May because of low water and rising wholesale prices. Every kilowatt it produces in its own hydroelectric dams reduces the need to purchase more expensive power on the open wholesale market.
Idaho Power's license for the Hells Canyon dams runs out in 2005. The company and the fisheries service agreed the deal won't set a precedent for future obligations the company may face to help salmon in the future.
"But we hope that it can foster further cooperative efforts that may aid in resolving any further disagreements that may arise," said William Hogarth, National Oceanic and Atmospheric Administration acting assistant administrator for fisheries.
Sen. Larry Craig, R-Idaho, participated in the talks. He said the deal was critical to southern Idaho.
"This agreement avoided an economic catastrophe," Craig said.
---
In a nutshell What did the National Marine Fisheries Service want? It wanted Idaho Power to drain 350,000 acre feet from Brownlee Reservoir in July to aid the migration of fall chinook. What did Idaho Power want? To release the water when energy demand called for it. What was the compromise? Idaho Power agreed to run 400,000 acre-feet of water through its hydroelectric turbines in July and August, increasing the flows for salmon and producing power for its customers.
Related Sites:
National Marine Fisheries Service
Idaho Power Co.
---
Rocky Barker
Idaho Power, Feds Strike Salmon Deal
The Idaho Statesman, July 12, 2001
---
See what you can learn
learn more on topics covered in the film
see the video
read the script
learn the songs
discussion forum