---
Longshoremen and grain exporters have struck a tentative deal,
which has eased the mind of the Northwest grain industry.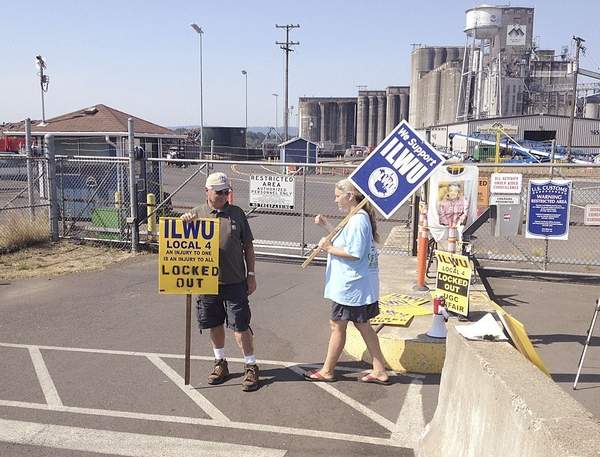 The Northwest grain industry is breathing easier now that the longshoremen's union has struck a tentative deal with grain exporters, potentially ending a tense labor dispute and re-opening a major export terminal.
Farmers worried that grain buyers in Asia and elsewhere would lose trust in the U.S. grain supply if the two-year conflict hindered export shipments. A backlog of grain at inland elevators could also have reduced demand and prices.
"Customers will be happy to have the uncertainty removed," said Blake Rowe, CEO of the Oregon Wheat Commission.
The potential for disruptions to the grain flow became particularly stark this summer, as the dispute effectively shut down the United Grain terminal in Vancouver, Wash.
A stalemate in labor contract negotiations led to the lockout of longshoremen from United Grain in Vancouver and Columbia Grain in Portland, Ore., last year, which prompted the union to begin picketing the sites.
Grain inspectors from the Washington State Department of Agriculture ceased working at the United Grain terminal in July after Washington Gov. Jay Inslee stopped providing a state patrol escort into the facility.
Grain exports must be inspected for weight and quality prior to shipping, so United Grain asked the USDA to send federal inspectors into the terminal. The USDA refused this request in early August, citing safety concerns.
With a tentative deal reached between the International Longshore and Warehouse Union and the grain handlers, WSDA inspectors returned to work on Aug. 12, when the agreement was announced.
The agency made the decision to send inspectors to United Grain due to the expectation there would be reduced picketing at the site, said Hector Castro, spokesperson for WSDA.
"There was no problem," Castro said of inspectors entering the facility. "It was vastly different than it was before, when there was an active picket line."
The situation was concerning because the corn and soybean harvest are on the horizon in the Midwest, said Michelle Hennings, executive director of the Washington Association of Wheat Growers.
Those crops could have caused significant congestion if the Northwest export capacity was constrained, she said. "We would probably have started seeing a bottleneck."
Despite the tentative resolution, longshoremen will remain locked out from the United Grain and Columbia Grain facilities until the union votes to approve the proposed labor contract, said Pat McCormick, spokesman for the grain handlers.
Several local organizations of ILWU will vote on the deal according to their internal rules and the results will be made public on Aug. 25, said Jennifer Sargent, spokesperson for the union.
Until then, fewer people will be manning the picket lines, she said. The terms of the labor agreement won't be disclosed until the union has a chance to vote on the deal.
---
Mateusz Perkowski
Labor Deal Eases Fears of Grain Export Disruptions
Capital Press, August 13, 2014
---
See what you can learn
learn more on topics covered in the film
see the video
read the script
learn the songs
discussion forum