the film
forum
library
tutorial
contact

California's Farm Belt Using Solar
to Turn Brown into Green

by John Lindt, Sierra2theSea News Service
Sunpluggers.com, September 2, 2010
---
The sun shines brightly in the San Joaquin Valley. Ask anyone.
Until now, power projects in the farm belt of California have been few and far between, even though energy demand is huge.
But in 2010, small cities in the Central Valley have started growing a new crop of solar farms at their doorsteps. In at least 11 small municipalities, the city governments or developers who have signed contracts with the cities are well on their way to constructing utility-scale solar power plants, typically on acreage the city uses for water pumping or wastewater purposes.
The solar farms vary in size from 1 to 20 megawatts of generating capacity. The process has been fueled by state and federal incentives. Central Valley communities where new solar farms are nearing completion include McFarland, Tulare, Dinuba, Lemoore, Corcoran, Firebaugh, Huron, Mendota (already operating), Avenal, Gustine and Tracy.
The list includes some of the poorest communities in the Valley, all looking for ways to keep the lights on and "turning brown fields into green fields," says Carmine Iadarola, principal with the company SolarGenUSA.
Some of the cities will use the electric power themselves, to offset what they have to buy from the grid. For others, the deals amount to a simple lease of property for monthly payments that can offer "a revenue stream on land that may be a burden now," says Mr. Iadarola. The savings or income may last for decades to come. SolarGenUSA is developing projects in several Valley cities, along with four water districts.
Fall Construction Schedules
The city of Dinuba has leased 7 acres at its wastewater treatment plant after working with a solar developer for more than a year. Given the green light now, the developer plans to be generating power by April, says Dean Uota, city engineer. The city will see "at least 20 years of savings," says Mr. Uota. Under a power purchase agreement, the city pays no upfront cost and the developer, not yet identified publicly, receives a federal tax incentive.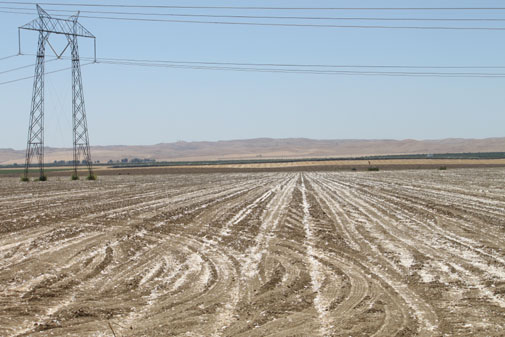 In Tulare, the city's public works director, Lew Nelson, expects construction to start this fall on a 5-acre, 5,000-panel, city-owned solar farm that will provide about 15 percent of the electricity used by the city's wastewater treatment plant.
"We would build more, but the state incentive to pay 50 percent is capped at 1 megawatt," he says. Nevertheless, Mr. Nelson says the city has saved 14 acres for installing more solar panels when the time is right.
The solar panels are being manufactured in California and should be in place and generating power for the city by March. Tulare will take all the power the arrays put out.
Whether a project is planned by a public entity, such as a city, or a private developer, if approvals haven't been lined up by now, "there is a great likelihood you won't get the incentives this year," Mr. Nelson says. "We have to be under construction by December to receive stimulus money that backs up the incentive."
Meanwhile, an extension of a federal program that makes a cash grant in lieu of a tax credit available to solar developers has been held up in Washington, slowing applications for new solar projects.
Huge Demand Since January
In July, the California Public Utilities Commission, which oversees the California Solar Initiative, halted new applications for solar incentives for commercial projects (residential applications continued). The CPUC said it needed to review the budget of the program, which has seen unprecedented demand in 2010 for incentive money.
Since January, the CPUC said, applications for 10,000 solar projects have been submitted, adding up to over 300 megawatts of capacity.
In August the commission lifted the hold on applications, directing the California Solar Initiative program administrators - Pacific Gas and Electric Co., Southern California Edison and the California Center for Sustainable Energy - to resume processing all applications for solar projects, including those held in the queue during the temporary postponement.
Already producing solar power is the city of Mendota, where Meridian Energy built a 5-megawatt plant that was dedicated in June. The city's mayor calls the 50-acre solar site a "field of dreams," citing the coming of green jobs to the hard-hit farm town. Mendota is the first in the area to connect its solar farm to the grid.
Colorado based SolarGenUSA has been perhaps the most active developer to cultivate solar in Valley towns. The company has made a deal with Firebaugh to build a 6-megawatt plant that will help power city facilities. The project is expected to break ground this fall. This is the second solar farm planned in Firebaugh.
In nearby Huron, SolarGenUSA is planning a 7-megawatt plant on 40 acres leased from the city. In Gustine and Avenal, larger projects are in the works - 20 megawatts each.
Developers also are working on an 8.5-megawatt solar farm in Lemoore and a 15-megawatt project in McFarland. A company called GWF Energy has recently entered the game, proposing new solar farms in Tracy on city land and now a big 125-megawatt plant on farmland near Naval Air Station Lemoore.
Mr. Iadarola says developers have a strong incentive to break ground soon, "turning their 30 percent federal tax credit into a grant" if they make the deadline.
He says he is not too worried about getting the panels in time, because manufacturers in Europe and China have geared up to supply modules here this fall, when everyone will need the panels at about the same time. Demand in Europe has ebbed, and China companies have stepped up manufacturing.
Lower Costs, Lower Incentives
"When I started working in California on these projects 18 months ago, solar panels were $3 a watt, and now it's half of that," Mr. Iadarola says. He attributes the price decline to China's entrance into solar manufacturing as well as surging demand that has stoked competition to drive down prices.
Meanwhile, the state's solar initiative has built in stepped reductions in the incentives, encouraging cities and developers to install solar and not wait. When the CSI program started in 2007, the incentive was $2.50 a watt, and now it's down to 65 cents per watt in places.
Waiting in the wings for the hundreds of construction jobs that will result when solar projects get under way are Valley workers suffering under double-digit unemployment.
"We hope to have a job fair pretty soon here, since the company wants to start in October," says Steve Sopp, city administrator in Avenal, where the unemployment rate is over 25 percent.
---
John Lindt, Sierra2theSea News Service
California's Farm Belt Using Solar to Turn Brown into Green
Sunpluggers.com, September 2, 2010
---
See what you can learn
learn more on topics covered in the film
see the video
read the script
learn the songs
discussion forum