---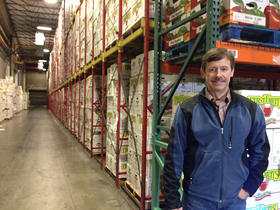 A slowdown at Western ports is now aggravating farmers across the Northwest. Produce processors are laying off production line workers. Apples are backing up. And the summer's premium hay is stacked in sheds and not moving.
The longshoremen's union and the ports are negotiating -- and have been since mid-October. Shipments are still being moved, but at a markedly slower pace than usual. And it's affecting farmers all over the West.
A hay exporter near Ellensburg said they have $7 million in inventory that should have moved already.
'We don't get paid until the hay goes across the scale'
Drex Gauntt doesn't have to go far to know there's a problem on his farm in Wallula, Washington. He can see it under a tarp in a massive corrugated-steel hay shed.
"This happens to be timothy hay," Gauntt said. "It has a very nice bright green color. I like to say it's the color of $100 bills."
But these "$100 bill" bales shouldn't be just sitting here on the farm. This premium hay should be in racehorse muzzles in Japan.
"We don't get paid until the hay goes across the scale," Gauntt explained. "You take a truckload of hay across a scale and you get paid."
Usually Gauntt has almost every bale off his farm by the new year.
Gambling on 2015
Gauntt said he has to decide what to plant on his 2,000 acres next year very soon. He needs to buy seed, fuel and fertilizer to prepare for the 2015 crop ands he's going to have to make his best guess on commodity prices and weather conditions.
But now Gauntt might have to gamble on what he can export too.
And Gauntt said Japanese cows and horses still have to eat every month. So when his hay doesn't arrive, probably competing Australia hay is shipped in. And winning those customers back can be dicey.
"When you go to the store and they are out of milk, you are going to go to a different store," Gauntt said. "And if the store is out of milk too often, you're not going to go back to that store anymore."
'We won't be able to make up those sales'
The same export crush is on at Broetje Orchards in Prescott, Washington. They had a huge crop this year. And this should be their busiest shipping season.
"The holidays are very important for us. Not only on the domestic side, but especially on the export side. In a lot of our markets, they are preparing for their own holidays," said Jim Hazen, who is responsible for moving all these apples.
And with all the apples shifting to the domestic market, prices are being pushed down. "The timing of it couldn't be worse really," Hazen said. "And the truth is we won't be able to make up those sales. So those orders that we lost, they're gone forever."
This apple packing line is the size of a football field. The backup is so bad Broetje has even had to reduce the number of hours it runs.
Every week, Hazen tries to make more room in the company's massive cold storage facility to keep this packing line going. They've got two of these huge lines.
"We're probably behind close to 30,000 bins from where we needed to be right now," Hazen said.
He said he's got the equivalent of a small supermarket stuffed floor-to-ceiling with apples that haven't moved. And the fruit is still piling on.
---
Anna King
Port Slowdowns Keep Northwest Farm Exports Stuck on the Ranch
KUOW, December 17, 2014
---
See what you can learn
learn more on topics covered in the film
see the video
read the script
learn the songs
discussion forum