---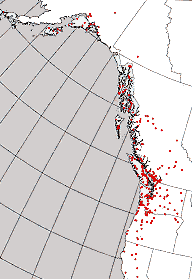 Young, one and two-year-old male chinook salmon, known as micro- and mini-jacks, that matured sexually in a Wenatchee River tributary without migrating to the ocean, are spawning with adult female chinook salmon who have migrated to the ocean and returned.
However, the male resident salmon produce offspring at a rate about 5 times less than an anadromous male spring chinook salmon, with 8 as opposed to 43 offspring per spawning fish, according to a recent study.
While the salmon examined by the study, published in Transactions of the American Fisheries Society, were all hatchery fish, the study authors suspect that wild fish also have a certain percentage that remain in their natal stream as resident fish. That percentage, they say, is likely not as large as hatchery-origin fish.
In 2011, for example, 71 percent of the fish released from the White River (a Wenatchee River tributary) captive broodstock program were maturing as mini-jacks by the time they were released. Based on a release of 112,596 fish, and assuming they were equal male and female, then 39,760 of the release were likely mini-jacks that stayed in their natal stream.
Hatchery releases at White River and Wenatchee Lake also saw a similar percentage of "precocious" males, according to the study.
"We used parentage and grandparentage analysis to evaluate the mating success of early maturing, resident hatchery Chinook salmon males," said Mike Ford, director, Conservation Biology Division, Northwest Fisheries Science Center. "We found that in the White River, about a third of the offspring we analyzed had an apparently resident, early maturing hatchery-origin male as a parent."
The study, "Spawning Success of Early Maturing Resident Hatchery Chinook Salmon in a Natural River System," was published online April 22, 2015.
Study authors are Ford; Andrew Murdoch, research scientist, Science Division, Fish Program, Washington Department of Fish and Wildlife; and Todd Pearsons, Ph.D., Senior Fisheries Scientist, Grant County Public Utility District.
However, the inferred spawning success of the resident males was much lower than that of the anadromous males, Ford continued.
The typical mating pattern was for an anadromous female to produce about two-thirds of her offspring with one or two anadromous males and the remaining one-third with as many as 12 or more apparently resident males.
"To our knowledge, this is the first study to present evidence of successful reproduction by early maturing resident, hatchery-origin Chinook salmon in the wild," Ford said.
What this means for naturally spawning salmon, the study says, is complex and "will depend upon the genetic basis of early maturity and its causes in hatchery settings."
Ford said that early maturing resident male chinook salmon are also found in wild populations and "are a natural component of the species' life history diversity." But what is uncertain is "whether they are a truly adaptive life history strategy for the species or more of a dead end."
However, wild mini-jacks in the Wenatchee River system have only been observed at low levels, according to Murdoch.
"We think this is simply due to the slow growth rates observed in our systems," he said of wild fish.
Hatchery produced mini-jacks, on the other hand, are particularly prevalent in spring chinook populations, Ford said, and are likely the result of higher growth rates in the hatchery than fish in the wild experience.
The study says that fish released from the captive brood program in the White River in 2009 averaged 13.1 centimeters (5.16 inches) fork length and fish released into the Yakima River were between 7 (2.76 inches) and 22 cm (8.67 inches) fork length during the summer spawning season. In contrast, returning adults were 81.7 cm fork length, "so it is not surprising that these larger males had higher individual realized spawning success."
Still, resident males contributed about one-third of offspring and so "may represent a viable life history strategy," the study says.
"The conservation implications of mating by these fish are really unclear, in part because we don't understand the genetic basis of early maturity very well," Ford said. "The fish that mature early in the hatchery may not necessarily have matured early had they been left in the wild, so it's not really clear if there is any particular harm caused by mating by these fish."
"On the other hand, if they are genetically different from successful fish in the wild population, then their 'amplification' in the hatchery could be causing some harm," he added. "At this point we just don't know."
Still, resident hatchery chinook salmon apparently make a significant contribution to the next generation and so it is important to understand these contributions when evaluating the effects of a supplementation program, the study says.
"Greater certainty regarding the genetic basis of hatchery-induced early maturity will be necessary to achieve a full understanding of the conservation implications," the study concludes.
Related Sites:
Minijacks -- A Major Headache at Some Hatcheries by Bill Rudolph, NW Fishletter, 4/4/14

---
Staff
Study Examines Mating Success of Non-Anadromous Mini-Jacks With Anadromous Female Salmon
Columbia Basin Bulletin, May 29, 2015
---
See what you can learn
learn more on topics covered in the film
see the video
read the script
learn the songs
discussion forum