---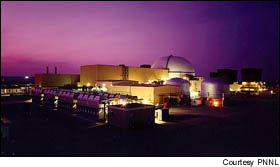 WASHINGTON -- Nuclear power plants must provide updated estimates of how long it would take to evacuate nearby communities in an emergency under a new rule approved this week by the Nuclear Regulatory Commission.
Plant operators would have to update their evacuation estimates after every 10-year census, or when changes in population would increase the estimated time by at least 30 minutes.
The requirement was among several changes regulators approved regarding emergency preparedness. The changes came as the commission considered sweeping safety changes for the U.S. nuclear industry in response to the nuclear crisis in Japan.
The Associated Press reported in June that as America's 104 nuclear reactors have aged, the once-rural areas around them have become far more crowded and difficult to evacuate. By law, evacuations must be prepared for areas within about 10 miles of every nuclear plant, but many plans haven't kept up with changing populations, according to the AP investigation.
Populations around some nuclear plants have swelled as much as 4 1/2 times since 1980, but some estimates of evacuation times have not been updated in decades. Meanwhile, aging reactors have been operating at higher power, risking larger radioactive releases.
The new rules do not change recommended evacuation zones, which have remained frozen at a 10-mile radius from each plant since they were set in 1978.
The population within 10 miles of the Columbia Generating Station nuclear power plant north of Richland has grown from 2,485 in 1990 to 4,054 in 2010, a 63 percent increase, according to data from The Associated Press.
Now, any year the population increases by more than 10 percent, Energy Northwest, which operates the plant, evaluates whether changes to an emergency plan are needed. The last time that happened was in 2005, but officials determined no changes were needed.
NRC Chairman Gregory Jaczko said the commission did not need to wait for the post-Japan reforms to be approved before changing the rules on emergency preparedness. The agency's emergency rules have not been significantly changed since 1980.
"This rule represents good work on the part of NRC staff members, who have spent several years working on the rule in coordination with other federal agencies," as well as industry and watchdog groups, Jaczko said in a statement.
The new rule limits the duties of a plant's onsite emergency responders to ensure they are not overburdened during an emergency. It also requires plants to incorporate scenarios based on a terrorist attack or other criminal action in emergency drills and exercises. The rule adds new requirements for back-up measures to alert the public and plant employees in case of emergency.
An NRC task force recommended a series of changes last month to increase protection at U.S. nuclear sites, including better response to prolonged power blackouts or damage to multiple reactors.
The commission set an Oct. 3 deadline for staff to recommend action on 11 of 12 task force recommendations. Staffers were given 18 months to consider a broader recommendation to revamp the agency's overall approach to regulation and safety.
---
Associated Press and Herald staff
Nuclear Plants Told to Update Community Evacuation Plans
Tri-City Herald, September 2, 2011
---
See what you can learn
learn more on topics covered in the film
see the video
read the script
learn the songs
discussion forum