---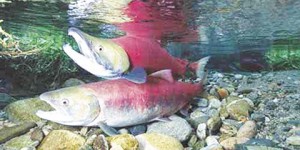 Congressman Doc Hastings expressed disappointment when the the House of Representatives passed the Commerce, Justice, Science appropriations bill for fiscal year 2010 last Friday without any funding for the Pacific Coastal Salmon Recovery Fund.
An integral component of endangered salmon recovery efforts, the Recovery Fund was explicitly eliminated in the bill and President Obama's request for $50 million was directly rejected.
An amendment by Hastings to restore the fund at the President's requested funding level was blocked by Democrat leaders when the rules for debating the bill were literally rewritten to block dozens of amendments, including Hastings.
"This House action won't make the job of our senators to ensure funding any easier and it's especially disappointing after the President amended his budget and asked Congress to provide funding for Pacific Coastal Salmon Recovery," Hastings said. "The Recovery Fund has earned bipartisan support for almost a decade due to its on-the-ground focus by allocating funds directly to states."
Through grants to states and Indian Tribes, the Pacific Coastal Salmon Recovery Fund is focused on recovering endangered, threatened, at-risk and important tribal salmon runs, including through habitat conservation. The Recovery Fund also leverages funding into additional dollars through matching requirements.
The House-passed bill specifically eliminates the Recovery Fund and transfers the money to a broad, nationwide, federal-agency-driven recovery program that dilutes salmon dollars to any project of any sort anywhere in the country, including salmon that aren't endangered or at risk.
"It simply makes no sense to eliminate a successful grants-to-states program with bipartisan support and steal the funds away for a new, hollow nationwide program that places no emphasis or value on endangered Northwest salmon over thriving fish runs elsewhere," Hastings said.
"My blocked amendment sought simply to support the Obama Administration position on funding Pacific Coastal Salmon Recovery and rejecting its elimination."
During a recent House Natural Resources Committee hearing on a separate salmon funding bill, witnesses agreed with Congressman Hastings, the top Republican on the committee, that the Recovery Fund provided vital support for Pacific Northwest salmon recovery. The special assistant to the director of the Washington Department of Fish and Wildlife, Sara LaBorde, testified cutting federal funding for this salmon recovery fund would have real and serious consequences for ongoing recovery efforts.
"To have that decrease is a significant, almost stoppage, in momentum moving forward," she said.
---
Staff
House Eliminates Salmon Fund
Othello Outlook, June 26, 2009
---
See what you can learn
learn more on topics covered in the film
see the video
read the script
learn the songs
discussion forum