---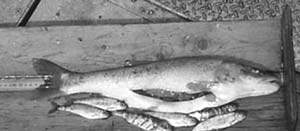 It's combination economic stimulus plan, fisherman's dream and chance to save Columbia River Salmon. The 2009 Northern Pikeminnow Sport Reward Program is underway and anglers are hauling in stringers of cash.
Each year, the Bonneville Power Administration pays anglers $4 to $8 a per pikeminnow that they catch. Since 1990, over 3.3 million northern pikeminnows have been removed from the Columbia and Snake rivers through the sport reward program. As result, millions of young salmon survived that would have otherwise been eaten. Predation on juvenile salmonids has been cut 37 percent.
Some anglers have turned fishing for pikeminnows in to a hefty source of income. Nikolay Zaremskiy, last year's top paid angler, caught 7,015 pikeminnows, earning a payout of $57,772. David Vasilchuk took home $44,608 for the 5,185 fish he caught.
All total, in 2008 the BPA paid $1.13 million for about 160,000 fish.
The northern pikeminnows eat millions of young salmon and steelhead in the Columbia and Snake rivers every year.
Formally known as the northern squawfish before the American Fisheries Society renamed it, the pikeminnow is a native of the Pacific slopes. By slowing the water flow and concentrating young salmon, dams have made them more vulnerable to pikeminnows. In addition, the smolts pass dams thorough conduits around turbines, over spillways or the through the turbines. This disorientates and injures them, making them easy prey.
To participate in the program, anglers need to have a valid Oregon fishing license and sign in at one of 18 registration stations the day they intend to fish. All fish caught need to be returned to the registration station the same day they are caught.
Northern pikeminnows can be caught with a variety of baits including worms, salmon eggs crayfish tails, chicken skin and fish entrails. Plastic grubs in a variety of colors work well.
The pikeminnows pick up a bait gently, so a sliding sinker rig is recommended.
The sport reward program runs until September 27.
For more information on rules, check station locations and fishing tips, visit www.pikeminnow.org.
Related Pages
Survival of Snake River Salmon & Steelhead compiled by bluefish, July 2004
Mortality by Predacious Fish
Survival past predacious fish is estimated to be about 92.7% - 94%. The higher survival rate is attributed to a sport reward fishery of Northern Pikeminnow costing Bonneville Power Administration ratepayers (primarily Washington electricity users) $1 million annually.
---
Staff
Earn Cash While Saving Salmon
South Lincoln County News, June 16, 2009
---
See what you can learn
learn more on topics covered in the film
see the video
read the script
learn the songs
discussion forum