---
Mary Dye said removing the Lower Snake River dams could actually damage fish populations.
"It could be catastrophic to the fish populations that we have built up so far," she said.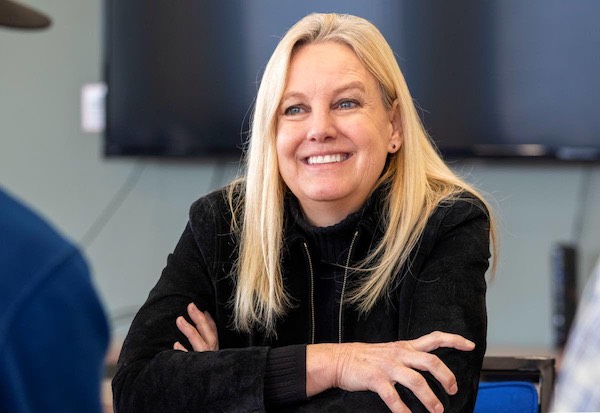 Washington state House Reps. Joe Schmick, R-Colfax, and Mary Dye, R-Pomeroy, spoke about the Snake River dams, the death penalty, taxes and even the idea of a 51st state during a town hall meeting Thursday evening.
The town hall was conducted over the phone so 9th District lawmakers in Olympia could hear questions from listeners in eastern Washington.
In Pullman, 14 members of the Whitman County Republican Central Committee gathered at the Daily Grind to participate in the town hall.
One of the earliest questions posed to the legislators was about the future of the Snake River dams.
Schmick said Gov. Jay Inslee's approval of a $750,000 study on the effects of removing the four dams is an indicator of where the governor stands on the issue.
"He believes those dams should come out or else he would not have put that in his budget," Schmick said.
The representatives oppose the dams' removal because of the power they generate for eastern Washington and a lack of proof that dams are killing fish.
Dye encouraged citizens to voice their opposition to the dams' removal to their representatives because, she said, there's no science to prove that removal of dams will save fish.
She said removing them could actually damage fish populations.
"It could be catastrophic to the fish populations that we have built up so far," she said.
To highlight the importance of the electricity the dams provide eastern Washington, Schmick said the Lower Granite Dam generates enough electricity to power Seattle.
Both representatives spoke in opposition of new taxes, including a carbon tax, gas tax and capital gains tax.
The amount of new revenue coming into the state makes new taxes unnecessary, they said. Schmick said the state will see about $5 billion more in tax revenue in this year's budget than in the last budget passed by the Legislature.
Both oppose the Low Carbon Fuel Standard passed by the House because they say it will significantly increase gas prices and hurt the rural, agricultural communities.
Schmick on his website warned this could increase gas prices by as much as 30 cents per gallon.
He is also worried about the potential for a capital gains tax. While the Democrats have not discussed it, he has heard from lobbyists that it could be an issue on the table.
"Somehow, I think the lobbyists seem to know a lot more than we do right now," he said.
Dye and Schmick oppose a carbon fee that is proposed as part of the transportation funding package.
Dye said the fee would drive up energy costs and shouldn't be used by the state as an incentive to encourage conservation.
"I don't like that policies that directly try to change people's personal behaviors in a way from top down," she said.
Both said the state should focus its efforts on managing wildfires if it wants to reduce carbon.
"(Wildfires) are the biggest carbon emitters in our state, I mean, way more than cars," Schmick said.
Another topic of discussion was a Senate bill that would eliminate the death penalty if passed. Both are against this bill and said it puts citizens' safety at risk if the harshest penalty is a life sentence.
Schmick said Washington's life sentence penalty carries a caveat that, unless it is a life sentence without parole, it can be reduced down to 13 years and 7 months for good behavior.
"Anytime we're lowering sentences now, we're letting out much more violent offenders," he said.
A 51st state that would give eastern Washington its own government was posed by an audience member.
Schmick said the ideological divide between the more conservative eastern Washington versus western Washington, particularly when it comes to social issues, makes it an appealing idea.
But, he said, there are many hurdles that would have to be overcome, and it would require congressional action.
"I am certainly not opposed to the idea," Schmick said, "but there are some practical steps that are going to have to take place before that happens."
---
Anthony Kuipers
Schmick, Dye Discuss Dams, Taxes and Death Penalty
Moscow-Pullman Daily News, March 22, 2019
---
See what you can learn
learn more on topics covered in the film
see the video
read the script
learn the songs
discussion forum