the film
forum
library
tutorial
contact

Idaho Anticipating Possible Doubling of
Spring-Summer Chinook Return Compared to Last Year

by Staff
Columbia Basin Bulletin, January 24, 2014
---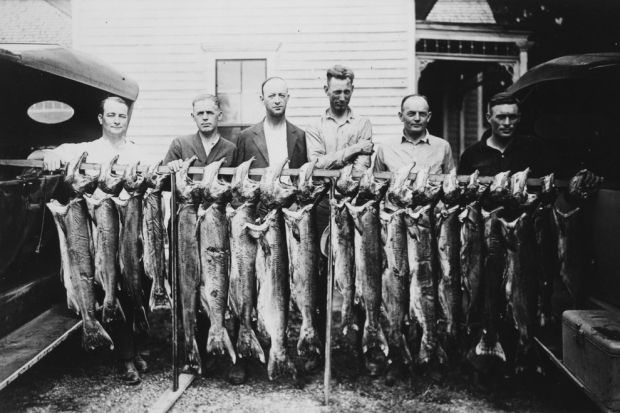 If the chinook salmon returns for 2014 hold up to the early forecast, anglers could anticipate fisheries similar to those opened in 2008 and 2009, according to Idaho Department of Fish and Game officials.
In those years, fisheries were opened in the Clearwater, Snake, lower Salmon, Little Salmon, South Fork Salmon and upper Salmon rivers.
"The forecast suggests a return that's larger than last year," said Pete Hassemer, the IDFG's Anadromous Fish manager. Hassemer briefed the Idaho Fish and Game Commission Thursday, Jan. 16.
"The fish are still out in the Pacific Ocean, but the forecast for numbers of returning hatchery fish that anglers can harvest are similar to 2008 and 2009," he said.
Northwest fish managers estimate that more than 227,000 spring chinook salmon bound for waters upstream of Bonneville Dam will enter the Columbia River this year -- last year the actual return was about 123,000. The forecast 2014 upriver spring chinook adult return to the mouth of the Columbia would be the fifth highest since 1979.
Of those fish predicted at the Columbia River mouth, 83,000 hatchery fish and 42,000 wild fish are predicted to be headed for the Snake River. Last year's actual return to the Columbia River mouth was 45,400 hatchery and 21,900 wild fish destined for the Snake River.
Idaho fish managers estimate that 39,900 hatchery fish destined for Idaho's Clearwater, Snake and Salmon rivers will cross Lower Granite Dam.
Last year, only about 25,500 hatchery spring and summer chinook salmon returned to the same Idaho waters.
Overall the forecasted spring-summer chinook return to Lower Granite is 46,700 adult hatchery fish, a number that includes returns to the Imnaha drainage in Oregon and the Grande Ronde River, which flows out of Oregon and across the southeast corner of Washington before entering the Snake. Total Lower Granite counts in both 2008 and 2009 were just over 50,000.
The forecast is for a total return of 33,700 adult naturally produced fish as counted at Lower Granite.
The Snake River spring/summer-run chinook evolutionarily significant unit, or ESU, was in 1992 declared threatened under the federal Endangered Species Act. The ESU includes all naturally spawned populations of spring/summer-run chinook salmon in the mainstem Snake River and the Tucannon River, Grande Ronde River, Imnaha River, and Salmon River subbasins, and 15 artificial propagation programs. The wild unmarked are protected against "take" such as harvest but hatchery fish, most marked with a clipped adipose fin, are targeted by fishers.
It's too soon to tell just how many fish will actually show up, and what any fishing seasons might look like. Idaho fisheries managers expect to present proposed chinook fishing seasons in the Clearwater, Snake, lower Salmon and Little Salmon rivers to the Fish and Game Commission in March.
Through Sunday, fish counters had spotted four adult chinook climbing up and over Bonneville's fish ladders so far this year, and one had made it as far as the Columbia's John Day Dam.
Bonneville is the first dam the fish pass after entering Columbia; John Day (located at river mile 215) is the third hydro project the fish must negotiate on their spawning journey.
The Snake River fish turn off the Columbia in southeast Washington and most climb four more dams on the lower Snake on their way to hatcheries or spawning grounds in Idaho, southeast Washington and northeast Oregon. Lower Granite Dam is the eighth dam and final dam fish pass on their trip up the Columbia and Snake.
In years past, Idaho chinook seasons have opened in late April.
---
Staff
Idaho Anticipating Possible Doubling of Spring-Summer Chinook Return Compared to Last Year
Columbia Basin Bulletin, January 24, 2014
---
See what you can learn
learn more on topics covered in the film
see the video
read the script
learn the songs
discussion forum