---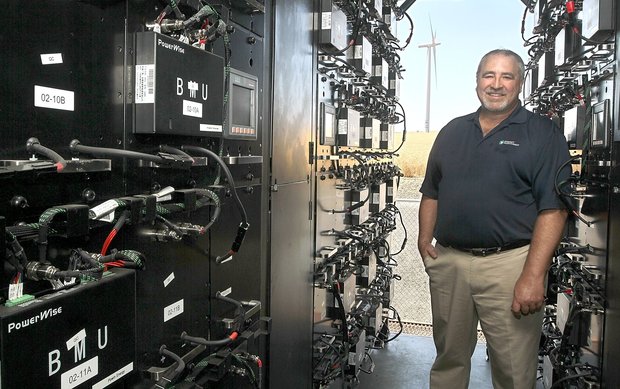 Wind isn't always a reliable source of power. Sometimes the wind blows when there is already too much power on the grid. And sometimes there is no wind when energy is needed.
That's why researchers in the Pacific Northwest are developing new ways to store wind energy. One company is testing out a battery in eastern Washington that could help with the problem.
Giant wind turbine blades spin on a gusty ridge line in eastern Washington. Right now the blades are generating energy to help cool down homes and businesses on this hot day.
But wind power can be inconsistent. Researchers say there's a solution to renewable energy variability: storage.
Chunlian Jin is an engineer at Pacific Northwest National Laboratory. She says research into energy storage is important to the future of renewable energy.
"Such important research will enable the United States to use its energy resources more efficiently" says Jin.
Powin Energy is working to make energy more efficient in the Northwest. The Portland-area company is testing a new battery that can store excess energy generated from wind farms.
Right now, it's at Nine Canyon Wind Project outside Kennewick, Wash.
A 20-foot shipping container parked at the wind farm holds the battery system. Energy Northwest is involved in the first testing phase.
John Steigers is the project developer for Energy Northwest.
"This unit, if it started out fully charged, could support an average American home for a bit over two days, all by itself" says Steigers.
That's not a lot of power when you consider how much energy a wind farm can generate. Steigers says about 800 of these units would be needed to back up the entire Nine Canyon Wind Project.
"We don't need that many for it to make a difference. What we're trying to do is address short-term changes in the production" says Steigers.
In other words, the project aims to balance power on an hourly basis. Pacific Northwest National Laboratory has developed a way to help the battery immediately respond to the power grid's needs.
Researchers at the lab have also designed a computer model that will simulate groups of these batteries working together. The model will help determine how the system will work on a larger scale.
Powin Energy would not provide a price range for the battery. Energy Northwest's John Steigers says one goal of this demonstration project is to weigh the costs and benefits of storing energy with this sort of battery.
---
Courtney Flatt
Northwest Laboratories Develop Wind Power Storage <-- Listen at original site.
Northwest Public Radio, July 2, 2013
---
See what you can learn
learn more on topics covered in the film
see the video
read the script
learn the songs
discussion forum