---
Experts say some Oregon ag exporters won't be able to afford the cost of shipping products
to ports in Washington or California if the Port of Portland loses its largest container shipper.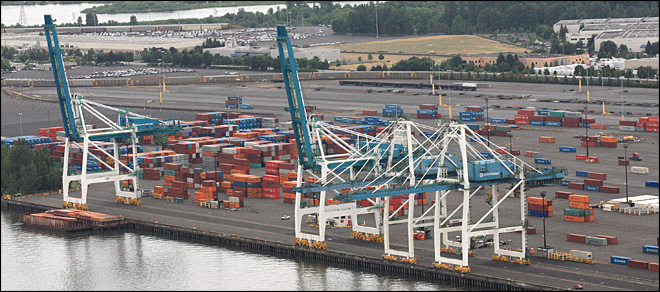 PORTLAND -- The loss of a major ocean carrier at the Port of Portland will effectively eliminate export opportunities for some agricultural shippers, experts say.
"This is a very devastating blow," said Bill Wyatt, the port's executive director during a Feb. 11 port commission meeting.
Farm products -- including peas, lentils, beans, french fries, grass seed, potatoes, onions and hay -- are commonly shipped from the port to Asian markets.
With the Hanjin shipping line no longer calling on Portland, those exporters will now have to spend up to $800 more per container to truck those crops to ports in Seattle and Tacoma, Wyatt said.
For some shippers, the cost of getting farm goods to port will now exceed the price of ocean freight, he said.
"Some of these commodities cannot bear the added cost because they would not be competitive," Wyatt said. "For people who depend on the service for their business interests, this is very consequential."
Hanjin, a carrier that shipped farm products from Portland to South Korea and China, announced it will stop calling the port on March 9.
A dispute between the longshoremen's union and the terminal operator, ICTSI Oregon, has negatively impacted productivity at Portland's container terminal.
The port and operator blame work slowdowns by the International Longshore and Warehouse Union, while longshoremen claim inadequate equipment and safety problems are causing the problem.
Hanjin was caught in the middle of the fight and decided to discontinue service rather than endure further costly delays, said Wyatt.
"They finally just decided to pull the plug. They just couldn't take it any longer," he said. "It was obvious something had to give, and something did."
Hanjin's looming departure will affect agricultural exporters beyond the immediate vicinity of Portland and Oregon's Willamette Valley, said Josh Thomas, marine media relations manager for the port.
Container barges deliver farm goods to Portland from Lewiston, Idaho, providing a more cost-efficient alternative to trucks for shippers in Northeast Oregon, Southeast Washington and Western Idaho, he said.
"Those connections have always been a selling point," Thomas said.
Exports from these areas had grown strongly in recent years, which would have kept Portland's container terminal competitive for Hanjin if not for the slowed productivity, he said.
"We know what the decision was not about, and that was the availability of cargo," he said.
For Bossco Trading, a hay exporter from Tangent, Ore., the departure of Hanjin will complicate logistics in addition to driving up transportation expenses, said Shelly Boshart Davis, its vice president of international sales.
Whereas a driver could deliver three containers a day between Tangent and Portland, it will require a full day to get a single container to the Seattle area, she said.
Truckers may also run out of legally allowable driving hours during that trip, potentially forcing them to stay overnight, Boshart said.
"It's costly all around," she said.
Other ocean carriers that ship to Japan and Northern Europe will continue to use Portland's container terminal, but Hanjin represented roughly two-thirds of container cargo volume, Wyatt said.
The Port of Portland plans to seek other trans-Pacific ocean carriers to service the port, but that process may take two years, he said.
Any prospective partner would need assurances of full productivity from ILWU, said Thomas.
"That's going to be a heavy lift in the coming years here," he said.
If a replacement is not timely found, the absence will affect river pilots, tugboat operators and other service providers that other ports on the Columbia River -- such as Astoria -- depend on, Thomas said.
Meanwhile, the Port of Portland and ICTSI are seeking financial damages from the longshoremen's union in federal court, Wyatt said.
That litigation will likely become "more significant" now that Hanjin has pulled out, he said.
"We intend to pursue those very aggressively."
Capital Press was unable to reach a representative of ILWU as of press time.
Hanjin announced it's leaving Portland at a time of broader tensions between the longshoremen's union and container terminal operators along the West Coast.
A previous labor contract between ILWU and terminals represented by the Pacific Maritime Association ran out in July 2014 and ports have become congested in recent months as the parties have strived to work out a new deal.
"It's a very intense period right now on the waterfont on the West Coast," Wyatt said.
A breakthrough about the maintenance and repair of truck chassis -- used to move containers -- was recently reached, but an overall agreement has remained elusive.
Most recently, the PMA accused the longshoremen's union of insisting on an unreasonable provision in the new labor contract: the ability to unilaterally fire arbitrators who rule against ILWU.
Work stoppages related to alleged safety violations are referred to such arbitrators, who are meant to quickly resolve such disputes and keep cargo moving.
If the union is able to fire arbitrators who stop slowdowns, that will jeopardize the reliability of West Coast ports, PMA said.
Related Pages:
Port of Portland, Longshore Union Still Trading Blame, Barbs as Rest of West Goes Back to Work by Molly Harbarger, The Oregonian, 2/24/15
Terminal 6 a Potentially Terminal Problem by Jim Redden, Portland Tribune, 3/12/15


---
Mateusz Perkowski
Loss of Ocean Carrier 'Devastating Blow' to Ag Exporters
Capital Press, February 11, 2015
---
See what you can learn
learn more on topics covered in the film
see the video
read the script
learn the songs
discussion forum