---
The U.S. Army Corps of Engineers has invested over $800 million since 2000
on physical improvements to dams to make them safer for salmon.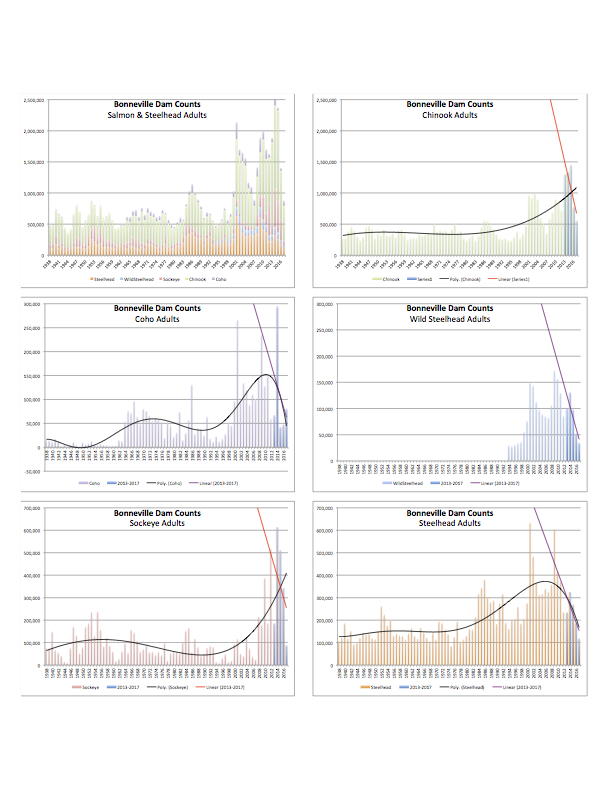 Opponents of the Snake and Columbia River dams call for the removal of the dams in order to save salmon and restore their natural habitat; while at the same time undervaluing the fact that the rivers are managed to protect salmon.
New technology, coordinated management and changes to dam operation have improved river conditions for salmon, making Columbia and Snake River dam removal unnecessary.
Almost 80 percent of a salmon's life is spent in the ocean where many factors reduce their numbers. Changing water conditions that affect their food supply, international and domestic fishing, and predation by sea lions and birds, are much more detrimental to salmon survival than the dams.
Some critics want to oversimplify salmon population dynamics down to survival in freshwater, free-flowing rivers. Organizations of federal, tribal, state, local, international and non-government groups work together in a coordinated effort to ensure salmon survival.
For example, the U.S. Army Corps of Engineers has invested over $800 million since 2000 on physical improvements to dams to make them safer for salmon. With physical improvements to dams, as well as changes in how dams are operated to benefit fish, the removal of Snake and Columbia River dams is unnecessary to saving salmon.
The first and oldest method for helping salmon move around dams is the fish ladder. Like an underwater staircase, a fish ladder allows salmon to gain elevation a little at a time. The water's speed is reduced through the ladder so fish don't have to work so hard to climb and can stop to rest.
A second method for moving salmon is called juvenile transport. Young salmon travel in climate-controlled trucks or barges for their journey around dams. During the trip, water quality is carefully monitored to prevent stress on the fish. Fish are gently released to continue the remainder of their migration naturally.
The third, fourth and fifth routes for salmon include spillways, turbine passages, and juvenile bypass facilities. A dam's spillway allows water to pass the dam without going through a turbine.
Young salmon safely ride over the spillway. Some may get swept along with water headed to turbines. At the Lower Monumental Dam on the Snake River, only 5 percent of young salmon move into the turbine passage. Of these, over 92 percent survive.
Hydropower turbines have significantly improved to maximize both fish survival and energy efficiency. Modern dams also have juvenile bypass facilities, added onto dams as special detours built just for salmon.
Underwater screens direct young salmon away from the turbine intakes and into these structures. The fish are guided along a pipeline around the side of the dam, like riding a gently sloping water slide, then deposited into the river below the dam.
In addition to fish-friendly structural improvements to dams, new technology is being developed to facilitate salmon passage.
Whooshh Innovations, a Seattle-based company, is developing a new technology to assist adult migrating fish. This new equipment, affectionately nicknamed the 'salmon cannon,' uses pressure differences inside a long flexible sleeve to move fish.
Along with safeguarding salmon, the river system provides clean renewable electricity, irrigation water, commercial navigation, flood protection, and recreation.
These benefits improve the quality of life in Eastern Washington, our state and the nation and are only possible because of the hydropower dams.
Come learn more about our rivers, our way of life and how salmon and dams can co-exist at RiverFest 2018 on Sept. 8 at Columbia Park in Kennewick.

---
Rachel Little, Biologist and Outreach Coordinator for 15 years for Benton Conservation District, a non-regulatory, grant-funded organization dedicated to the stewardship of soil, water, air, fish and wildlife in Benton County, WA.
Salmon and Dams Can Co-exist
Tri-City Herald, July 27, 2018
---
See what you can learn
learn more on topics covered in the film
see the video
read the script
learn the songs
discussion forum