---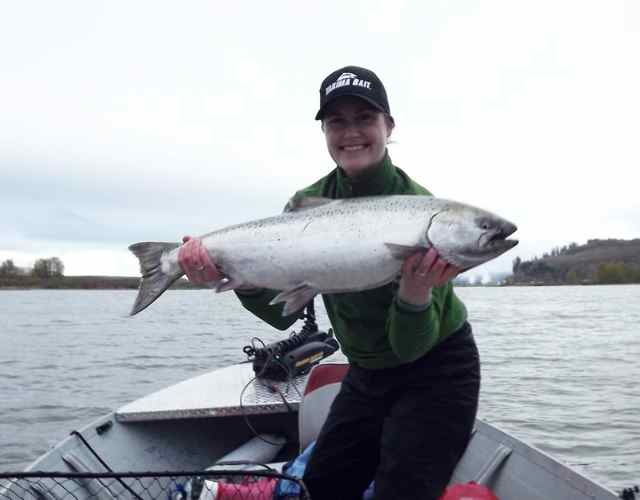 State fishery managers from Washington and Oregon approved the Columbia River spring chinook fishing seasons that reflect a 37-day lower river fishery.
The Lower Columbia River spring chinook season is currently open below the I-5 Bridge for hatchery-marked fish, and beginning Wednesday (March 1) through April 6 boat and bank fishing will be open from lower river mouth at Buoy 10 upstream to Beacon Rock, and bank fishing only from Beacon Rock to Bonneville Dam. The daily limit is two salmon, but only one may be a hatchery-marked chinook.
The forecast calls for 160,400 upriver spring chinook compared to 188,800 forecasted in 2016 and an actual return of 187,816.
Fishery officials manage for a run size that is at least 30 percent less than forecasted upriver run size. This equates to a run size of 112,280 fish with 9,319 fish available to catch and keep.
That leaves 6,905 in the guideline for sport fisheries below Bonneville in Lower Columbia mainstem; 921 fish from Bonneville to the Oregon-Washington state line above McNary; 863 in the Snake River (Washington waters); 20 fish for Wanapum tribe (Upper Columbia); and less or equal of 610 fish for Select Area commercial fisheries.
There is no non-treaty commercial netting in Lower Columbia thus a past season rule of Tuesday closure won't be in effect this season.
One change in the proposed rulings is a fishing closure at Lewis River mouth area to protect a poor return of 700 spring chinook (escapement goal is 1,380 adult fish) to that system.
Also in effect from March 16 through May 15, the Columbia River will be open for catch and keep hatchery-marked steelhead from Buoy 10 to the Highway 395 Bridge in Pasco, and shad from Buoy 10 upstream to Bonneville Dam. This rule applies only during days when the spring chinook fishery is open.
Fishing on Columbia mainstream above Bonneville Dam to Washington-Oregon state boundary line will be open March 16 through May 5. The daily limit will be two salmon and only one may be a hatchery marked chinook.
On the Oregon side, the Willamette River spring chinook forecast is 38,090 and falls well short of about the 60,000 10-year average. Most of the returning fish are of hatchery origin thus leaving a little less than 10,000 for sport anglers to catch. Oregon fishery managers plan to leave rules similar to past fishing seasons.
In the 2016 spring chinook Lower Columbia River fishery from Feb. 1 through June 15, there were an estimated 126,826 angler trips with 12,666 adult spring chinook, 503 jack spring chinook and 2,621 steelhead kept., and 3,776 adult chinook, 134 jack spring chinook, and 693 steelhead released for a catch per unit effort of 0.129 spring chinook kept.
Spring chinook fishing in 2016 was open Feb. 1-29 between Buoy 10 and the I-5 Bridge; March 1 through April 8 (except closed Tuesdays on March 29 and April 5) from Buoy 10 upstream to Beacon Rock, plus the Oregon and Washington banks between Beacon and Bonneville Dam; May 13-15, 20-22, 27-30, and June 3-9 from Tongue Point to Beacon Rock, plus the Oregon and Washington banks between Beacon Rock and Bonneville Dam; and June 10-15 between Tongue Point and Bonneville Dam..
More coastal, Strait of Juan de Fuca and Puget Sound salmon forecasts will also come to light when state Fish and Wildlife holds a public meeting on Tuesday in Olympia.
. . .

---
Mark Yuasa
State Fishery Managers Approve 37-day Spring Chinook Season on Lower Columbia
Seattle Times, February 23, 2017
---
See what you can learn
learn more on topics covered in the film
see the video
read the script
learn the songs
discussion forum