---
Senator pushes lower drug prices in announcing bid for re-election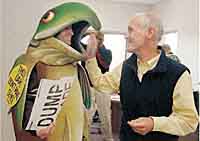 Spokane -- If his official announcement is an indication, U.S. Sen. Slade Gorton may be embarking on the most unusual campaign in more than 40 years in public office.
The announcement came during a rally, moved from Riverfront Park to a room in the Spokane Intercollegiate Research and Technology Institute because of morning rains, that featured more opponents than supporters.
One opponent was dressed in a salmon costume and carried a "Dump Slade" sign, while Gorton's Spokane County campaign chairman, Travis Sines, stood nearby with a "Slade Works for Me" sign.
Joining "Buster" the faux fish were other members of Save Our Wild Salmon and more than two dozen activists from Indian tribes.
Gorton, clad in a blue fleece vest and a yellow button-down shirt, stood casually next to a podium and repeated several times his pledge to fight any attempts to remove federal dams in the Northwest.
The first time, a protester coughed conspicuously in opposition. The next time, supporters clapped politely.
"On my watch, this administration will not destroy the hydroelectric dam system of the Northwest," Gorton said later, to which supporters cheered and opponents coughed and jeered.
After his announcement speech, Gorton posed for a picture with the salmon.
In a later interview, he said the Clinton administration has agreed there is no way it will decide whether to remove dams before the president leaves office in January.
"They may have blinked and said, `We're going to wait for a while before we make that determination' in order to get past the November election," Gorton said.
At his speech, he pitched GOP presidential candidate George W. Bush as the way to get dam removal "off the agenda."
Save Our Wild Salmon and the tribes believe removing the dams is the best way to restore salmon runs that are decimated by a combination of turbines, slack water in the reservoirs, poor spawning habitat and overfishing.
Gorton said in the interview the federal government needs better coordination and better planning for the estimated $500 million it spends on restoring salmon.
"We have to have a certain degree of modesty about our ability to do anything at all," he added.
Salmon runs are up this year, apparently because of changes in ocean temperatures.
The morning protest was the first Gorton encountered in a whistle-stop tour of the state. But he said he wasn't surprised to see either the salmon coalition or tribal activists.
Along with his stance on dams, Gorton has angered tribes on issues covering tribal sovereignty and funding for Indian programs.
On other issues, Gorton repeated a promise to force drug companies to lower their prices by passing a law that requires them to charge U.S. distributors no more than they charge foreign distributors. Many American drugs are cheaper in Canada, Mexico or other countries.
His plan is an amendment of a 1935 law that keeps drug prices equal in different states. Pharmaceutical companies say the plan amounts to price controls.
"Then we've had price controls for the last 65 years," he said.
He also said he'd continue to push for a law that would remove sanctions that prevent the sale of U.S. food and medicine to some foreign countries. The proposal has support from farmers who want more foreign markets open to their crops, and humanitarian groups who say that sanctions hurt civilians, not foreign regimes or their troops.
Gorton is seeking his fourth term in the Senate. He faces no serious primary opponents, but state Insurance Commissioner Deborah Senn and former U.S. Rep. Maria Cant-well are running for the Democratic nomination.
---
Jim Camden
Gorton Vows the Dams Will Stand
Spokesman Review, June 1, 2000
---
See what you can learn
learn more on topics covered in the film
see the video
read the script
learn the songs
discussion forum