---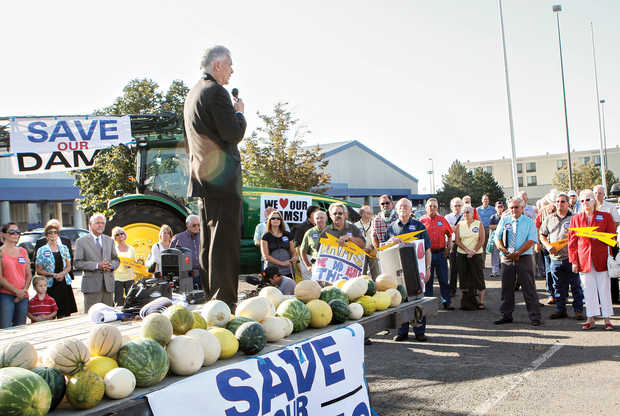 More than 100 people who support dams in the Northwest gather at the TRAC in Pasco today to stand up for them, as some environmentalists continue to threaten their future with proposed breaching.
Many people say fighting to keep dams up is an ongoing process.
Two weeks ago, Congressman Doc Hastings introduced a bill in the House of Representatives to protect nearby dams.
So today, supporters made their voices heard as the bill prepares to make its way through Congress.
Adams County farmer Mark Booker says a world without dams would be devastating.
"40% of the world's food supply comes from irrigated agriculture. Without hydropower and dams and irrigated agriculture, there is not enough food" said Booker.
Supporters say the structures create clean, renewable energy, jobs and they make inland marine transportation possible.
"They support our community, our way of life, give us plenty of water when we need it" said Nathaniel Kinsey, Kennewick resident.
After the rally, dam supports went into the Pasco facility for a congressional natural resources field hearing held by Congressmen Hastings and Tom McClintock of California.
On Augusut 1st, Hastings introduced a bill to preserve dams from any environmentalists who may want to take them down.
"Dam breaching has not gone away since 1999. Every year in Congress, there is a bill that has been introduced to either study it or to say to take out the dams. So the issue has never gone away" said Rep. Hastings.
Those who don't support the dams say they're concerned the massive structures are hurting fish in the area, which is in turn hurting the economy.
"Every run of salmon and steelhead that return up the Columbia and Snake River destined for the Nez Perce reservation and our usual fishing places in the Snake basin is now either extinct or listed as endangered" said Rebecca Miles, Nez Perce Tribe.
Those on both sides know the debate is far from over.
But they hope after today, they'll be a step closer to a resolution.
"This is worth fighting for" said Kinsey.
Congressman Hastings' bill states that hydropower accounts for 7% of all electricity generated in the nation.
The four large dams on the lower Snake River supply 5% of the average energy production in the Pacific Northwest.
That's enough energy to serve a city about the size of Seattle.
Dam supporters say hydropower is valuable because it is reliable.
They say wind power isn't consistent because the wind doesn't blow all the time.
---
Josh Peterson
Dam Supporters Rally in Pasco
KVEW TV, August 16, 2012
---
See what you can learn
learn more on topics covered in the film
see the video
read the script
learn the songs
discussion forum