---
When they went up, Western dams were heralded as modern miracles.
Now they're starting to come down.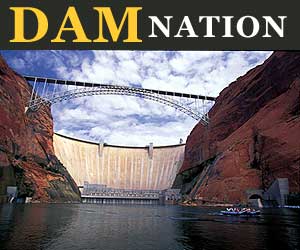 For all its beauty, this 268-acre lake near Port Angeles, Wash., is as artificial as a bathtub. In 2007, the federal government will likely pull the plug by breaching the two Elwha River dams that have created this reservoir and the equally stunning Lake Mills just upstream.
In the coming years, this same wholesale revamping of landscapes is likely to repeat itself elsewhere in the West. Last fall, the National Park Service started knocking down the 17-foot-high, 184-foot-long Cascades Diversion Dam, a nonfunctioning eyesore that's bisected the Merced River in Yosemite National Park for nearly 90 years. Other dams often mentioned in the same breath with demolition include Matilija in California, Condit in Washington, and Marmot in Oregon.
As such, Lake Aldwell was a key stop on my Voyage of the Dams—a meandering trip through the West designed to help me understand our conflicted attitude toward dams, those slabs that divide both water and people. It's hard to imagine a more colossal journey. After all, what the pyramids are to Egypt, dams are to America—monuments to our ingenuity and hubris.
Surpassing even the expectations of their builders, America's dams produce 7 to 10 percent of the energy used in the United States. They create irrigation reservoirs that turn vast tracts of desert scrubland into farms as green and juicy as Iowa cornfields. They help prevent flooding. They also transform previously treacherous rivers into navigable waterways and accessible flatwater playgrounds.
Yet dams also inundate countless ecosystems and sacred American Indian sites. They rob downstream waterways of sediment crucial for beaches and fish-spawning riverbeds. And by blocking fish migration routes and altering water temperatures, dams cause native fish populations to plummet. The casualties include wild salmon in the Sacramento and Columbia rivers; steelhead in California's Ventura and Carmel watersheds; and several species unique to the Colorado River, notably the pike-minnow and bonytail chub.
Dams also submerge pristine landscapes. In Yosemite National Park, for example, the Hetch Hetchy Valley—the scenic equal of neighboring Yosemite Valley—sits underwater. O'Shaughnessy Dam, which flooded Hetch Hetchy, created a reservoir that supplies water to San Francisco and environs. In 1914, a year after Congress approved the dam, environmentalist John Muir was so devastated by the loss of this fabled valley that he is said to have died of a broken heart.
Compounding those calamities is a vexing reality: The nation's roughly 75,000 dams that are six feet high or taller are showing their age. By 2020, 85 percent will be at least a half century old and many are already in need of repair. The American Society of Civil Engineers gave the overall condition of U.S. dams a nearly flunking grade of D in its 2001 Report Card for America's Infrastructure. "They're deteriorating," says Brad Iarossi, a member of the report card committee. "The price tag to fix them could be as much as $10.1 billion over the next 12 years." Rather than shoulder the cost of repairing and upgrading, some dam owners are opting for a cheaper alternative—demolition.
To date, hundreds of small dams have already been dismantled, but 105-foot-high Elwha Dam and its upstream sibling, 210-foot-high Glines Canyon Dam, are contenders to be among the first big ones to topple. A century ago the 45-mile-long Elwha River, which cuts through Olympic National Park en route to the Strait of Juan de Fuca, was home to 10 types of native migratory fish. They swarmed the river in such abundance that people in the area used salmon for crop fertilizer.
Those glory days lasted until 1910, when entrepreneur Thomas Aldwell began construction of Elwha Dam, five miles up from the river's mouth, to produce electricity. Unfortunately, his dam lacked a fish ladder, which would have allowed salmon to reach more than 70 miles of the upper Elwha and its tributaries. In 1927 Glines Canyon Dam was completed, spanning a deep gorge upstream from Lake Aldwell. The dams starved the lower Elwha of sand and other sediment fish need to spawn. Before the dams, the river produced an estimated 390,000 salmon and steelhead a year; now, the runs average around 3,000. The lack of fish in the upper reaches may have caused other wildlife, such as black bear and bobcat, to decline in number as well.
Despite all that, area resident Marv Chastain sees the removal of the dams as a case of piling one error on top of another. "By the government's own estimates, there's something in excess of 17 million cubic yards of gunk that have accumulated behind the dams," he says. "As it heads downstream, it's going to wipe out the salmon spawning in the lower river, raise the river bottom six feet, and inundate a lot of people's property." And for what? he wonders. "I've fished in the lakes and I've gone boating on them. They're beautiful. Some 20 species of waterfowl have been identified there. They'll leave if the lakes are gone."
River restoration coordinator Robert Elofson acknowledges that the Elwha and its salmon may need at least a decade or more to recover from the sediment that will be unleashed downstream. A member of the Lower Elwha Klallam tribe, whose reservation borders the Elwha, Elofson nonetheless insists that taking out the dams is the only way to fix an environmental blunder that should never have been made in the first place. "I remember as a child in the 1960s climbing down the bluffs, and there were still decent-size salmon runs in the river below the dam," he recalls. "They're an endangered species now."
In the parched southern corner of Nevada, I'm looking at a scene so improbably wet and lush that it could be a mirage—except that the Mirage is just up the street. Here at the Flamingo hotel and casino on the Las Vegas Strip, pink flamingos, penguins, and swimsuit-clad vacationers are cavorting in an oasis of pools, grottoes, flumes, and waterfalls shaded by stately palms. Despite its scant four inches of rainfall per year, Las Vegas is a city awash in water.
This liquid abundance would seem even more surreal if I hadn't just come from the structure that makes it all possible: Hoover Dam, which spans the Colorado River on the Nevada-Arizona border. If the Elwha River offers a before-and-after snapshot of what dams do to a Western river, Hoover illustrates why it's far too simplistic merely to cast dams and the people who built them as villains.
With its sweeping art deco contours, triumphant bronze statues, and sprawling terrazzo floors emblazoned with Native American motifs and a star map depicting the exact alignment of the planets on the day of its dedication in 1935, Hoover Dam is more a temple to technology than a mere nuts-and-bolts engineering project. Designed primarily to protect downstream areas from flooding and provide them with irrigation and drinking water, the 726-foot-high dam spawned the nation's largest reservoir, 158,000-acre Lake Mead. In addition, Hoover is outfitted with 17 main turbines, which meet the electricity needs of 1 million people. Anywhere from a few turbines to all 17 are running at any given time, depending on downstream water demands.
Though Hoover Dam eclipsed all previous hydropower dams in size and daring, the damming of the American West was hardly a new idea. Engineering efforts to corral water are as much an indigenous feature of the American West as petroglyphs and cliff dwellings. Over the course of about 1,000 years, beginning around a.d. 50, the Hohokam Indians dug an elaborate 600-mile network of irrigation canals, some of which underlie the water system in modern-day Phoenix. Starting in the 1500s, the Spanish used engineering techniques learned from the Moors to create canals, small dams, and aqueducts for their frontier missions. At San Antonio Missions National Historical Park in San Antonio, Tex., for example, you can see the remnants of a 274-year-old Spanish dam and miles of irrigation canals.
In Utah, groups of Mormon farmers in the mid- to late 1800s built irrigation canals and small dams that turned the semiarid landscape into a carpet of wheat fields and fruit orchards. In the late 19th and early 20th centuries, entrepreneurs built dams to produce a newfangled commodity called electricity. In 1895, a dam-fed powerhouse in Folsom, Calif., made history by being the first to transmit alternating current over a long distance—22 miles, to be exact—providing power to Sacramento's streetcars and the state capitol. Though the original dam was destroyed during the construction of present-day Folsom Dam, the powerhouse is now part of a state historic park.
In the early 20th century, the federal government established the Bureau of Reclamation to transform desert lands and make them agriculturally productive, primarily by building dams in the West. The agency's team of engineers built increasingly bigger and more innovative dams, from Arrowrock in Idaho to Owyhee in Oregon, structures more ambitious than anything towns or even states could pull off. In the 1930s, Franklin Roosevelt approved a flurry of major dam-building projects—including Shasta in California, Bonneville on the Oregon-Washington border, Fort Peck in Montana, and Grand Coulee in Washington—to combat the Great Depression.
The construction of big dams demonstrated to a country reeling from hard economic times that America's can-do spirit was alive and well. Reflecting the celebrity status bestowed on these structures in that era, Life magazine featured Fort Peck Dam on its debut cover in 1936. The government even hired Woody Guthrie, a struggling folksinger at the time, to compose rousing pro-dam songs. Taxpayers got their money's worth: In one month Guthrie cranked out 26 tunes, including the classic "Roll On, Columbia."
After it was built in 1935, Hoover Dam attracted hundreds of thousands of visitors a year, including celebrities such as Will Rogers, Bette Davis, Shirley Temple, and Boris Karloff. Today, an estimated 2.5 million travelers visit Hoover annually; a million take the guided tour. Key sights on the tour include the dam's gigantic generators, the Winged Figures of the Republic statues (weighing more than two tons each), and a memorial to the workers who died while building the dam. At every stop, tour guides describe the history of the dam and the benefits it has produced—not the least of which was victory in World War II. Without Hoover and the other New Deal-era dams, the United States could never have met its wartime need for two energy-intensive raw materials—aluminum for combat aircraft and plutonium for atomic bombs.
But the grand vision of the New Deal had a blind spot. In an era when water and power were scarce and native fish were plentiful, few worried about the effect that dams would have on the environment.
Chugging across Lake Powell, a multifingered reservoir that spills across the Arizona-Utah border, the double-decker tour boat carried me past towering bluffs, sheer cliffs, and partially submerged canyons—a terra-cotta landscape of such strange, stark beauty that filmmakers used it as a backdrop for the 1968 movie Planet of the Apes. My destination: Rainbow Bridge National Monument, a sinuously shaped, 290-foot-tall sandstone arch that is the largest natural bridge in the world.
Less than a generation ago, trekking to this scenic wonder entailed an arduous rafting-and-hiking expedition through rugged, remote canyon country. The forbidding topography kept travelers at bay so successfully that as recently as the early 1950s, only a few hundred people per year saw the rock formation firsthand.
Then came Glen Canyon Dam, the 710-foot-high monolith that changed the way Americans think about dams. Dedicated in 1966, it backed up the Colorado River for about 186 miles, forming Lake Powell, the nation's second largest reservoir. Intended as a storage tank for irrigation and drinking water earmarked for Arizona, Nevada, and parts of California, the reservoir has become a recreation lake that draws about 2.5 million anglers, houseboaters, jet-skiers, and other vacationers each year. Its waters reach deep into previously isolated canyons, making them accessible by boat. Rainbow Bridge now gets about 200,000 visitors a year. As if the lake weren't enough of a benefit, the dam has also created a flourishing downstream habitat for trout, beavers, eagles, and other wildlife—thanks to the cold, clear water it releases into what would otherwise be a warm, silty river.
"It's everything—kayaking, wakeboarding, snorkeling, fishing, hiking the slickrock expanses, exploring for fossils," says Paul Ostapuk, a board member of Friends of Lake Powell, an organization that champions the reservoir. "You've got river systems, side canyons, lake recreation, and you've still got 90 percent of Glen Canyon for hiking and the other activities that you would have had 40 years ago."
But what many people view as paradise, others—mourning the vanished world that the lake displaced—see as paradise lost. "It was 186 miles of the Colorado River with over 125 side canyons, each one unique, with waterfalls, pools, and lush vegetation," says Christopher Peterson, director of the Glen Canyon Institute, an organization seeking to have the lake drained. "Until the dam was completed, there were still people entering canyons that had never been named because the area was such a labyrinth. This was the breeding ground for several fish found nowhere else in the world. It was also home to more than 3,000 documented Anasazi, Navajo, and Hopi ruins, and that doesn't count the probably thousands more that nobody ever documented."
For all the scorn that environmentalists heap on Glen Canyon Dam nowadays, their counterparts in the 1950s actually encouraged the Bureau of Reclamation to make the dam even higher than originally proposed, so that the reservoir's increased capacity would eliminate the need for another water-storage project that the bureau had in mind for Dinosaur National Monument. It was only after Congress approved plans for Glen Canyon Dam that Sierra Club executive director David Brower and other leading conservationists toured this off-the-beaten-track region for the first time and were dazzled by its cliffs, grottoes, waterfalls, and natural arches—and horrified at what they had traded away. For the rest of his life, Brower publicly chastised himself for failing to oppose the dam when he had the chance.
Emboldened by that loss, environmental groups swayed public opinion enough to halt two other dams planned for the Colorado River. With that previously unimaginable victory, a new era began. If Woody Guthrie songs characterized America's earlier optimism about dams, writer Edward Abbey's 1975 cult classic novel, The Monkey Wrench Gang, about a group of ecoterrorists intent on blowing up Glen Canyon Dam, was emblematic of a new critical mind-set. Near the end of his life, no less a conservative than Senator Barry Goldwater cited his support for Glen Canyon Dam as the one vote of his political career that he'd most like to take back.
In nations such as China, India, and Brazil, dam building is now as rampant as any federal program FDR might have dreamed up. But in the United States, the days of big dam projects are gone. People are more keenly aware of the downsides, and the best sites are already dammed.
Our current challenge is deciding what to do with the dams we have. If we're willing to settle for having wild fish and unsullied ecosystems only in undammed coastal streams and a few other museum-piece waterways a century from now, the dams on the Colorado, Sacramento, Columbia, and other workhorse rivers can stay where they are. But if we insist on reestablishing Lewis and Clark-era populations of wild fish in their native waters, we'll have to put those rivers back the way we found them. Between these two extremes lies a continuum of dam-versus-environment trade-offs and often-expensive technological fixes, such as improved fish passages and fish-friendly water releases, that would let us keep some of the dams and some of the wild fish. The question is, where do we draw the line?
The worst of all scenarios would be stalemate—with opposing sides dug in so deeply that the debate never ends. To see how that very real possibility might play out, I hunted down Elk Creek Dam, which stretches across a tributary of the Rogue River near Medford, Ore. To find it, I drove deep into the foothills of the Cascade Range in southern Oregon and hiked for 15 minutes along a muddy creek bed to a ghostly quiet construction site. With exposed rebar and I beams jutting out like porcupine quills, the 83-foot-high dam looked as if its work crew had gone to lunch many years ago and never come back. That's essentially what happened.
In 1962, Congress authorized the project as one of three dams to be built in the area. By the time construction began in 1986, attitudes had changed. Elk Creek Dam didn't seem like a smart idea anymore and work stopped the following year, after one-third of the dam had been built.
And that's how it's remained, with just enough of the structure completed to box in 25 miles of salmon habitat, but not enough to form the irrigation reservoir that was part of the original goal. Elk Creek Dam proponents have mustered enough clout to keep the structure from being breached; opponents have flexed enough political muscle to keep it from being finished.
Unless our evolving opinions about dams coalesce into a shared vision, we could find ourselves confronting the dilemma nobody wants: damned if we do and damned if we don't.
---
David Sharp
Dam Nation
VIA Magazine, January 2004
---
See what you can learn
learn more on topics covered in the film
see the video
read the script
learn the songs
discussion forum